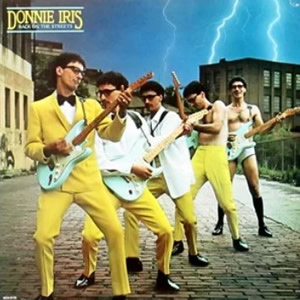 Released in the summer of 1980, Back on the Streets was the debut solo record by Pittsburgh based artist Donnie Iris. This came after Iris spent more than a decade fronting national bands and, on this album, he collaborated with producer, composer and keyboardist Mark Avsec to deliver a blend of classic rock and cutting-edge new wave with a particular focus on vocal arrangements and hooks. The album spawned a national hit as well as several songs that received heavy regional airplay.
Iris was born Dominic Ierace in Western Pennsylvania and drew early inspiration from Elvis Presley and Buddy Holly. After forming and fronting several groups through high school and college in the early-to-mid 1960s, he started The Jaggerz, a group which originally performed R&B covers. After gaining popularity through Pennsylvania and Ohio, the group secured a contract with Gamble Records in 1969 with their debut album, Introducing the Jaggerz released later that year. The following year, the group came to national prominence with their sophomore album We Went to Different Schools Together and the 1970 Top 5 hit "The Rapper". A third Jaggerz album, Come Again, was released in 1975, shortly before Iris left the group to become a studio engineer. While at Jeree Recording, Iris worked with the band Wild Cherry and he briefly joined the band as a guitarist in 1978-1979.
Avsec was then also playing keyboards for Wild Cherry and once that group disbanded, Donnie and Mark decided to form a songwriting project together. Their initial release was a 1979 disco-influenced single called "Bring on the Eighties", but it had little commercial success. With this, the pair decided to go in a harder rock direction when they entered the studio in early 1980 to record a full-length album with the freshly christened group Donnie Iris and the Cruisers.

Back On the Streets

by

Donnie Iris
Released: July 15, 1980 (Midwest National)
Produced by: Mark Avsec
Recorded: Jeree Studios, New Brighton, PA, Spring 1980
Side One
Side Two
Ah! Leah!
I Can't Hear You
Joking
Shock Treatment
Back On the Streets
Agnes
You're Only Dreaming
She's So Wild
Daddy Don't Live Here Anymore
Too Young to Love
Primary Musicians
Donnie Iris – Lead Vocals, Guitar
Marty Lee Hoenes – Guitars
Mark Avsec – Piano, Keyboards, Vocals
Albritton McClain – Bass
Kevin Valentine – Drums
The album begins with its lead single and most indelible tune, "Ah! Leah!", Catchy with simple riffs combined with complex vocal arrangements, this track reached number the Top 30 of the US Billboard Hot 100 and puns on its title have been used on Iris' 2009 live album Ah! Live! as well as his 2010 Christmas album Ah! Leluiah!. The album's other single, "I Can't Hear You", follows as a straight-ahead new wave rocker with just a touch of Talking Heads influence in the verses but breaking out with rich harmonies in the choruses. "Joking" is an even better new wave track with some cool synths over the crisp rock guitar riffs by Marty Lee Hoenes to reach a sound similar to The Cars earliest material.
Avsec's "Shock Treatment" features a weird, synth lead psychedelic intro before song proper kicks in led by the fine bass of guest Robert Peckman and the various vocal experiments make it almost sound like a show tune from a modern movie. The album's title song and side one closer adds some variety with a real classic rock, Who-type feel complete with distorted guitar riffing, synthesized orchestration and intense story-telling vocals, while "Agnes" is another dynamic rocker with a simple riff, cool vibe and call and response vocals.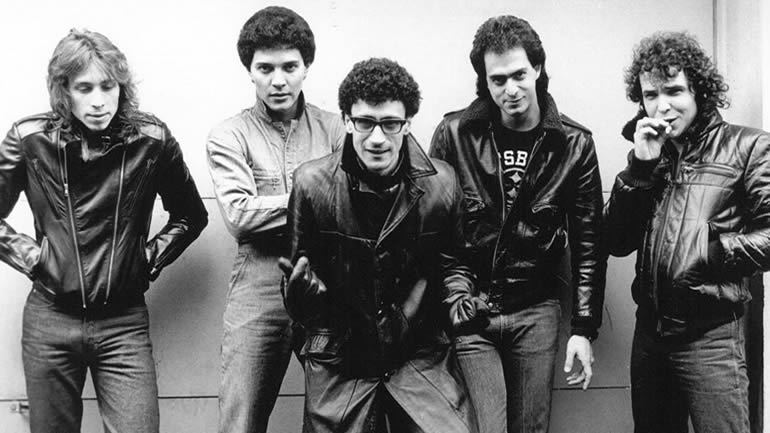 "You're Only Dreaming" is a group composition with input from bassist Albritton McClain and drummer Kevin Valentine as is the frantic, sexually charged tune "She's So Wild", which ends quite abruptly. The album then returns to the moderate, power pop/new wave track with "Daddy Don't Live Here Anymore", with a vibe that has a bit of Cheap Trick influence and a cool, almost psychedelic synthesized organ lead by Avsec. Wrapping things up is "Too Young to Love", the closest thing to a ballad on this album albeit with tremendous musical dynamics such as a sax lead by Kenny Blake and Iris singing his heart out with dramatic, strained vocals to finish the album strongly.
While Back On the Streets was originally released by the small Midwest Records, its immediate success got Iris signed to a five-album deal with MCA Records, starting with the national re-release of this debut in in October 1980.
~
Part of Classic Rock Review's celebration of 1980 albums.