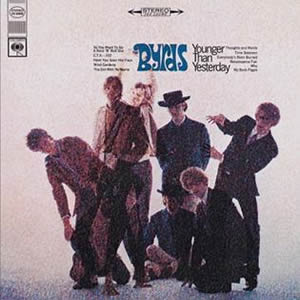 The fourth album by The Byrds, 1967's Younger Than Yesterday saw a continued evolution of the quartet's sound towards a mature fusion of jazz and psychedelia and jazz into their root folk/rock sound. This album has grown to be considered among the group's strongest by critics, in spite of the fact that it initially had mixed reviews and it only achieved moderate chart success upon it's release.
The Byrds reached international prominence in 1965 with several hit singles and a pair of #1 albums. However, their 1966 third album, Fifth Dimension, was less commercially successful than their first two following the departure of Gene Clark, who had previously been the group's chief songwriter. The group also found themselves seeking a new a record producer as they prepared for the recording of this fourth album. Bassist Chris Hillman and guitarist David Crosby took a more active role in songwriting for this record with the pair having a hand in writing or co-writing 10 of the 11 originals on the album.
Following an intensive period of rehearsal, the entirety of Younger Than Yesterday was completed in 11 days with producer Gary Usher in late 1966. While the original working title for this LP was Sanctuary, they later exchanged this for a title inspired by the lyrics of the Bob Dylan cover, "My Back Pages", the only cover song on this album.

Younger Than Yesterday

by

The Byrds
Released: February 6, 1967 (Columbia)
Produced by: Gary Usher
Recorded: Columbia Studio, Hollywood, November–December, 1966
Side One
Side Two
So You Want to Be a Rock n' Roll Star
Have You Seen Her Face
C.T.A.-102
Renaissance Fair
Time Between
Everybody's Been Burned
Thoughts and Words
Mind Gardens
My Back Pages
The Girl with No Name
Why
Group Members
Jim McGuinn – guitars, vocals
David Crosby – guitars, vocals
Chris Hillman – bass, vocals
Michael Clarke – drums
The album's opening song and lead single, "So You Want to Be a Rock n' Roll Star", was co-written by Hillman and Jim McGuinn and it became a Top 40 hit for the group. Meant as an ironic but good-natured comment on the recent success of the manufactured rock band The Monkees, the song was innovative with the inclusion of trumpet by Hugh Masekela as well as some crowd noise effects. "Have You Seen Her Face" follows as a contemporary love song released as another single from the album, while "C.T.A.-102" takes a turn as it explores the existence of extraterrestrial life.
Co-written by Crosby and McGuinn, "Renaissance Fair" is a short folk song with medieval ambiance and it features saxophone by guest Jay Migliori. Hillman's country / pop influenced "Time Between" is followed by Crosby's jazz-influenced "Everybody's Been Burned", a song he wrote in 1962, a few years before the formation of the Byrds. "Thoughts and Words" kicks of the original Side Two as an LSD-influenced, metaphysical meditation on human relationships with plenty of effects. "Mind Gardens" was a contentious track which was written by Crosby but disliked by the other band members because if its lack of traditional compositional form. Crosby's ambitions for artistic control within the band would ultimately lead to his dismissal from the group later in 1967.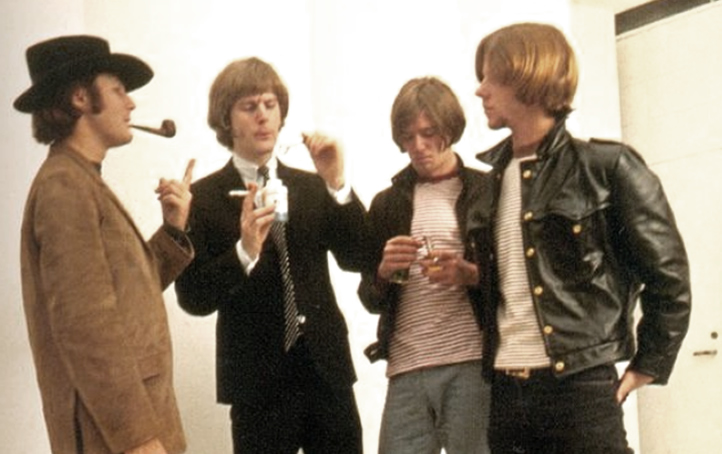 The group's version of "My Back Pages" harkens back to their smash hit Mr. Tambourine Man a few years earlier as a pared-down and electrified version of a Dylan folk song. It would ultimately be the last single by the Byrds to reach the Top 40. Following the county-flavored "The Girl with No Name", the album concludes with "Why", an Indian-flavored, re-recorded version of a song first released as the B-side of the band's "Eight Miles High" single in March 1966.
While Younger Than Yesterday charted in the Top 40 in both the US and the UK, it would be the last to feature all original members of The Byrds as both Crosby and drummer Michael Clarke would soon depart the group and various lineup ships would occur in subsequent years.
~

Part of Classic Rock review's Celebration of 1967 albums.