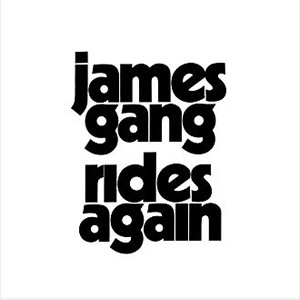 The James Gang reached the peak of their relatively short time together with front man Joe Walsh with their sophomore album James Gang Rides Again in the summer of 1970. The album combines their blues-based power-trio rock with a branched-out experimental method that incorporates keyboards into their sound and includes elements of country. While not a great commercial success, James Gang Rides Again was critically acclaimed and a great influence for many rock bands that emerged later in the decade.
James Gang was founded by drummer Jim Fox in Cleveland, Ohio in 1965. They were were originally a five-piece, British rock influenced band including bassist Tom Kriss. In 1968, Walsh was brought on to replace the group's original lead guitarist and, after two prompt defections, the band quickly realigned as a trio to fulfill live commitments. With Walsh assuming lead vocal duties, the group decided they liked their sound and moved forward as a threesome. After signing with ABC's new Bluesway Records subsidiary in early 1969, they recorded and released their debut, Yer' Album, later that year. Sales for this album were disappointing and a new singer was briefly considered so that Walsh could focus on guitars. While deciding to maintain Walsh as lead vocalist, Kriss decided to abruptly depart from the band in November 1969.
Bassist Dale Peters was recruited by Fox just in time for recording of the group's second album. Recorded in Los Angeles with producer Bill Szymczyk, the group wanted to replicate the energy of its ever-popular live shows, where the group would jam to new material in the dressing rooms before each show.  With the combination of low label expectations and the state-of-the-art equipment at The Record Plant, the group took a loose and experimental approach to the material on James Gang Rides Again.

James Gang Rides Again

by

The James Gang
Released: July, 1970 (ABC)
Produced by: Bill Szymczyk
Recorded: The Record Plant, Los Angeles, November 1969
Side One
Side Two
Funk #49
Asshtonpark
Woman
The Bomber
Tend My Garden
Garden Gate
There I Go Again
Thanks
Ashes the Rain and I
Group Musicians
Joe Walsh – Guitars, Piano, Vocals
Dale Peters – Bass, Keyboards, Vocals
Jim Fox – Drums, Percussion, Organ
The blistering opening track "Funk #49", was a group composition that derived from a warm-up jam and initially ad-libbed lyrics by Walsh about an untamed girlfriend. The recording features a slight but potent percussion break by Fox before pivoting back to a final verse. The song was released as a single to moderate initial success but became a later staple on classic rock stations. The instrumental "Asshtonpark" features a slow rhythmic build up towards a country-esque groove featuring a generous amount of delay on Walsh's guitar. The song's title is a tribute to production designer Assheton Gorton. The catchy rocker "Woman" follows, starting with and built on Peters' bass line with some great guitar dynamics to adding a dramatic element to the groove.
The album's original first side ended with the excellent multi-part suite called "The Bomber". Here, the musical talent of this emerging trio is fully exhibited, book-marked by the heavy, frantic verses of "Closet Queen", which reportedly blew out the studio monitors at The Record Plant upon playback. The song's mid section improvises a couple of established instrumentals, including Vince Guaraldi's "Cast Your Fate to the Wind" and an electric rendition of Maurice Ravel's "Boléro", which spawned a threatened suit that resulted in certain editions of the track being edited to remove "Boléro" (since restored). In contrast to sound, but just as innovative is "Tend My Garden", featuring Walsh pulling quadruple duty on vocals, organ, acoustic and electric guitar, a method (as well as a signature riff) that would be echoed years later by Tom Scholz of Boston on "More Than a Feeling" from Boston's 1976 debut album. From the dissolve of the majestic "Tend My Garden", comes the simple, homey, front porch country-blues of "Garden Gate", a short minute and a half track which appears to be a solo performance by Walsh.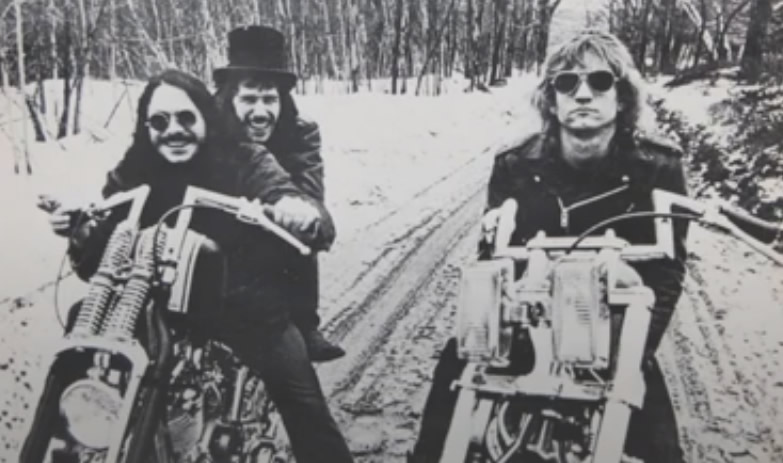 The whimsical "There I Go Again" may be closest to pure pop ever by James Gang (or Walsh for that matter). This catchy acoustic tune is accented by fine pedal steel guitar of guest Rusty Young. While remaining in the pop form, "Thanks" has a bit more complexity overall with an original arrangement applied to this short acoustic folk tune. "Ashes the Rain and I" concludes the album as a dark acoustic folk with heavy orchestration applied after the first verse and interlude. While certainly atmospheric and original, the decision to shepherd out this record with so much extraneous instrumentation seems like an odd decision by Szymczyk and the band.
Following the recording sessions for James Gang Rides Again, the group embarked on a tour opening for The Who in the United States in early 1970. This led to the group touring the United Kingdom and appearing on the British TV show "Top of the Pops", which increased their international appeal. However, after 1971's studio album Thirds and the live album James Gang Live in Concert, Walsh left the band the band at the end of the year to form Barnstorm. Fox and Peters continued the James Gang with several vocalists and guitarists through several more albums over the next half decade but never again would reach this level of artistic merit or sustainability before the group finally disbanded in early 1977.
~

Part of Classic Rock Review's celebration of 1970 albums.