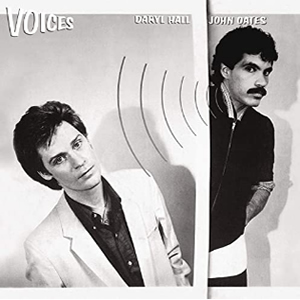 Hall and Oates finally reached commercial pay dirt with their ninth studio album, Voices. Released in the summer of 1980, this record was on the Billboard album charts for over 100 weeks as it slowly became a massive hit peaking about a year after it was released and being a catalyst for phenomenal commercial success through the mid 1980s. Voices is split musically, with its original first side featuring new wave pop and side two reverting to more classic elements of rock, funk and soul.
This duo from Philadelphia delivered a critically acclaimed album, Abandoned Luncheonette, in 1973 but had no hit singles through their first three albums (although "She's Gone" from Abandoned Luncheonette would be re-released in 1976 and become a hit). After signing with RCA Records they released their 1975 self-titled fourth album, which contained the Top Ten ballad "Sara Smile", a song Daryl Hall wrote for his girlfriend and future songwriting collaborator Sara Allen. The late seventies saw four more album releases – Bigger Than Both of Us (1976), Beauty on a Back Street (1977), Along the Red Ledge (1978), and X-Static (1979) – all of which found moderate Top 40 success with Bigger Than Both of Us spawning their first number one hit, "Rich Girl" in early 1977. Still, with this wide output and near constant touring, Hall and Oates felt like they were not maximizing their potential during this period.
The new decade brought a new approach for the duo as Hall and John Oates decided to self-produce their next album as well as use their own touring band, including bassist John Siegler and drummer Jerry Marotta, in the studio. They also decided to record in New York City (their then hometown) instead of Los Angeles, where they had recorded much of their late seventies albums. What would become Voices was written and arranged over a short period of time and recorded in early 1980.

Voices

by

Hall & Oates
Released: July 29, 1980 (RCA)
Produced by: Daryl Hall & John Oates
Recorded: Electric Lady Studios, New York City, November 1979 – April 1980
Side One
Side Two
How Does It Feel to Be Back
Big Kids
United State
Hard to Be in Love with You
Kiss on My List
Gotta Lotta Nerve (Perfect Perfect)
You've Lost That Lovin' Feelin'
You Make My Dreams
Everytime You Go Away
Africa
Diddy Doo Wop (I Hear the Voices)
Primary Musicians
Daryl Hall – Keyboards, Guitars, Vocals
John Oates – Guitars, Percussion, Vocals
G.E. Smith – Guitars
John Siegler – Bass
Jerry Marotta – Drums
It is clear by the first four tracks what the group and label wanted to portray as their sound on Voices and, perhaps even more surprising,  the two Oates led tracks are the higher quality of this group. "How Does It Feel to Be Back" kicks things off with lead vocals by Oates, a jangly guitar and a strong beat which makes it feel like a cross  between Springsteen and Eddie Money. Hall's "Big Kids" is more new wave flavored than the opener and has an odd effect on his vocals which is not needed at all. "United State" is another new wave track with a stronger rock presence while "Hard to Be In Love with You" features some interesting guitar and synth layers and duo lead vocals by Hall and Oates.
The hit "Kiss On My List" has the most interesting back story of any song on the album. It was written by Janna Allen (Sara's sister) and, having never recorded a song before, Hall agreed to cut a demo as a product for her songwriting portfolio. However, the production team liked the demo so much that they decided to add vocals and instrumentation to the demo, including a fantastic guitar lead by guest Jeff Southworth. Released as the third single from the album, "Kiss On My List" became a number one hit song. For her part, Sara Allen co-wrote two other songs on Voices, including "Gotta Lotta Nerve (Perfect Perfect)", which features a choppy mix of ska beats and R&B vocal motifs and the funky hit "You Make My Dreams". This latter song features Hall's choppy electric piano contrasted by his excited vocal melodies as it reached the Top 5 of the charts in 1981.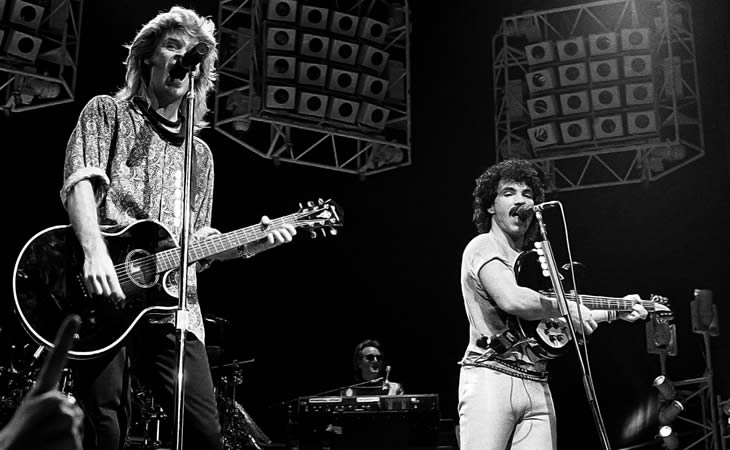 The retro-sounding second side of the album starts with a cover of the classic "You've Lost That Lovin' Feelin'". This oft covered track, written by Barry Mann, Cynthia Weil and Phil Spector, may have it's best effort at modernizing the 1964 Righteous Brothers classic sound with Oates and Hall replicating the vocals of Bill Medley and Bobby Hatfield nicely and the instrumentation does not try to replicate the original "wall of sound" but uses a tasteful modern rock arrangement. Hall's "Everytime You Go Away" is an excellent soulful ballad which was recorded live in the studio to try and capture the sound like that of the classic Stax Studios in Memphis. This song comes complete with rich organ by guest Ralph Schuckett and, although this version was not released as a single, it was covered by Paul Young in 1985 and became another number 1 hit. "Africa" is a fun track by Oates who provides native-like lead vocals over a chanting backing chorus and a hand-jive like drum beat with a later sax lead by Charlie DeChant. The closing track, "Diddy Doo Wop (I Hear the Voices)", is a bass-driven final attempt at a pop hit, deriving from a mass murderer who was circulating in the New York subways at the time, giving it a dark comedic quality.
Voices debuted at number 75 in August 1980 and slowly climbed to its Top 20 peak nearly a year later. By that time, Hall and Oates had already recorded and released their 1981 follow-up, Private Eyes, which continued their meteoric commercial momentum.
~
Part of Classic Rock Review's celebration of 1980 albums.