Buy Ritchie Blackmore's Rainbow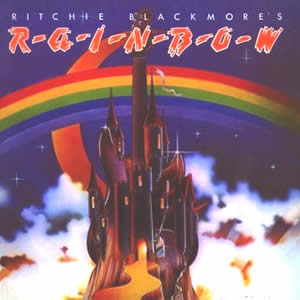 Originating as a side project for Ritchie Blackmore while he was still the guitarist for Deep Purple, Ritchie Blackmore's Rainbow turned out to be the debut studio album for Rainbow, the new group that would be Blackmore's sole focus for nearly a decade to come. This album, which found critical acclaim and notoriety for its fantasy based lyrics combined with it's more direct heavy rock sound, was composed and delivered by Blackmore along with members of the American band Elf.
Blackmore co-founded Deep Purple in 1968 and saw that group through stylistic and personnel changes before they reached the top of the rock world with the 1972 classic album Machine Head. However, tensions in the group led to the departure of lead vocalist Ian Gillan and bassist Roger Glover the following year and the pair were replaced by David Coverdale and Glenn Hughes respectively. This new lineup of Deep Purple released a pair of 1974 albums, Burn and Stormbringer, which saw a stylistic shift towards seventies style funk rock, a style of which Blackmore was not all too fond.
In late 1974, Blackmore entered a studio in Florida with members of Elf, a group fronted by Ronnie James Dio which had opened for Deep Purple on a previous tour and of whom Blackmore had been very impressed. The intent was to record and release a solo single, but Blackmore found the experience so satisfying that he decided to extend the sessions to a full album. The group traveled to Musicland Studios in Munich, West Germany with producer Martin Birch to record Ritchie Blackmore's Rainbow. With this further positive recording experience, Blackmore decided to leave Deep Purple and become a full time member of Rainbow.

Ritchie Blackmore's Rainbow

by

Rainbow
Released: August 4, 1975 (Polydor)
Produced by: Ritchie Blackmore, Martin Birch, & Ronnie James Dio
Recorded: Musicland Studios, Munich, February – March 1975
Side One
Side Two
Man on the Silver Mountain
Self Portrait
Black Sheep of the Family
Catch the Rainbow
Snake Charmer
Temple of the King
If You Don't Like Rock n' Roll
Sixteenth Century Greensleeves
Still I'm Sad
Primary Musicians
Ronnie James Dio – Lead Vocals
Ritchie Blackmore – Guitars
Micky Lee Soule – Piano, Keyboards
Craig Gruber – Bass
Gary Driscoll – Drums
Right from the start, "Man on the Silver Mountain", seems at least a half decade ahead of its time as it delivers a style common in the 1980s, with Dio's dynamic vocals over simple rock riffing and rhythms. This became the debut single by Rainbow and remains one of their best known radio tracks. "Self Portrait" features a complex time signature due to the execution by drummer Gary Driscoll and bassist Craig Gruber and this track is highlighted by Blackmore's fantastic, bluesy lead.
"Black Sheep of the Family" is a cover of a song by the band Quatermass and it adds a fine upbeat, almost conventional pop break on the first side. This song was the intended single that Blackmore originally recorded in '74. "Catch the Rainbow" is an extended bluesy ballad to end the original first side, highlighted by surprising co-lead vocals / medley by Shoshana and Blackmore's long guitar-lead outro. To start Side 2, "Snake Charmer" is built with some interesting guitar riffs and layers.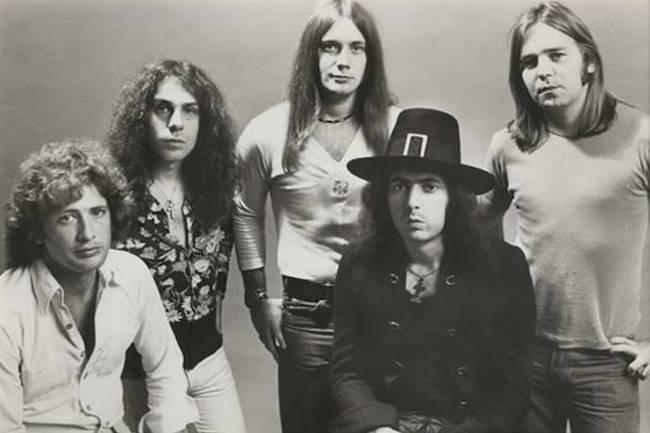 "Temple of the King" is a real highlight of the second side, as a track with a medieval tenor and tone with a calm, moderate delivery. This song features more great bass playing by Gruber along with harmonized vocals to accompany Blackmore's crisp, moody guitar lead and later dissolve into a classical style acoustic in outtro. "If You Don't Like Rock n' Roll" is a good time, pure rocker with choppy piano by Micky Lee Soule, who also adds a later piano lead. "Sixteenth Century Greensleeves"is a hard rocker with more medieval lyrics (albeit no real musical interpretation of the traditional English folk song from 1580). Here, Soule plays a clavinet to add to the rock effect as Dio expertly delivers the lyric. The album ends rather oddly with an instrumental cover of the Yardbirds' "Still I'm Sad" from their 1965 album Having a Rave Up. This instrumental features a hyper blues riff with tremendous percussion by Driscoll throughout.
Ritchie Blackmore's Rainbow was a fairly successful commercial album, reaching the Top 30 in the USA and nearly hitting the Top 10 in the UK. Ronnie James Dio has cited this release as his favorite Rainbow album. Beyond Dio however, Blackmore was unhappy with the rest of the former Elf line-up and he soon released everybody except for Dio for the 1976 follow-up release, Rainbow Rising, and subsequent international tours.
~

Part of Classic Rock Review's celebration of 1975 albums.