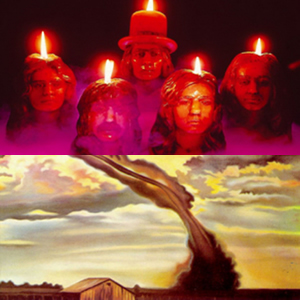 In 1974, Deep Purple released their only two albums with the "Mark III" lineup, Burn and Stormbringer. With these records, the group not only replaced vocalist Ian Gillan (who quit) and bassist Roger Glover (who was fired), but also made a stylistic shift towards the popular early seventies style funk rock. Critical response to this new endeavor was mixed (Burn generally received more favorable reviews) while commercial sales remained strong for both albums worldwide.
After Gillan and Glover joined Deep Purple in late 1969, the group's popularity exploded with each of the initial three "Mark II" albums – Deep Purple In Rock (1970), Fireball (1971), Machine Head (1972) – being more popular and better received than the last. An extensive world tour in 1972 resulted in the double-live album, Made in Japan, which went on to become one of rock's highest selling live-concert recordings. The 1973 studio album Who Do We Think We Are was an instant gold record but ultimately is a less than spectacular record overall. Exhausted with the frantic pace, Gillan requested a break, but was pushed by management to complete another tour. The resulting tensions ultimately led to Gillan quitting Deep Purple in the summer of 1973, shortly followed by the dismissal of Glover.
In August 1973, former Trapeze bassist/vocalist Glenn Hughes joined the group, originally intended to take on the duo roles vacated by Gillan and Glover. However, the band came close to bringing in former Free vocalist Paul Rodgers, before he decided to start Bad Company. The idea of remaining a five-piece but with dual lead vocalists persisted and, after several auditions, the group chose David Coverdale, a then-unknown vocalist from Northeast England.

Burn

by

Deep Purple
Released: February 15, 1974 (Warner Bros.)
Produced by: Deep Purple
Recorded: Rolling Stones Mobile Studio, Montreux, Switzerland, November 1973
Side One
Side Two
Burn
Might Just Take Your Life
Lay Down, Stay Down
Sail Away
You Fool No One
What's Goin' On Here
Mistreated
'A' 200

Stormbringer

by

Deep Purple
Released: November 1974 (Warner Bros.)
Produced by: Martin Birch & Deep Purple
Recorded: Musicland Studios, Munich, Germany & The Record Plant, Los Angeles, August-September 1974
Side One
Side Two
Stormbringer
Love Don't Mean a Thing
Holy Man
Hold On
Lady Double Dealer
You Can't Do It Right
High Ball Shooter
The Gypsy
Soldier of Fortune
Group Musicians (Both Albums)
David Coverdale – Lead Vocals
Ritchie Blackmore – Guitars
Jon Lord – Keyboards
Glenn Hughes – Bass, Vocals
Ian Paice – Drums
The self-produced album Burn was recorded in Montreux, Switzerland during November 1973. All members of the group participated in the songwriting but Hughes was not initially given any credits due to past contractual obligations. The title track kicks things off as a hyper-paced mini-epic which frequently returns to the signature riff by Ritchie Blackmore, who later trades off leads with keyboardist Jon Lord. "Might Just Take Your Life" was the lead single from the album and it starts with Lord's sloshy organ riff before settling into a fine rock groove topped by Coverdale's soulful vocals.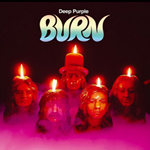 On the upbeat "Lay Down, Stay Down" Coverdale and Hughes trade off lead vocals resulting in a heavy Doobie-Brothers-like song, while "Sail Away" is a clavichord-driven rocker with contrasting vocals by the two singers and a later psychedelic-type synth by Lord. "You Fool No One" features a wild drum and percussion ensemble by Ian Paice before it breaks into a pure classic rocker with some sixties influence.
The album concludes with three songs of very differing styles. The blues rocker "What's Goin' On Here" features thumping rhythms, a generous use of piano by Lord and crisp guitars by Blackmore for an overall effect that should've made this track a hit. "Mistreated" is an extended, droning song that only really comes to life later with another fine guitar lead. The odd, synth driven instrumental "'A' 200" closes things out with a rhythm making this sort of a more modern adaptation of the Jeff Beck classic "Beck's Bolero".
Burn sold over a million copies worldwide and fared well on the charts, hitting the Top 10 in the UK and the US and reaching #1 in several European countries. In April 1974, this lineup of Deep Purple co-headlined the California Jam festival in Ontario, CA, which drew an audience of more than a quarter million and was broadcast on national Television in the US.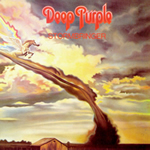 Following another world tour, the group returned to the studio in the late summer of 1974 to record Stormbringer. Co-produced by Martin Birch, the album was recorded in both Munich, Germany and Los Angeles and it musically displays Deep Purple even more fully embracing soul and funk elements with Hughes and Coverdale exerting much more influence and Lord providing an exceptionally strong and versatile effort.
The title track "Stormbringer" opens the album strongly as a perfect junction where Coverdale's and classic Deep Purple's styles intersect. The song features heavy rhythms, judicious synths, a soaring guitar lead and doomy lyrics to make it a mid-seventies metal classic. The second track, "Love Don't Mean a Thing", offers a sharp contrast to the first with duo lead vocals and a cool, bluesy vibe overall. The next two songs are the only not to include Blackmore in composing and they show this stylistically. "Holy Man" is, perhaps, furthest away from Purple's core – a pleasant enough ballad with plenty of mid-seventies ear candy – but it sounds nothing like traditional Deep Purple. The keyboard-driven "Hold On" closes the original first side by displaying Lord's skills at both electric piano and clavichord.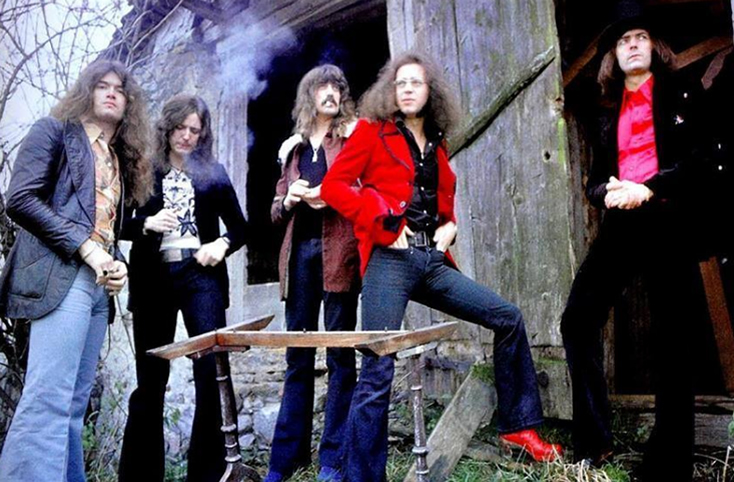 Side two starts with a return to thumping hard rock on "Lady Double Dealer", along with some funk elements in the bridge. "You Can't Do It Right (With the One You Love)" is so funk that it is almost pre-disco, while "High Ball Shooter" is a hybrid of harder blues rock and soulful vocals along with a fine extended organ lead and "The Gypsy" features harmonized guitars and lead vocals. The album concludes with the straight-forward acoustic ballad "Soldier of Fortune", a quiet and haunting way to wrap things up.
Unhappy with the stylistic shifts in the band he co-founded and named in 1968, Blackmore left Deep Purple following the subsequent Stormbringer tour in 1975. Blackmore then formed Rainbow with Ronnie James Dio while Deep Purple replaced him temporarily with guitarist Tommy Bolin and recorded the forgettable Come Taste the Band. They called it quits in early 1976 and would not reunite for nearly a decade to come.
~

Part of Classic Rock Review's celebration of 1974 albums.