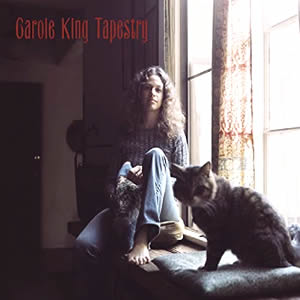 After spending most of the 1960s writing hits for other artists, Carole King started a solo career at the dawn of the 1970s. Her 1971 second studio album, Tapestry, became her breakout work as a phenomenal commercial and critical success. This multiple Grammy Award winning album features a dozen tunes written on piano,  mostly new, but also a few classics from King's hit-making days in the sixties. And those hit-making days continued as two singles from the album topped the pop charts.
King was born Carol Klein and she was musically inclined from a young age. She attended high school with Paul Simon and he helped record her first promotional single in 1958 called "The Right Girl". Another high school classmate Neil Sedaka, who King had dated, had a hit in 1959 called "Oh! Carol". When in college, King met Gerry Goffin, who became her songwriting partner, husband and father to her daughters. In 1960, King and Goffin wrote the Shirelles' hit "Will You Love Me Tomorrow", which became the first Billboard Hot 100 number 1 hit by an all female black group. Further hits followed through the 1960s for various and diverse artists ranging from Little Eva to Bobby Vee to the Drifters to the Monkees. In 1968, Goffin and King were divorced and Carole relocated to Laurel Canyon, CA and formed a music trio called The City with Danny Kortchmar on guitar and future husband Charles Larkey on bass. The City produced and released a single album in 1968, Now That Everything's Been Said.
While in Laurel Canyon, King befriended fellow musicians James Taylor, Joni Mitchell and Toni Stern, who encouraged her to launch a solo career. In 1970 King released her debut solo album, Writer, to minor commercial success. In January 1971, King recorded Tapestry concurrently with Taylor's album Mud Slide Slim and the Blue Horizon with both records using many of the same musicians. Tapestry was produced by Lou Adler (King's longtime publisher and founder of Ode Records) Lou Adler, who wanted the album to sound like the simple demos she recorded through the years with her piano and vocals in the forefront.

Tapestry

by

Carole King
Released: February 10, 1971 (A&M)
Produced by: Lou Adler
Recorded: A&M Recording Studios, Hollywood, January 1971
Side One
Side Two
I Feel the Earth Move
So Far Away
It's Too Late
Home Again
Beautiful
Way Over Yonder
You've Got a Friend
Where You Lead
Will You Love Me Tomorrow?
Smackwater Jack
Tapestry
A Natural Woman
Primary Musicians
Carole King – Lead Vocals, Piano, Keyboards
Danny Kortchmar – Guitars, Vocals
Curtis Amy – Saxophones, Flute, Strings
Charles Larkey – Bass
Russ Kunkel – Drums, Percussion
Built on choppy piano octaves and jazzy overtones, the opener "I Feel the Earth Move" introduces the hook right away and it is repeated often as King shines with melodic vocals and lead piano throughout. The song was released as a double A-sided single along with "It's Too Late". Together, this single became one of the biggest mainstream pop hits of 1971. "It's Too Late" features lyrics by Stern and is driven by Larkey's bass and the subtle rhythms of Joel O'Brien. The lyrics describe the end of a loving relationship with a musical arrangement that blends pop/jazz with the soft folk of the L.A. music scene.
"So Far Away" is a simple and beautiful piano ballad with limited arrangement done expertly with just enough moody counterbalance added to King's piano and vocals. A very slight flute by Curtis Amy closes out the song. The short "Home Again" seems like a natural companion song to "So Far Away" with slightly more vigorous vocals. "Beautiful" abruptly follows as a show-tuny tune, not quite as cohesive as the prior excellent compositions, but entertaining nonetheless. "Way Over Yonder" is built on a slow, 3/4 bluesy waltz and features gospel-tinged backing vocals by Merry Clayton.
The second side features several songs made popular by other artists, starting with "You've Got a Friend", which was recorded by Taylor during the same duo-album sessions and became a number one hit for him, while winning Grammy Awards for both King and Taylor in 1972. Carole's version features both Taylor and Mitchell on backing vocals. King's new version of her first songwriting hit, "Will You Love Me Tomorrow?", features a slower and more methodical delivery, while her version of "(You Make Me Feel Like) A Natural Woman" does an outstanding job stretching her own vocal range without going over the top or trying to replicate the hit version by Aretha Franklin. The balance of the album includes "Where You Lead", featuring a second lyrical contribution by Stern with an upbeat pop/rock arrangement, the upbeat folk/rock of "Smackwater Jack" which features a fine electronic piano by Ralph Schuckett, and the haunting but beautiful "Tapestry". This folk-based title track is almost religious in nature with a bare-bones musical arrangement and lyrical metaphors on the nature of life, death and resurrection.
.
Tapestry is one of the 100 best-selling albums of all time, with over 14 million sales worldwide, achieving Diamond status in mid 1990s. After it's initial release, it remained on the Billboard charts for 313 weeks, the second most weeks to chart behind the 724 weeks of Pink Floyd's The Dark Side of the Moon. Barely 30 years old, Carole King would continue to have success for decades to come, but this album was her career masterpiece.
~

Part of Classic Rock Review's celebration of 1971 albums.