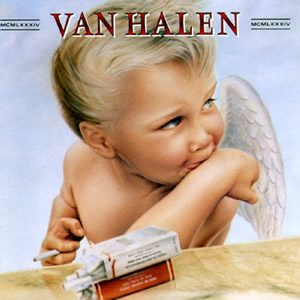 The original lineup of Van Halen reached their artistic and commercial apex with their final album together. 1984 (officially titled using Roman Numerals MCMLXXXIV) was released near the start of the year, 1984. Due to a radio-friendly song with an MTV-friendly video, the album had an immediate pop crossover effect that ultimately propelled the album to the highest charting position and sales by the band to date. But beyond the commercial appeal of the album, there lies a solid core of rock compositions and exquisite production by Ted Templeman that demonstrates Van Halen at their absolute peak.
Van Halen had steadily grown in popularity from their fine 1978 debut album, through 1983, when they were entered in the Guinness Book of World Records as the "highest paid band of all-time" for its headlining at the US Festival. However, there were some internal creative issues as guitarist Eddie Van Halen had felt dissatisfied by the concessions he made to Templeman and front man David Lee Roth on the group's previous 1982 album Diver Down. During the sessions for that album, Roth rejected the idea of developing a synth riff by Eddie Van Halen into a full-fledged song (that riff would later be re-purposed for the song "Jump"). For his part, Templeman was instrumental in the vast amount of cover songs used on Diver Down, to which Eddie had objections.
In this climate, Van Halen decided to build his own studio with the help of engineer Donn Landee and named the studio 5150 (after the LAPD code for "escaped mental patient"). Some music analysts claim that 1984 is the only Diamond selling album (over 10 million copies) to be entirely recorded and mixed in a "home studio". As a result, 1984 has more influence from Eddie Van Halen than any other album. Always the innovator, Van Halen's radical electric guitar tapping technique on the Van Halen I track "Eruption" was mistakenly thought by some to be a synthesizer. When he actually did use synthesizers on this album, it brought a new mainstream appreciation for the instrument and sales of them increased overnight.

MCMLXXXIV

by

Van Halen
Released: January 9, 1984 (Warner Brothers)
Produced by: Ted Templeman
Recorded: 5150 Studios, Hollywood, CA, 1983
Side One
Side Two
1984
Jump
Panama
Top Jimmy
Drop Dead Legs
Hot For Teacher
I'll Wait
Girl Gone Bad
House of Pain
Group Musicians
David Lee Roth – Lead Vocals
Eddie Van Halen – Guitars, Keyboards, Vocals
Michael Anthony – Bass, Vocals
Alex Van Halen – Drums, Percussion
Like all of the group's previous five albums, all music and lyrics on 1984 were credited to all four member of the band. However, in negotiations years later bassist Michael Anthony was removed from this album's credits. The title track opener, "1984" is little more than synthesized soundscapes by Eddie Van Halen, but this does offer an effective intro to "Jump"
The only #1 song of the band's career, "Jump" is undeniably infectious, with solid rock rhythm allows the long-string synths to play out and still be effective. Eddie Van Halen's guitars are slight, only present during the pre-chorus, first half of the lead section, and outro. The second half of the lead is reserved for his interesting synth solo over slowly descending chord structure for great effect.
In contrast to the guitar-light "Jump" is the drenched riff of "Panama", where Van Halan's guitar textures are as fine as ever. Anthony and drummer Alex Van Halen lay down strong rhythms while Roth adds excitable vocals. The cool, spoken word mid-section following the guitar lead also features Eddie Van Halen revving his Lamborghini in the background, as the car was backed up to the studio and microphones were attached to the exhaust pipe.
The album's first side concludes with a couple of forgotten classic gems. "Top Jimmy" is a tribute to James Paul Koncek of the band Top Jimmy & The Rhythm Pigs and starts with overdubbed guitar effects in its long intro. It then breaks into a frenzied, upbeat rock blues, with Van Halen showmanship, alternating back and forth between the deep intro riff and good-time verse/chorus section. Van Halen says "Drop Dead Legs" was inspired by AC/DC's "Back in Black", but you can also hear a lot of early Aerosmith in the way this song is constructed and delivered. Built on a slow guitar grind, the song really comes to life with great harmonized vocal chorus by Anthony and Van Halen, which augments Roth's finely strained rock lead vocals.
The second side starts with "Hot for Teacher", a unique and entertaining song built for the younger MTV audience. The tremendous drumming of Alex Van Halen, offers a fine long intro for the pure rock theater of the song proper. "I'll Wait" is the second keyboard-dominated song (and the second single) on the album. It was also very controversial within the group as Roth and Templeman wanted to remove the song from the album, But Eddie Van Halen refused. The song is also unique in that there is no bass through the first verses and choruses, just in the lead section, and it is co-written by Doobie Brother Michael McDonald.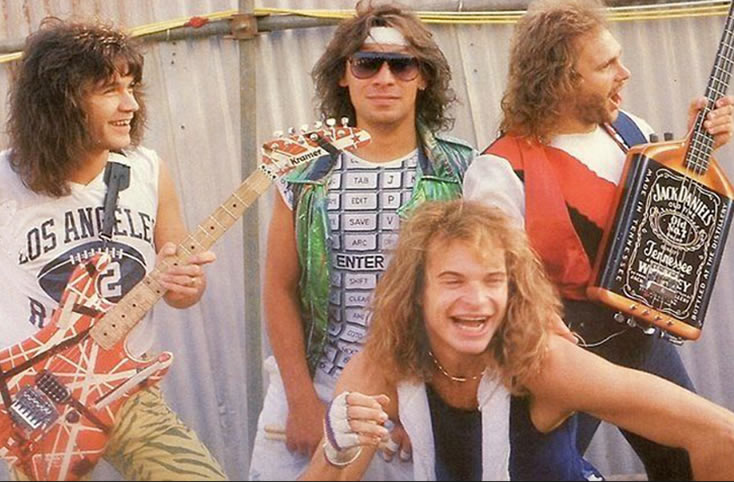 The finest jam on the album comes on "Girl Gone Bad". It begins with a long and dramatic beginning, with bass creeping ever closer during intro picked and chimed guitars by Eddie and fast-moving, high-end percussion by Alex. When it all kicks in, it is as good as any Van Halen song instrumentally, even seeming to be a bit Rush-influenced with the great instrumental rudiments and includes some cool scat vocals by Roth during the long bridge section. The album's closer, "House of Pain" originally dated back to the demos Van Halen recorded with Gene Simmons prior to being signed by Warner Bros. in the mid 1970s. Consequently, it is the most like a traditional Van Halen song on side two, being upbeat and riff-driven with a slight section of guitar excellence.
1984 peaked at #2 on the Billboard album charts, ironically blocked for 5 consecutive weeks from the top spot by Michael Jackson's Thriller, on which Eddie Van Halen contributed a guitar solo to the song "Beat It". It would be the last Van Halen album to feature all four original members, as Roth left the band following the 1984 tour and did not record with the band again until 2012's A Different Kind of Truth, which was recorded after Anthony had already left the band.
~

Part of Classic Rock Review's celebration of 1984 albums.