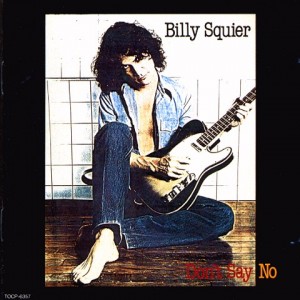 Bily Squier was an odd figure on the pantheon of rock. On the one hand, there is no doubt that he was a very talented vocalist with exception songwriting instincts and pop music instincts. Listening to his 1981 breakthrough, Don't Say No, leaves one with little doubt that this is a bona fide and legitimate rocker. But then there is the other hand, something that's a little odd, a little off, something you can't quite put your finger on, but nonetheless was (probably) responsible for Squier not getting his due accolades through the years and decades. It certainly can be argued that being a little "off" adds a distinction or an "edge" that makes such an artist more interesting. This certainly was the case on Don't Say No and its equally impressive follow-up, Emotions In Motion, in 1982.
A Massachusetts native, Squier had been performing live throughout New England since the late 1960s, including stints with the bands Magic Terry & The Universe, Kicks, The Sidewinders and Piper. This latter group released two critically acclaimed (albeit commercially unsuccessful) albums in the late 1970s and opened for KISS during the height of that band's success. Squier departed Piper to launch his solo career in 1980 with his debut album The Tale of the Tape, which had a couple of minor hits.
For this sophomore effort, Squier invited Queen guitarist Brian May to act as producer. However, May had too many prior commitments and instead suggested Reinhold Mack, who recently produced Queen's very successful 1980 albums The Game. This combination proved fruitful, as Don't Say No reached the Top 5 on the album charts and spawned two Top 40 singles.

Don't Say No

by

Billy Squier
Released: April 13, 1981 (Capitol)
Produced by: Reinhold Mack & Billy Squier
Recorded: The Power Station, New York
Side One
Side Two
In the Dark
The Stroke
My Kinda Lover
You Know What I Like
Too Daze Gone
Lonely Is the Night
Whadda You Want from Me
Nobody Knows
I Need You
Don't Say No
Primary Musicians
Billy Squier – Lead Vocals, Guitars, Piano, Percussion
Cary Sharaf – Guitars
Alan St. Jon – Keyboards
Mark Clarke – Bass, Vocals
Bobby Chouinard – Drums
This "second tier" of songs are best exemplified with the final three songs on the album, which break from the normal pattern with differing tempos and acoustic textures. "Nobody Knows" is the only song that can be considered a ballad. Squier's near-soprano vocals above a slowly-picked guitar line and just the right amount of bass and strings later gives way to the full band joining in and a fantastic double-tracked guitar lead that captures the mood perfectly. "I Need You" is a very good pop song, with a really cool new-wave-ish bass/synth riff, calm strummed acoustic and strategically inserted electric guitar during verses that becomes more forceful during the choruses. Unlike that smooth song, "Don't Say No" is put together in bits and pieces with some interesting lyrics;
"I live on the border-line, you come from the void…"
Which brings us back to that "oddness" that we mentioned at the top. Don't Say No is littered with examples, mainly outtros of songs, such as the orgasmic chant at the end of the opener "In the Dark" or the frantic pick-up that ends "Lonely Is the Night". But this is most evident on the album's closing title track, which begins with a fade-in of the first verse and fades out completely near the end, only to re-emerge suddenly. Is this edgy or amateurish? Ultimately, the listener must decide. Some of Squier's influences are apparent in a couple of other fine songs. "Too Daze Gone" contains many of the same blues-based elements utilized by Aerosmith in the 1970s, while "Lonely Is the Night" is a definite nod to Presence-era Led Zeppelin, but with an additional gloss layer that makes it very entertaining and radio-friendly.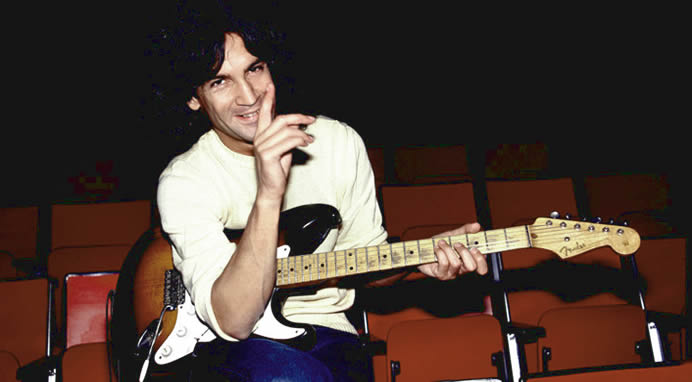 Of course, Don't Say No is best know for the "hits" that are still heard on AOR and other media to this day. The opener, "In the DarK" has a very good sound with mixture of guitars and synths and a steady, staccato beat along with plenty of little riffs throughout that make this song a trans-era hit. Mack's great production is apparent right from the start. "The Stroke" is a double-entendre with infectious lyric and riff and a steady, marching beat throughout. This marching continues through to "My Kindda Lover", but with a sweeter demeanor, as compared to it's totally cynical predecessor.
When we made our choice as to which albums from 1981 we would review, we decided that we would either choose Foreigner 4 and Don't Say No (but not both) as they cover very similar territory as far as genre and quality. They are also similar being that the most popular songs on each album are pretty much the best songs on each album – something that, believe it or not, is really quite rare. But while it was difficult to determine if "Urgent" was superior to "The Stroke" or if "In the Dark" was better than "Juke Box Hero", it was ultimately the second tier of songs that, in our opinion, gave Don't Say No the edge. Even though there are some weak points on the album, overall this is the finest work that Billy Squier ever produced.
~

Part of Classic Rock Review's celebration of 1981 albums.