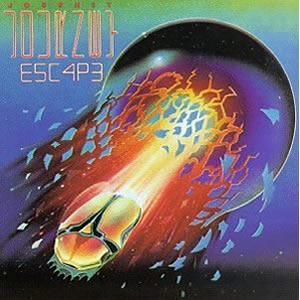 Rarely does a band become more successful after one of its founders and leader departs from the group. Greg Rollie was the original lead singer, keyboardist, and overall and heart and soul of the group Journey from the band's beginning in 1973 to the arrival of front man Steve Perry in 1978. After some lukewarm sales of the band's moderately successful initial three albums with Rollie as lead singer, the band hired Perry at the request of Columbia Records, initially to split vocal duties with Rollie. However, Perry eventually became the primary lead vocalist and, by the end of 1980, Rollie had decided to call it quits altogether.
Fortunately for Journey, the British pop band The Babys were breaking up at about the same time, freeing up keyboardist Jonathan Cain to join the band. This created the respectable songwriting triumvirate of Perry, Schon, and Cain that launched the band into mega popularity through the early 1980s, starting with their 1981 album, Escape.
Although a critical listener may find the lyrical content a bit common and trite, there is no denying that sound that was forged on this album creates a niche and feeling that is quite fantastic. There is an edge to each and every song that makes it indelible and taps into a deep reservoir of nostalgia, while some of the individual, performances are at a stratospheric level.

Escape

by

Journey
Released: July 31, 1981 (Columbia)
Produced by: Kevin Elson & Mike Stone
Recorded: Fantasy Studios, Berkeley, California, Winter-Spring, 1981
Side One
Side Two
Don't Stop Believin'
Stone In Love
Who's Crying Now'
Keep On Runnin'
Still They Ride
Escape
Lay It Down
Dead or Alive
Mother, Father
Open Arms
Group Musicians
Steve Perry – Lead Vocals
Neal Schon – Guitars, Vocals
Jonathon Cain – Keyboards, Piano, Guitar, Vocals
Ross Valory – Bass, Vocals
Steve Smith – Drums, Percussion
While Cain was the driving force behind crafting many of the songs on Escape, and Perry and Schon provided, without a doubt, the incredible performances of this album (more on them later), bass player Ross Valory added a special touch to this album, with a unique-sounding, high end buzz to his bass sound that gives it just an edge to make the overall sound distinct. This is evident right from the jump on the hit "Don't Stop Believin' " as he compliments the low end of Cain's rotating piano riff in a preview of one of the elements the distinguishes this album from any other (including other Journey albums).
Neal Schon knows how to make an entrance, holding off for nearly a minute in this opening song, then providing a memorable rapid guitar tap that builds in intensity and volume. The guitarist is on at every moment in this album, making one wonder why he is not better recognized in the present day. He adds a solo at the end of "Who's Crying Now" that elevates the otherwise standard love song to a new level and shines brightest on "Mother, Father", the best song on the album.
A true classic in every sense, "Mother, Father" was arranged by Neal's father and jazz musician Matt Schon who put together the ingenious chord structure that sets the mood for Perry's soulful vocals and the absolutely superlative solo in the mid section. It climaxes with a surreal, harmonized outro, which completes a song that is as melodramatic as anything The Who ever did, while as deep into the "inner space" as anything that Pink Floyd ever did.
Steve Perry's voice is a unique entity, unlike any ever quite heard before or since. He compliments any odd 7th or augmented chord by smoothly transitioning from note to note along an almost-superhuman range. He never seems to miss a note, but especially shines on the rockers "Lay It Down" and "Stone In Love", as well as the ballad "Open Arms", a calm lullaby that eases the album to its conclusion after the emotional journey of "Mother, Father".
Another high point on the album is "Still They Ride" a haunting ballad, dripping with melancholy, that is dark yet addictive, here the band displays amazing discipline in measuring out the simple and slow notes with perfect, moody precision.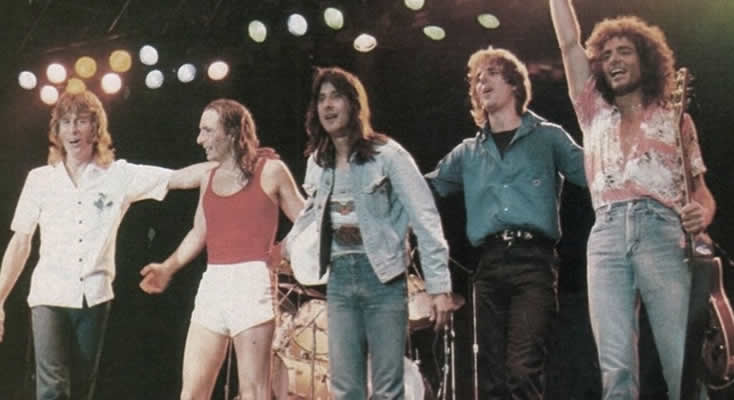 In total, Escape is a difficult album to pigeon hole. It is best known for its ballads that rose high in the charts, but yet has made a few "Top Heavy Metal Album" lists. It was undoubtedly a template for scores of album oriented rock efforts in the 1980s. Yet it gives a slight nod to the progressive rock of the 1970s with the exotic arrangements, jazz fusion, and the mini-suite title song, "Escape" (not to mention the official title of the album being the cleverly arranged "E5C4P3").
No matter how it may be classified, it was certainly and instantly a hit, and the band did not shy away from reaping the benefits from this new found fame. In 1982, with the gush of a mainstream audience, Journey became the top-selling concert ticket, and that same year a Journey Escape video game was released for the Atari 2600 system.
Journey may be credited or blamed for what followed in the wake of Escape, when acts such as Poison, Bon Jovi, and countless other "hair" bands would put forth their own inferior carbon copies of this album but nonetheless stuck to the formula and gained success from it. In any case, they were the originators of this hybrid of pop-friendly "hard rock", whether by design or not.
~

Part of Classic Rock Review's celebration of 1981 albums.