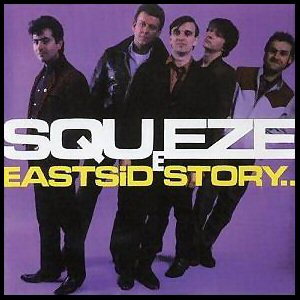 East Side Story is the fourth studio album by Squeeze, released in 1981. The album signified a break with the band's traditional "new wave" sound towards more divergent styles and genres including progressive rock, soul, and psychedelia. The band originally wanted to do a four-sided "double LP" with each side using a different producer – Dave Edmunds, Nick Lowe, Paul McCartney, and Elvis Costello. In the end, Squeeze released a long 14-song single LP with Costello co-producing along with Roger Bechirian. Under Costello's guidance, the band produced an album of smart, uptempo pop tunes which guitarist Chris Difford labled as "suburban short stories."
Difford founded Squeeze in 1974 along with lead singer and multi-instrumentalist Glenn Tilbrook. The group was named after The Velvet Underground's oft-derided 1973 album and found moderate success in the London suburbs in the mid 1970s. After signing with A&M Records, the band released a self-titled debut album in 1978, followed by Cool For Cats in 1979 and Argybargy in 1980, each of which were fine albums but strictly within the confines of the newly coined "new wave" genre.
With East Side Story, the band recorded their masterpiece as they branched out to explore other facets of their talents. With the variety of genres explored, the production of Costello, and the fully developed songwriting of Difford and Tilbrook East Side Story has the feel of the double-album it was originally intended to be.

East Side Story

by

Squeeze
Released: May 15, 1981 (A&M)
Produced by: Roger Bechirian & Elvis Costello
Recorded: London, 1980-1981
Side One
Side Two
In Quintessence
Someone Else's Heart
Tempted
Piccadilly
There's No Tomorrow
Heaven
Woman's World
Is That Love?
F-Hole
Labelled With Love
Someone Else's Bell
Mumbo Jumbo
Vanity Fair
Messed Around
Band Musicians
Glenn Tilbrook – Lead Vocals, Guitars
Chris Difford – Guitars, Vocals
Paul Carrack – Keys, Vocals
John Bentley – Bass
Gilson Lavis – Drums
The album begins with "In Quintessence", an upbeat song with repetitive phrasing and simultaneous vocals by Tilbrook and Difford throughout. This is followed by "Someone Else's Heart" (not to be confused with "Someone Else's Bell" on the second side of the album), which harkens back to the new-wave-ish sound with a crisp organ and subdued vocals with fantastic harmonies.
Later on the album's first side is the album's finest sequence of songs. "Piccadilly" starts with an excellent piano before settling into a simple, upbeat, three-chord rock groove with chanting vocals delivered in a linear, story-telling fashion. "There's No Tomorrow" contains a heavy dose of Beatle-esque surrealism with a dramatic key riff and backwards-masked percussion along with Costello on backing vocals. The ska influenced "Heaven" is an excellent song which contains a great bass line and weird sound effects after the chanting choruses. Later in the song their is a banjo section with some weird, vocalized animal sounds. The side ends with "Woman's World", a good pop song with nice piano note runs, building ascension in the late verses, and a great key jump later on.
By far the best song on the album, "Tempted" contains a great thumping bass line by John Bentley under the subtlely swelling organ by band newcomer Paul Carrack, who was a member of Squeeze for this one album. Carrack also sang most of the seductive lyrics with some cool secondary and background vocals. The band's first "hit" in the U.S., "Tempted" has become one of Squeeze's most well known songs as it is infectiously catchy and never seems to grow old. It is quite ironic that, with short-timer Carrack at the lead, most passive fans are unaware of the basic sound of the band as normally led by Tilbrook's vocals.
Although much weaker than the first, the second side of the album does contain a few very interesting tracks. "Is That Love" was the first single released from the album, while "F-Hole" contains thick strings and an almost psychedelic approach. "Labelled With Love" contains a pure country rhythm with calm acoustic guitar, piano, and rim-shot drums overlaid by some good guitar later on. It was a song recorded as a semi-farce and Tilbrook initially objected to its inclusion on the album but was convinced by Costello and it became a minor hit. "Vanity Fair" uses orchestration much like later-era Beatles albums with no rock instrumentation, just vocals, while the album concludes with "Messed Around", a rockabilly song much like the Stray Cats, that would be more convincing without the vocals of Tilbrook.
After a fifth album was released in 1982, Squeeze took a break for a while before reforming later in the decade. Although they continued to record interesting music, the band would not again reach the heights of East Side Story.
~

Part of Classic Rock Review's celebration of 1981 albums.