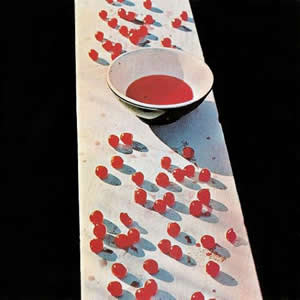 The second of our three "Life After Beatles" reviews looks at the most controversial release in the sense that it played an indirect role in the group's demise. Covertly recorded during The Beatles last months as an official band, McCartney is a very scaled back one-man effort by Paul McCartney, who tracked much of the music at home. As such, reception and reviews of this album have been mixed and deservedly so. In one sense, there are songs which are very efficient, saying more in 150 seconds or less than most standard or elongated rock songs. On the other hand, there is some annoying repetition, which signals the presence of underdeveloped material released before its time.
Following the release of Abbey Road in September 1969, John Lennon confided in his bandmates that he was finished being a Beatle. After strenuously trying to change Lennon's mind, McCartney retreated to his isolated farm in Campbeltown, Scotland, where he lost touch with the other Beatles and neglected their common management of Apple Records. With encouragement from his wife Linda McCartney, Paul began developing solo material and he purchased a four-track recorder when the McCartneys returned to their proper home in London. Playing every instrument with just some backing vocals by Linda, McCartney later took his recordings to Morgan Studios and Abby Road to record overdubs, using a fake name in each case to keep the upcoming album a secret. While a handful of the tracks on McCartney date back to Beatles' sessions, most of the material was composed and developed over a two month span in the Winter of 1969-70.
When the album was revealed to Apple (and the other Beatles), McCartney was slated for a mid-April release date. However, Phil Spector had been working on post-production of the Let It Be album and accompanying film that had a world premiere scheduled for April 28th. Harrison and Lennon wrote to McCartney that his album release would be postponed until June 4th, which was hand delivered to McCartney by Ringo Starr. This situation nearly came to blows and, although the other Beatles relented on their demands, McCartney decided to go public on April 9, 1970, with what was essentially his resignation from the band. Nine days later, McCartney was released.

McCartney

by

Paul McCartney
Released: April 17, 1970 (Apple)
Produced by: Paul McCartney
Recorded: McCartney's home, St John's Wood; Morgan Studios, Willesden; Abbey Road Studios, London, December 1969–February 1970
Side One
Side Two
The Lovely Linda
That Would Be Something
Valentine Day
Every Night
Hot As Sun / Glasses
Junk
Man, We Was Lonely
Oo You
Mama Miss America
Teddy Boy
Singalong Junk
Maybe I'm Amazed
Kreen-Akrore
Musicians
Paul McCartney – Lead Vocals, Guitars, Keyboards, Bass, Drums, Percussion
Linda McCartney – Backing Vocals

The early part of the album runs sequentially, with the first three songs being the first three recordings McCartney made at home for this project. "The Lovely Linda" is the shortest song and is only annoying because it seems like there is so much more here than on some of the later filler – with a nice bass groove and interesting hand percussion to accompany the bright acoustic – only to go away after just 43 seconds. In contrast, "That Would Be Something" is mostly filler, with only two distinct lines and musical melodies repeated to death. The first of several instrumentals, "Valentine Day" is a simple riff-oriented blues jam with interesting percussion that McCartney claims he improvised on the spot while the tape was running.
"Every Night" is the first really complete and excellent song on the album. This song also is, in many ways, the true heart of this domestic-inspired record. Recorded at Abbey Road, everything works well on this brief love song, including McCartney's duo acoustic, bass, subtle drums, and, most especially, his exquisite vocal melodies. The album's second instrumental, "Hot As Sun/Glasses" begins with a bright, Polynesian-influenced jam that McCartney first developed in the late 1950s. This shortly breaks down with the eerie sound of tapping crystal wineglasses at home.
A short but beautiful gem, "Junk" was originally written during the sessions for The White Album. This acoustic ballad with philosophical lyrics features some xylophone in the final verse as well as the first vocal harmonies by Linda McCartney. Linda's vocals are even more present on "Man We Was Lonely", the original side one closer. This fine and polished track features electric overdubbed guitars complementing the strummed acoustic strummed in intro and a "hoe-down" duet with a bouncy beat and enjoyable melodies.
A rock riff jam with interesting guitars and bass line, "Oo You" was originally recorded at home as an instrumental but McCartney decided to add mainly scat vocals later in the studio. Two distinct instrumentals were combined to form "Momma Miss America", the best musical passage on the album with the first half featuring potent bass, piano, and drums and subtle guitar motifs with interesting effects on each. The bass and drums persist on the second half, accompanied by a heavy acoustic presence and lead guitar above it all. While "Teddy Boy" was rejected as a Beatles track, this acoustic folk track actually works much better as a solo song. Of note here are Linda's backing vocals, the finest on this (or any other) album. When accompanied by Paul's bass vocals, the backing chorus has an almost orchestral effect. The reprise "Singalong Junk" is an instrumental version that is actually longer than the song proper on side one. A few notches above elevator music, the melody is played on piano with the fine additions of mellotron strings.
In a way, one can claim that "Maybe I'm Amazed" is the reason for the album as a whole, as the one true radio hit and indelible song. On the other hand, one might also argue that it this is too well produced to blend with the preceding tracks, as this Abbey Road production abandons the "homey" feel. In any case, it is a real showcase for McCartney's talent as a composer and performer, especially when it comes to the soaring lead guitars between each verse. Following this climatic moment, "Kreen-Akrore" finishes the album as a showcase for dry drums and percussive effects, only disrupted by very short full instrumentation sections which reprise a small phrase from "Maybe I'm Amazed". This piece was inspired by the hunting rituals of tribesmen in the Brazilian Amazon.
Despite its mixed reviews, McCartney was a worldwide hit, reaching number 2, in the UK and Number 1 in the US, where it sold over a million copies in its first six weeks. Some have cynically noted that this album was a commercial beneficiary of the the publicity surrounding the Beatles' break-up, which McCartney initiated. In any case, it commenced a long and successful solo career which continues 45 years later.
~

Part of Classic Rock Review's celebration of 1970 albums.