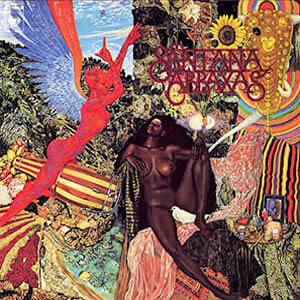 With their second studio album, Santana brought a plethora of musical influence to forge the acclaimed Abraxas. This record fuses on multiple levels, blending reinterpreted covers with distinct originals and offering bits of Latin music, blues, jazz, and prog rock. And then there's the spiritual element, from album's title (which originates from a line in Hermann Hesse's book Demian) to the nature of the cover art and it's ties to ancient Greek mysticism.
Based in San Francisco, the group was formed in 1966 as the Santana Blues Band by guitarist Carlos Santana and keyboardist/vocalist Gregg Rolie. Santana had a heavy Latin musical influence which he infused into the band, which was initially met with some resistance by some rock-based promoters. However, Bill Graham was impressed with the group, signed on as their manager and secured them a record deal with Columbia Records in early 1969. Their self-titled debut album was released in May of 1969 and featured mostly of instrumental tracks along with their first two singles, "Jingo" and "Evil Ways" which became the group's first Top 10 hit. Santana's 45-minute set at the original Woodstock festival brought international attention to the group.
In April 1970, Santana returned to the studio with producer Fred Catero to record their second album. Carlos Santana used his influence from contemporaries like Peter Green and B.B. King and mixed it with traditional elements in a quest to make Abraxas a classic.

Abraxas

by

Santana
Released: September 23, 1970 (Columbia)
Produced by: Fred Catero & Carlos Santana
Recorded: Wally Heider Studios, San Francisco & Pacific Recording Studios, San Mateo, CA, April-May 1970
Side One
Side Two
Singing Winds, Crying Beasts
Black Magic Woman / Gypsy Queen
Oye Como Va
Incident at Neshabur
Se a Cabo
Mother's Daughter
Samba Pa Ti
Hope You're Feeling Better
El Nicoya
Group Musicians
Gregg Rolie – Lead Vocals, Keyboards
Carlos Santana – Guitars, Vocals
David Brown – Bass
Michael Shrieve – Drums
José Areas – Percussion
Michael Carabello – Percussion
Written by percussionist Michael Carabello, "Singing Winds, Crying Beasts" begins with doomy orchestration including sparse piano notes and chimes before Santana's guitar cuts through in the intro. The main section then features a Latin beat with further Avant Garde, jazzy musical textures and a slightly psychedelic vibe before the piece fades for the into to the hit song "Black Magic Woman/Gypsy Queen", The cover of a Fleetwood Mac tune starts with Rollie's delicate organ accompanying Santana's deliberative guitar through the extended intro before Rollie's smooth vocals arrive for the verse. The "Gypsy Queen" section of the piece is built on frantic percussion played along with David Brown's thumping bass line with accents of pure rock riffing. The single version reached the Top 5 on the Billboard Hot 100 in January 1971, Santana's highest-charting song until "Smooth" on 1999's Supernatural.
Tito Puente's "Oye Cómo Va" follows with a pointed bass and organ riff joined by a distinctive guitar and drums by Michael Shrieve in the intro before the short Spanish language verses. Between the verses is an instrumental section where Santana provides not so much a guitar solo as some very distinct and memorable licks, while Rollie went for a more improvised organ lead. Aside from the preponderance of Latin percussion, the instrumental jam "Incident at Neshabur" is very similar to some of the instrumentals provide by the Allman Brother's Band in the day, fusing blues, jazz, and a bit of musical originality. "Se Acabó" starts the original second side with a quick, upbeat jam by percussionist José Areas.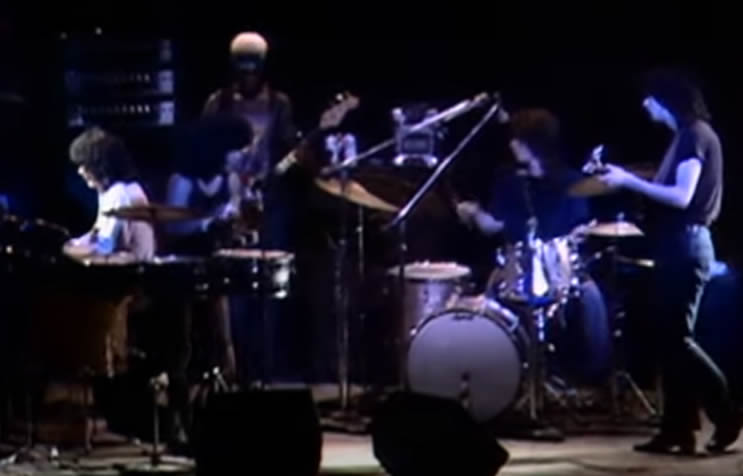 Rolie composed two quality rock-based songs on Abraxas which add some real diversity to the record. "Mother's Daughter" is a soulful rocker and an entertaining and accessible tune with enough prog rock features to make it interesting, while "Hope You're Feeling Better" is a hard rocker which starts with a John Lord-like organ riff and maintains its energy throughout. In between the two Rollie tunes is the exquisite instrumental "Samba Pa Ti", where Carlos provides a slow, deliberative and emotional blues lead and, while this tune gets a bit more intense in the middle with the other group members joining in, it never relinquishes this beautiful vibe. The album closes with "El Nicoya", a short percussive showcase for Areas and Carabello.
Abraxas became the Santana's first album to top the US charts and it eventually reached quadruple platinum in sales. The group offered a similar follow-up with Santana III in 1971, which also topped the charts, before their classic line-up began to fracture, most notably when Rollie departed to form his new band, Journey.
~

Part of Classic Rock Review's celebration of 1970 albums.