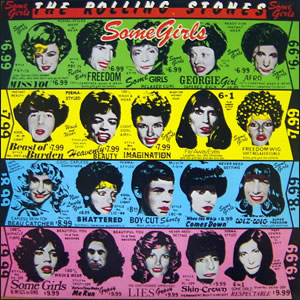 Some Girls was a major commercial and critical success for the Rolling Stones in 1978. Here, the classic British rock group incorporated the new genres of disco, punk, along with New York style new wave while maintaining their core rock sound. The marathon sessions for this album consumed the entire winter of 1977-78 and ended up yielding about 50 new songs, many of which were used on future studio albums as well as countless bootleg recordings over the years. The engineering approach to recording differed from the sounds of mid seventies Stones albums, with the use of classic techniques along with state-of-the-art amplifiers.
The band added guitarist Ronnie Wood to the line-up, replacing Mick Taylor who left the band three years later. Wood had toured with the band as early as 1975 when he was still a member of the band Faces and his permanent addition added some much needed support for primary guitarist Keith Richards. Heroin dependency and a pending possession charge were a serious concern for the group during production of Some Girls. The Toronto drug bust held a real possibility that Richards might be sent to prison for years, but the ultimate judgment was an order to perform a charity show for The Canadian National Institute for the Blind.
During this era, vocalist Mick Jagger stepped up with a greater than usual role in songwriting and producing. Although Richards was present as co-producer and co-composer, Jagger gained control of the band's musical direction for the next several albums through 1981's Tattoo You. The result is a blend of glitzy and decadent rock which still makes it a definitive Stones album. However, not everyone was thrilled with this new musical direction, band manager and studio pianist Ian Stewert sat out the Some Girls sessions in protest of the approach.

Some Girls

by

The Rolling Stones
Released: June 9, 1978 (Rolling Stones)
Produced by: Mick Jagger & Keith Richards
Recorded: Pathé Marconi Studios, Paris, October 1977 – March 1978
Side One
Side Two
Miss You
When the Whip Comes Down
Imagination
Some Girls
Lies
Far Away Eyes
Respectable
Before They Make Me Run
Beast of Burden
Shattered
Band Musicians
Mick Jagger – Lead Vocals, Guitar, Piano
Keith Richards – Guitars, Vocals
Ronnie Wood – Guitars, Vocals
Bill Wyman – Bass
Charlie Watts – Drums
The groovy bass of Bill Wyman leads the repetitive riff of "Miss You". This was the lead single from Some Girls, released in May 1978 ahead of the album. It reached the top of the charts, becoming the Rolling Stones' last U.S. #1 hit and rode the tail end of the disco wave. A highlight later in the song is the short saxophone solo by Mel Collins. "When the Whip Comes Down" features a fairly standard, Richards-based riff with a verse-chorus repeat pattern. Lyrically, the song is about a gay street hustler in an attempt by Jagger to show he has an ear for the American urban scene.
The cover of Norman Whitfield's and Barrett Strong's "Imagination" is a pleasant enough update of the Temptations classic but not really a wise choice as album track (should have been reserved for a B-side or compilation). Wood's Faces band mate Ian McLagan provides organ for the track. The title song "Some Girls" sounds a bit like a Scottish folk song on acid, with flanged out guitars and several stand-alone verses with guitar interludes before a break with harmonies and picked acoustic. The later verse is like a perverse updated version of "California Girls", albeit using race and ethnicity instead of location, and the song ends with a fine blues harp lead by Sugar Blue, which is unfortunately cut short in the fade. "Lies" is a frantic song in a genre style developed by the Stones in the late seventies, on later songs such "Neighbors". Held together by the steady beat by drummer Charlie Watts, the Stones end side one with a smoke-filled and ambiguous musical piece with lyrics equal parts irony and ecstasy.
Aside for the throwaway parody "Far Away Eyes", side two provides the strongest moments on Some Girls. "Respectable" is fun and upbeat faux punk with Jagger supplying his relatively new guitar skills to complete a three-axe attack. The Rolling Stones do some self-examination of their admitted mid-seventies complacency and heed the wake-up call of their younger contemporaries. "Before They Make Me Run" is Richard's outlaw anthem where he takes the mic for lead vocals and alludes to his own drug and legal problems.
"Beast of Burden" is the best song on the album. It contains well-crafted guitar interplay between Richards and Wood with a weaving attack. Vocally and lyrically, Jagger is superb as he delivers a classic blues anthem complete with the mid-section vocal testament, all with an entertaining and contemporary flair. The album concludes with "Shattered", which bookends nicely with the opener "Miss You" as another somewhat improvised "disco" piece. Some have suggested this last track was a tribute to the New York Dolls, delighting in the degradation of New York City during its dark days of the seventies.
Some Girls reached #1 in the U.S. and eventually became the Rolling Stones biggest selling album in America, with over six million copies sold. The band embarked on summer tour of the states in 1978, where they played a few small venue shows under a pseudonym just for fun. They followed up with the similar sounding Emotional Rescue in 1980, which found more commercial success as well as inner turmoil which nearly broke up the band.
~

Part of Classic Rock Review's celebration of 1978 albums.