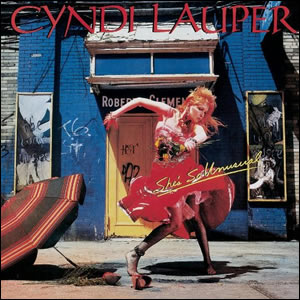 One of the most successful pop debuts ever, She's So Unusual by New Yorker Cyndi Lauper, went on to spawn four top-five hits, a first for a debut album by a female artist. Released in late 1983, the album continued to chart and release singles through the mid 1980s and was an early peak of Lauper's long sustained career. It was produced and recorded mainly by the team that fueled the later success for the Philadelphia band The Hooters, producer Rick Chertoff and musicians Eric Bazilian and Rob Hyman. The material for the album was drawn from an abundance of sources, with each song having distinct composers which gave the album a diversity of song styles.
Lauper first had minimal success with the group Blue Angel, a new wave/pop band which was formed in 1978 and had released their only album in 1980. When that album sold poorly, many record execs lost interest in the band but Lauper's dynamic vocals sparked some interest. She was signed to a subsidiary label of Epic records in 1982 and given a sizable budget and generous time to record at the famed Record Plant in New York City.
Aside from her two original compositions, Lauper herself did little more than sing on this album, as the material was developed through Chertoff and the production team using some cutting edge synthesizers and sequencing. Still, Lauper carries the day on She's So Unusual with her incredible range (4 octaves), perfect pitch, and a unique mix of effervescent pop, sentimentality, and a bit of humor.

She's So Unusual

by

Cyndi Lauper
Released: October 14, 1983 (Portrait)
Produced by: Rick Chertoff & William Wittman.
Recorded: Record Plant, New York City, December 1982 – June 1983
Side One
Side Two
Money Changes Everything
Girls Just Want to Have Fun
When You Were Mine
Time After Time
She Bop
All Through the Night
Witness
I'll Kiss You
He's So Unusual / Yeah Yeah
Primary Musicians
Cyndi Lauper – Lead Vocals
Rob Hyman – Keyboards, Melodica, Vocals
Eric Bazilian – Guitars, Bass, Saxophone, Vocals
Rick Chertoff – Percussion
A cover of a the 1978 song by The Brains called "Money Changes Everything" starts the album as a rocker with a straight 4/4 beat and a riff built on Hyman's synthesizer. The song was released as a single in 1984, peaking at #27. "Girls Just Want to Have Fun" fared much better on the charts. Written by Robert Hazard in 1979, the song was Lauper's first major single and the one most associated with her throughout her career. It reached #2 on the pop charts but is most remembered for its inventive video, which was the product of a volunteer cast and the free loan of sophisticated video equipment and studio time donated by Lorne Michaels of Saturday Night Live, who had ties to Lauper's manager.
A cover of Prince's "When You Were Mine" follows, with a duet harmony through the verses of this pop ode to lost love. "Time After Time" was written in the studio by Rob Hyman and Lauper and was nominated for a Grammy Song of the Year. The song is melancholy and sweet, driven by a synth organ, a fat synth bass effect, some laid back guitars, and some inventive percussive effects using a harmonize, effects loop, and pitch-shift, programmed by Hyman. The ballad became Lauper's first number one hit in America in early 1984 and reached the Top Ten in 15 countries.
The second side of She's So Unusual starts with "She Bop", co-written by producer Chertoff. This is a full-fledged new wave anthem which contains a neat "whistling" lead that trades licks with a more traditional synth sound for pure entertainment. Although the song was considered controversial, it reached number three on the pop charts. "All Through the Night" was written by folk singer Jules Shear and became the fourth single to reach the Top Five. A real highlight vocally and melodically for Lauper, the song is driven musically by Hyman's synths and electronic rhythms, along with an interesting faux bagpipe during the lead. Lauper's finest moment comes with the great vocal wailing during the song's outro.
The ska-influenced "Witness" is a song written by Lauper and former Blue Angel band mate John Turi and features great bass riffing by Bazilian, which drives the song. Solid up to this point, the album does end weakly starting with the brain-drilling "I'll Kiss You", the worst song on the album. Next, comes a Betty-Boop like rendition of the 1920's tune "He's So Unusual", complete with distorted piano and old record scratch effects, which oddly acts as an intro to synth-heavy closer "Yeah Yeah", where Lauper ad-libs with weird vocal effects throughout.
She's So Unusual sold over six million copies, won two Grammy Awards (out of six nominations), charted on the album Top Forty for sixty-five weeks, was critically acclaimed, and is still vastly entertaining 30 years later, making this a success of every level. Despite the release of fine material in subsequent years, Lauper simply could not maintain this level of popularity or consistency as with her debut.
~

Part of Classic Rock Review's celebration of 1983 albums.