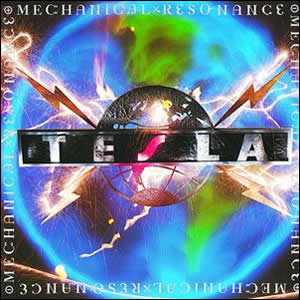 Mechanical Resonance is the 1986 debut album by hard rock quintet Tesla. The original album sides were distinctive in approach, with the first side containing garden-variety hair-metal anthems complete with easily chant-able hooks. The second side features more mature and original compositions which, ironically, found much greater popularity at the time and persist to the modern day.
Hailing from in Sacramento, California the group originated from an early eighties band called City Kidd, formed by guitarist Frank Hannon bassist Brian Wheat. Later vocalist Jeff Keith, guitarist Tommy Skeoch and drummer Troy Luccketta joined the group that gained popularity through the mid 1980s, leading to a record deal with the Geffen label.
During recording of this debut with producers Steve Thompson and Michael Barbiero, the band members decided to change their name in honor of inventor and engineer Nikola Tesla and the title Mechanical Resonance comes from one of the scientist's experiments. During this time, the group also began to migrate their sound in a 'rootsier' direction.

Mechanical Resonance

by

Tesla
Released: December 8, 1986 (Geffen)
Produced by: Steve Thompson & Michael Barbiero
Recorded: Bearsville Studios, Bearsville, New York, 1986
Side One
Side Two
EZ Come EZ Go
Cumin' Atcha Live
Gettin' Better
2 Late 4 Love
Rock Me to the Top
We're No Good Together
Modern Day Cowboy
Changes
Little Suzi
Love Me
Cover Queen
Before My Eyes
Group Musicians
Jeff Keith – Lead Vocals
Frank Hannon – Guitars, Keyboards, Mandolin, Vocals
Tommy Skeoch – Guitars, Vocals
Brian Wheat – Bass, Vocals
Troy Luccketta – Drums, Percussion
The opener "EZ Come EZ Go" features a staccato bass entry by Wheat accompanying a steady drum beat and a blistering guitar lead to open the album on a high musical note. It soon settles into a quasi-melodramatic setting with Keith's voice and heart beat-like bass thumps before the song finally gets to the hook, which is almost an afterthought compared to the other sonic elements. "Cumin' Atcha Live" starts with another dramatic guitar lead-in with the overall vibe being similar to classic Van Halen with an upbeat jam.
"Gettin' Better" is the best song on the first side and it starts with nice finger-picked soft intro where Hannon's delicate playing and Keith's soulful vocals shine. It then breaks into a riff-driven rocker with a thematic chant for the rest of the song. "2 Late 4 Love" starts with a drum roll by Luccketta along with some guitar effects for another dramatic entry, but becomes rather ordinary beyond this.  "Rock Me to the Top" is co-written by Skeoch and the contrast in style is evident musically with its slightly darker textures. "We're No Good Together" is the album's first power ballad and is slow-dance ready with a slow beat and bluesy rock guitar licks. Midway through, the song takes a pleasantly surprising sonic turn and becomes an excitable, upbeat blues rock jam for the duration.
The heart of album is the first three songs on side two, starting with their popular anthem, "Modern Day Cowboy". Composition wise, this is more thorough than anything else on the album with acoustic and electric textures throughout, dark imagery, and a great melody and hooks. "Changes" starts with a classical piano intro before a choppy guitar riff introduces the dramatic song proper. This emotionally charged song crafts a great sonic atmosphere and a line from this track was ultimately used for the group's greatest hits collection a decade later. The album's only cover is "Little Suzi", an expert acoustic/electric adaptation of the early eighties synth song by Ph.D. It starts with a really cool acoustic folk intro, while later the song has a methodical but powerful drive of multiple textures all held together with Wheat's bass
"Love Me" is a pure riff-driven rocker with Keth's vocals soaring over the methodical music and beats, in a style which sounds like it could have been a really big hit a few years earlier. The bridge section adds a surprise with some talk box while the later lead has nice blend of harmonized guitars. Winding down the album, "Cover Queen" features a slightly interesting arrangement, while the closer "Before My Eyes" has a doomy and dramatic intro where the group's talents are given space to shine a bit as the song unfolds slowly and leaves plenty of room for instrumental atmosphere.
Mechanical Resonance reached the Top 40 on the US album charts and was certified platinum by the end of the decade. Tesla would reach even greater success with their next album, Great Radio Controversy, but still hold this debut in such regard that they released Mechanical Resonance Live in August 2016.

Part of Classic Rock Review's celebration of 1986 albums.