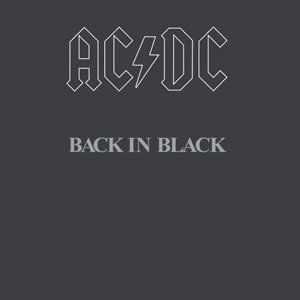 Who would have guessed that out of the ashes of tragedy would rise the rock n' roll classic, Back In Black? Recorded just a few weeks following the untimely death of their lead singer, AC/DC forged an indelible album of work whic, 35 years after its release, is the second best-selling album of all time worldwide (behind Michael Jackson's Thriller). For the first time, we have put our Album of the Year up for popular vote, with three hard rock classics from 1980 nominated for this honor. Through January and February you have voted and your choice was overwhelmingly in favor of Back In Black as Classic Rock Review's Album of the Year for the year 1980.
Formed in Australia in 1973 by brothers Angus Young and Malcom Young, AC/DC found significant success at home with the domestic release of Dirty Deeds Done Dirt Cheap in 1976. This led to an international record deal with Atlantic and continued momentum through the late seventies as the group toured extensively throughout Europe and the successful releases of the albums High Voltage, Let There Be Rock, and Powerage, the latter of which marked the debut of bassist Cliff Williams. The group's first major breakthrough came in 1979 with the album Highway To Hell, which was also the band's initial collaboration with producer Robert John "Mutt" Lange.
Highway To Hell reached the Top on the US album charts and the group was ambitious about following this up with an even more accessible heavy rock album. Unfortunately, vocalist Bon Scott would not see this realized, as he died after a night of heavy drinking in February 1980. After briefly considering retirement, the surviving members of AC/DC emerged with renewed determination in March of 1980 and various candidates were auditioned for Scott's replacement. 32-year-old rock journeyman Brian Johnson was brought in when Angus Young recalled Scott citing admiration for the then-vocalist of the band, Geordie, years earlier. After locating Johnson, the singer successfully passed the audition for AC/DC, who were impressed by the fact that he didn't try to merely mimic Scott's style but reinterpret it with a soulful style.
After hiring their new front man, the band then immediately headed to the Bahamas to compose and record the new album. Despite riding out several tropical storms which knocked out the electricity, Lange and the band rehearsed and recorded the album in just seven weeks. The result is a direct, hard rock record with Johnson-penned lyrics about sex and parties driven by crisp riffs and direct, snare-centered beats by drummer Phil Rudd. While the album's title and all-black cover was designed as a respectful tribute to Scott, the music itself was far from somber or mournful.

Back In Black

by

AC/DC
Released: July 25, 1980 (Jet)
Produced by: Robert John "Mutt" Lange
Recorded: Compass Point Studios, Nassau, Bahamas, April-May 1980
Side One
Side Two
Hells Bells
Shoot to Thrill
What Do You Do for Money Honey
Given the Dog a Bone
Let Me Put My Love Into You
Back in Black
You Shook Me All Night Long
Have a Drink on Me
Shake a Leg
Rock and Roll Ain't Noise Pollution
Primary Musicians
Brian Johnson – Lead Vocals
Angus Young – Guitars
Malcolm Young – Guitars, Vocals
Cliff Williams – Bass, Vocals
Phil Rudd – Drums, Percussion
An ominous drone of bell tolls commence the album as a not-so-subtle memorial to AC/DC's fallen member. "Hells Bells" acts not only as a tribute but as an ironic terminal from the previous Highway to Hell, which turned out to be Scott's swan song. Johnson's lyrics speak of his angst while trying to adjust to his sudden change of environment and pressure to deliver with his new band. Despite the doomy beginning, the song's body is really more of an upbeat and intense party chant. Continuing the early album momentum, "Shoot to Thrill" is an interesting little screed with many of the group's seventies-type grooves and an inventive use of space by adding variation in style rather than substance. This track's final sequences features Angus Young's whining guitar mimicking Johnson's lead vocals as in an updated Page-Plant action.
The remainder of the album's first side contains three of the most disposable tracks on Back In Black. "What Do You Do for Money Honey" has a great adolescent chant about a gold-digging woman but not much more substantively. "Given the Dog a Bone" is similar in temperament. Aside from the catchy use of call-and-response vocals, there's really no "here" here, as the track's riffs, beats, and lead sound just like those on other tracks of this album. "Let Me Put My Love Into You" does contain a nice thumping bass by Williams, which carries the slight riffs that gradually build and, given some room to breathe, Johnson's voice really does soar here. However, this moderate bluesy track does have a hook which seems a bit forced.

One of the most famous count-offs in rock history commences the spectacular second side of Back In Black as Rudd's hat ignites the title song with a fantastic marching beat. The track's verses feature a quasi-rap by Johnson and the choruses build to a crescendo with the duo guitar riffs fantastic throughout this song of pure energy. The song peaked in the US Top 40 in 1981 but did not officially chart on the UK charts until 2011, over 3o years after its release. An even bigger hit, "You Shook Me All Night Long" has grown into the most indelible AC/DC tune. Malcom Young's intro perfectly sets up this hard rock dance-oriented track, while the chorus hook and counter-riff work in perfect harmony. For his part, Angus Young adds one of his most potent guitar leads on this track which saw a whole new life when it was featured on the 1986 soundtrack Who Made Who. The slightly tragic and slightly morbid "Have a Drink on Me" is a sideways tribute to Bon Scott, starting with a cool blues slide before finding a steady rock beat. While still presented as an upbeat party screed, the song's pre-chorus contains some ironic philosophy;
"Don't worry about tomorrow, take it today, forget about the check we've got hell to pay…"
"Shake a Leg" contains a fantastic intro section, launching into a faux verse that ends with a majestic vocal screed by Johnson which leads into the actual song riff and launch. Everyone is at their absolute best on this track – the vocals seem to elevate to an even high plane of frenzy while Rudd's drums are a steady prime mover in this song about movement. After a blistering guitar lead, Johnson reprises the intro over the multi modal exchanges of Angus and Malcolm Young's guitars. After the frenzy comes "Rock and Roll Ain't Noise Pollution", a steady barroom blues which eventually builds into a fantastic rock track that works perfectly to conclude the album. Williams' bass thumps as a heartbeat between the twin guitar riffs on either side of the mix on this song which reached number 15 on the UK singles charts, placing it higher than any track on the album.
Despite never reaching the top of the album charts in The US, Back In Black has been a charting phenomenon, re-entering charts several times throughout the decades, even as recently as 2014. The album has sold 22 million albums worldwide and set the group up for further success through the 1980s and beyond.
~
Part of Classic Rock Review's celebration of 1980 albums.