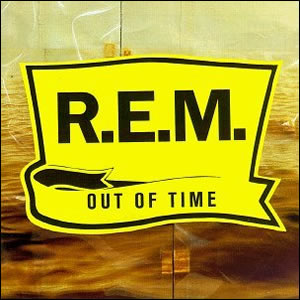 Following the success of R.E.M.'s 1988 album Green and the extensive supporting tour which followed, the band took nearly a year to recuperate before reconvening to produce their next album. That album would come in 1991 and be titled Out of Time, and would serve to further expose this once niche alternative band to mainstream commercial audiences. The seventh studio album by the band, Out Of Time was by far the most richly produced to date, with more relatable compositions, an expansion of the instrumentation used, cameos from contemporary artists, and much more attention paid to sonic detail of the finished product.
The album combines the elements which were carried over from Green – pop and folk – with the addition of country, funk, and classical elements. The band's chief lyricist, singer Michael Stipe, moved away from the overtly political themes they had used frequently in the 1980s, towards more personally-relatable and accessible songs, a direction they would continue through the 1990s.
Fueled by the blockbuster hit "Losing My Religion", which became the band's biggest, Out of Time would top the charts on both sides of the Atlantic, despite the fact that R.E.M. did not tour to support the album. The single and album won a combined three Grammy Awards in 1992 and to date has sold over 18 million copies worldwide.

Out of Time

by

R.E.M.
Released: March 12, 1991 (Warner Brothers)
Produced by: Scott Litt & R.E.M.
Recorded: Bearsville Studios, Woodstock, NY, Sep-Oct 1990
Track Listing
Primary Musicians
Radio Song
Losing My Religion
Low
Near Wild Heaven
Endgame
Shiny Happy People
Belong
Half a World Away
Texarkana
Country Feedback
Me in Honey
Michael Stipe – Lead Vocals, Melodica
Peter Buck – Guitars, Mandolin
Mike Mills – Bass, Keyboards, Vocals
Bill Berry – Drums, Keyboards, Vocals
The album commences with "Radio Song", a lighthearted funk that was completely unique to anything the band had done to that point. The song features vocals by KRS-One, leader of Boogie Down Productions, and also shows off the talents of the band's drummer Bill Berry. Another popular song from the album to include a guest vocalist was "Shiny Happy People", featuring Kate Pierson of the B-52s. The song is introduced with a unique string arrangement before breaking into a typical, upbeat R.E.M. riff. It became the band's fourth career Top 10 hit. The song's title is based on a Southern phrase meaning "being at the end of one's rope, however Stipe has also stated the lyrics are influenced by unrequited love.
Near Wild Heaven" was another single released from the album, co-written and sung by bassist Mike Mills. It was the first such song to be written and sung by Mills. Mills also provided vocals for "Texarkana". While this was not released as an official "single", did well on the Mainstream Rock Tracks chart. "Country Feedback" was written as a stream-of-conscious by Stipe who claims he sang it in one take as an experiment and it was not re-recorded. The recording features pedal steel guitar by John Keane.
With the success of Out of Time, R.E.M.'s status grew to a top-level, major act from their humble beginnings as a "cult band" on colleg radio. They would continue the momentum into the next year with 1992's Automatic For the People.
~

Part of Classic Rock Review's celebration of 1991 albums