Buy Low Spark of High-Heeled Boys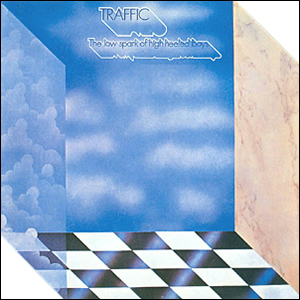 Traffic reached a level of distinction with the second album of the second incarnation of the band (their fifth album overall). The Low Spark of High-Heeled Boys is a diverse and entertaining album that showcases the band at its absolute peak, but also forges a path as peculiar as the album's title. The album follows-up 1970's John Barleycorn Must Die and pretty much follows the same formula of a methodical mix of rock and slow fusion jazz, built mainly in the studio. Although it was not a rousing commercial success, The Low Spark of High-Heeled Boys was met with a great critical response.
The original phase of the band, led by Dave Mason was more rock and pop oriented than this second more experimental and progressive phase led primarily by Steve Winwood.
The band nearly broke up after Mason left the band in 1968. Winwood moved on to the super-group Blind Faith while the remaining members joined various other projects. Blind Faith disbanded after just one album and Winwood soon went to work on a solo album. He called in his former band mates Jim Capaldi and Chris Wood to help out but their contributions were so significant that it was decided that the project would become a Traffic album. Released in July, 1970, John Barleycorn Must Die was a surprise hit reaching #5 on the Billboard charts, and giving Traffic unexpected new life.

Low Spark of High-Heeled Boys

by

Traffic
Released: November, 1971 (Island/Reprise)
Produced by: Steve Winwood
Recorded: Island Studios, London, September, 1971
Side One
Side Two
Hidden Treasure
The Low Spark of High-Heeled Boys
Light Up or Leave Me Alone
Rock & Roll Stew
Many a Mile to Freedom
Rainmaker
Group Musicians
Steve Winwood – Guitars, Piano, Organ, Vocals
Jim Capaldi – Percussion, Vocals
Chris Wood – Flute, Saxophone
Ric Grech – Bass, Violin
Jim Gordon – Drums
While Traffic operated as a trio for Barleycorn, they became a quintet for the follow-up by adding Ric Grech, who played with Winwood in Blind Faith, on bass and Jim Gordon on drums. This not only gave the band a fuller sound, but also allowed them to branch out towards richer sub-genres, as showcased in the album's title song.
This eleven and a half minute anthem draws deep influence from Mile Davis' Bitches Brew, released just a year earlier, with a nice break towards standard rock for the choruses. The title of "Low Spark of High-Heeled Boys" has been the subject of much debate over the years, including references to many drug, but the lyrics suggest that it most likely is a direct shot at the music industry in general and the fad of glam rock in particular –
"The percentage you're paying is too high priced while you're living beyond all your means and the man in the suit has just bought a new car from the profit he's made on your dreams"
A commentary on commercialism of the industry, the artists are a means to a financial end, the creative process takes a back seat to profits, it can steal your pride, but it can't take your spirit.
" But spirit is something that no one destroys."
Listening to the album as a whole, which contains a mix of jazz, progressive, and classic rock, "Rock & Roll Stew" may have been a more appropriate title song. Along with "Light Up or Leave Me Alone", it is one of two songs where Capaldi takes over on lead vocals, a rarity on Traffic albums before or since. Both songs are also similar as straight up classic rock with some funk influence.
The rest of the album is at a calmer, more "mellow" pace, as set by the album's opener, "Hidden Treasure", with a jazzy piano, steady beat, and strategic flute motifs. "Many a Mile to Freedom" is a progressive rock "ballad" co-written by Winwood and Capaldi's wife, Anna. It has a beautifully flowing style, accented by some soaring electric guitar, with the flute "floating" dreamily along with the lyrics –
"for together we flow like a river, together we melt like the snow…"
In all, The Low Spark of High-Heeled Boys is a bold and creative album using the talents of each band member to their fullest, and showcases Traffic at their absolute peak.
~

Part of Classic Rock Review's celebration of 1971 albums.