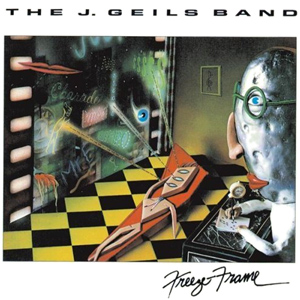 Freeze Frame is a confluence album, where a hard-working band with vast longevity in the bag reaches their heights towards the sunset of their career. It is a work that combines many elements of their traditional, rock n' soul, party-time backbone with a new, (then) cutting-edge, approach that incorporates synthesized soundscapes and new wave entertainment. And Freeze Frame IS new wave in the truest sense – a well-produced collection that explores under-developed areas of the rock landscape.
Although the band bears the name of founding guitarist J. Geils, this album really belongs to keyboardist, songwriter, and producer Seth Justman. Justman was a student at Boston University in the late 1960s when he followed the band, then known as "The J. Geils Blues Band", which was then an acoustic trio led by Geils and virtuoso harmonica player Richard Salwitx, better known by his stage name, Magic Dick. Soon a local DJ known as Peter Wolf joined as front man and lead singer along with drummer Stephan Bladd and, with the eventual addition of Justman, the six-man lineup that would stay together for a decade and a half was in place.
Through the 1970s, the band achieved moderate commercial success with a few minor hits, but nothing like the worldwide fame that they would enjoy in the early 1980s with Freeze Frame, fueled by the Justman's catchy and cleaver #1 hit "Centerfold", which introduced the band to much of the mainstream pop world.

Freeze Frame

by

The J. Geils Band
Released: October 26, 1981 (EMI)
Produced by: Seth Justman
Recorded: Long View Farm, North Brookfield, MA, 1981
Side One
Side Two
Freeze Frame
Rage In the Cage
Centerfold
Do You Remember When?
Insane, Insane Again
Flamethrower
River Blindness
Angel In Blue
Piss On the Wall
Band Musicians
Peter Wolf – Lead Vocals
Seth Justman – Keyboards, Vocals
J. Geils – Guitars
Magic Dick – Harmonica, Trumpet, Saxophone
Danny Klein – Bass
Stephen Bladd – Drums, Vocals
The album is really a potpourri of songs that can be segmented into one of about three distinct categories. The first of these is the direct pop category, consisting of the smash hit "Centerfold" and the opening title song. Both are bouncy and catchy and lead by an airy and accessible organ riff and upbeat entertainment, while carefully flirting with some risque subject matter. "Freeze Frame" has a great stop-start chorus, and was itself a successful top-ten hit. The band also produced a couple of entertaining music videos for the brand new MTV for these songs, no doubt helping their climb in the charts.
The next category of songs are synch-dominated, pop-art compositions that deviate vastly from the band's traditional sound. Here, Justman's genius shines through as he accomplishes this deviation while he still preserves the album's overall integrity. "Rage In the Cage" is a frantic collection of beat-based tangents that is spastic and entertaining. Some wild sounds are nicely placed bit by bit to project audio that is at once natural and artificial, with the natural drumming by Bladd complimenting everything else (bass, horns, harmonica, and synths) which straddle the line between synthesized and natural. "Insane, Insane Again" takes a very similar approach but with a frantic bass line by Danny Klein holding together the backbone. "River Blindness" starts like an episode of a television mystery, with bombastic horns, before it kicks into the the main riff and takes the listener on a musical journey to dark and mysterious relms that sounds about 90% synthesized, but with a heavy guitar by Geils near the very end.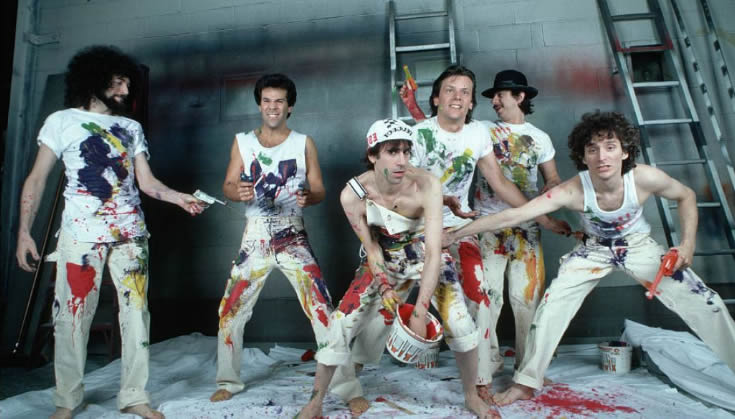 The final category of songs on Freeze Frame maintains the band,s traditional rock/soul sound through the ballad "Angel In Blue" and the rockers "Flamethrower" and "Piss On the Wall". The album's closer with the quasi-vulgar title, at first appears as a somewhat frivolous homage to the band's own legacy, albeit with some excellent blues harp by Magic Dick. But it also adds a bit of rebellious punk rock doom and gloom –
"…everybody's shaking 'cause the big one's about to fall, I'm just trying to hold it steady while I piss on the wall…"
"Angel In Blue" is a pleasant tune with a melancholy tone, containing the biggest presence by Geils on the entire album. The song is masterfully constructed with just the right touch of organ and drum beat, and a nice ensemble of backing vocals and horns in the outtro.
There is one song that doesn't quite fit into any of the above categories, the excellent ballad "Do You Remember When?", which contains elements of the best of ALL these categories. If you like discovering truly great, "lost" songs – this is may be one. It has all the elements of a classic love song, but with such an edge and perfectly placed musical motifs – Geils repeated, 5-note guitar riff, organ, piano, strings, extra percussion, just the right amount of special effects, and interesting background vocals. It also contains the finest vocal performance by Peter Wolf, with an amazing high note near the end of the song, which he holds and variates for nearly 10 seconds.
In the story of rock, the J. Geils Band is not quite unique in being a longstanding quality act that finally gets their mainstream "break" near the twilight of their career (see Bonnie Raitt, REO Speedwagon, or Supertramp). But they may be unique in that their popular breakthrough is also their artistic masterpiece.
~

Part of Classic Rock Review's celebration of 1981 albums.