Buy Dirty Deeds Done Dirt Cheap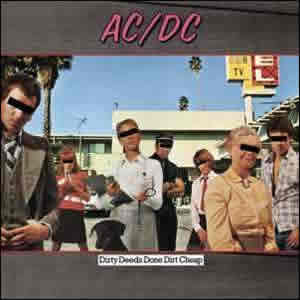 Australian rockers AC/DC produced their third album, Dirty Deeds Done Dirt Cheap during the summer of 1976 and released it in their home land in September of that year on the Albert Records label. A few months later, an international version of the album was released on Atlantic Records in many markets around the world but not in the United States. It would not be released in America until 1981, a full five years later. This fact is rather incredible when you listen to the album and recognize its high quality and commercial appeal. When the album was finally released in the States soon after the breakthrough album Back In Black, it became an instant smash, reaching #3 on the Billboard album charts and propelled the band into super-stardom.
The original Australian version of the album differs from the international (and later U.S.) version, which include shorter versions of two songs and replace "R.I.P. (Rock in Peace)" and "Jailbreak" with "Rocker" and "Love at First Feel". All songs on the album are original, with the music written by brother guitarists Angus Young and Malcolm Young and the lyrics penned by singer Bon Scott.
Dirty Deeds Done Dirt Cheap also contains some material with controversial lyrics, much in an explicit sexual nature. The band originally entertained the idea of developing a "concept" centered around a classic mystery scenario. The title was derived from a character on the cartoon Beany and Cecil, which carried a business card that read, "Dirty Deeds Done Dirt Cheap. Holidays, Sundays and Special Rates."


Dirty Deeds Done Dirt Cheap

by

AC/DC
Released: September 20, 1976 (Albert, Australia)
Produced by: Harry Vanda & George Young
Recorded: January-July 1976
Side One
Side Two
Dirty Deeds Done Dirt Cheap
Love at First Feel
Big Balls
Rocker
Problem Child
There's Gonna Be Some Rockin'
Ain't No Fun
(Waiting Round To Be a Millionaire)
Ride On
Squealer
Band Musicians
Bon Scott – Lead Vocals
Angus Young – Lead Guitars, Vocals
Malcom Young – Guitars, Vocals
Mark Evans – Bass
Phil Rudd – Drums
The closer "Squealer" is the absolute raunchiest song on the album, as it steps right up to the line between purely explicit and something much darker and creepier. This asymmetrical tangent is lead by the driving riff by bassist Mark Evans and may be comparable to some of the material of the alternative era two decades later. "Big Balls" is simply brilliant. It is as risque as "Squealer" but done in a much more tactful way as the lyric is bold and almost vulgar while protected by the tremendous use of double entendre. Scott works this song tremendously using a very dramatic and theatrical telling that drives the song home.
The album kicks in with the title song, presented almost in the form of a commercial for a criminal for hire. Using an excellent play on words and an amazing sense of restraint by the normally maniacal Young brothers, this is also the first of several songs on the album to employ the child-like chorus during the refrain. "Love at First Feel" follows as a suitable complement to the opener, with an entertaining guitar riff and an introduction into the raunchy songs of Dirty Deeds.
Bon Scott died in February 1980, over a year before any of Americans heard his great work on Dirty Deeds Done Dirt Cheap. At the time of his death, none of the surviving members of the band had yet heard their next singer Brian Johnson perform. However, Scott had heard him and compared Johnson favorably to a modern day Little Richard. This was a bit ironic, as Scott had obviously admired the classic performer as he replicated him as best he could in "Rocker". This song, along with "There's Gonna Be Some Rockin", showed the band paying homage to traditional rock n' roll. "Problem Child" goes the opposite direction in time, previewing the AC/DC style of the later Bon Scott years through the Brian Johnson era. "Ain't No Fun Waitin' Round to Be a Millionaire" starts with a really cool alt/chorus riff, adding a great dimension to this song, which is also well ahead of its time. The band stays on a repetitive riff for long time before finally giving way to the chorus break which repeats many times before breaking into an outtro section based on the verse riff sped up.
"Ride On" is simply a great song with the simplest of blues-based rhythm and a strong and steady beat by drummer Phil Rudd. The simple and calm riff, which displays nice restraint by the Young brothers, backs up the finest singing by Bon Scott. The song feels at times like it's going to break into something heavier but stays within the bounds of its own structure accented only by a bluesy lead by Angus Young. The song contains good lyrics and a well-placed whisper in chorus hook, which Scott never actually sings, giving the song yet another edge.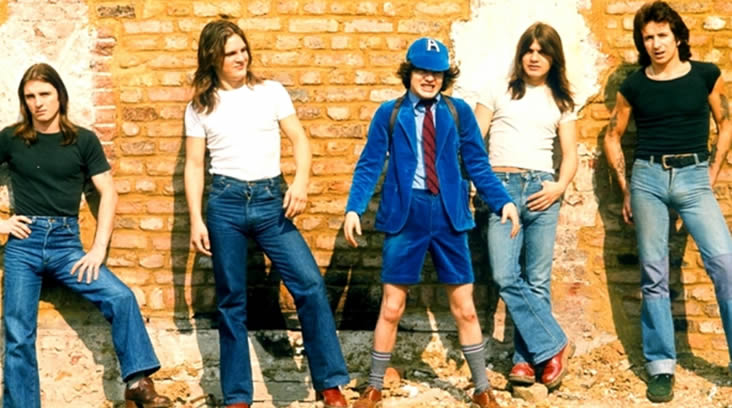 The album is not only "dirty" and "raunchy" but also diverse. With a sense of satire and wittiness that rivals Frank Zappa combined with the unambiguous, straight-up rock employed by contemporaries like Aerosmith and Kiss, Dirty Deeds Done Dirt Cheap hits a unique groove like no other work. Not being released for five years may have actually placed the album in a more perfect slot for the American audience as it arrived after Back in Black as an even more mature album artistically.
~

Part of Classic Rock Review's celebration of 1976 albums.