Buy Hints, Allegations, & Things Left Unsaid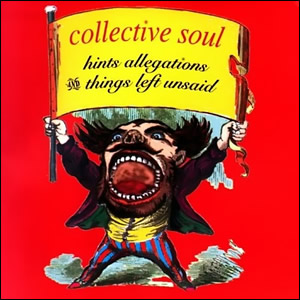 Perhaps the best sounding "demo tape" of the 1990s (if not all time), Collective Soul forged a great sonic mix on their debut Hints Allegations and Things Left Unsaid . The sound took the best of arena-era rock and mixed it with just a sliver of new-era alternative, all forged in the basement studio of budding composer Ed Roland. In fact, the songs were recorded by Roland with the sole intent of using the demo as a showcase to sell the songs to a publishing company and Roland had no initial plans of performing these songs in a band setting. However, when an Orlando, Florida radio station began playing the lead off track "Shine" and it became the station's most requested song in 1993, the demo caught the attention of Atlantic Records, who released the album "as-is" a year later.
With this turn of fortune, Roland agreed to perform live shows and formed a band starting with his brother Dean Roland on rhythm guitar and Ross Childress on lead guitar. Ed Roland was actually reluctant to have the unpolished demo be presented as their debut album. In fact, the reason for calling their next album simply Collective Soul was because Roland considered that their "true" debut record.
The group took it's name from a phrase in the novel The Fountainhead by Ayn Rand, while the album's title comes in part from a lyric in the Paul Simon song "You Can Call Me Al" from the album Graceland.

Hints, Allegations, and Things Left Unsaid

by

Collective Soul
Released: June 22, 1993 (Rising Storm)
Produced by: Ed Roland, Matt Serletic, & Joe Randolph
Recorded: Rising Storm Studios, Atlanta, GA, 1992
Track Listing
Band Musicians
Shine
Goodnight, Good Guy
Wasting Time
Sister Don't Cry
Love Lifted Me
In a Moment
Heaven's Already Here
Pretty Donna
Reach
Breathe
Scream
Burning Bridges
All
Ed Roland – Lead Vocals, Piano, Guitars
Ross Childress – Lead Guitars, Vocals
Dean Roland – Guitars
Will Turpin – Bass, Vocals
Shane Evans – Drums, Percussion



The album starts off with four excellent tracks, including "Goodnight, Good Guy", a song written about one recently departed, which musically alternates between heavy riffs and melodic pop. Session man Joe Randolph adds some guitar on the song. The slow burner "Wasting Time" begins with a sustained organ and interesting percussion and constantly builds until reaching a brilliant guitar lead. This song contains good backing vocal harmonies and a nice counter-riff which fades out with the song. "Sister Don't Cry" is a slow, strong, and soulful song about faith when facing dire circumstances, in this case a woman undergoing chemotherapy.
Starting it all off is the infectious, muted riff of "Shine", which establishes the album's great sound and melodies right off. With this lead single the band gained their fame and the song served as a hallmark of 1990s rock, becoming the #1 Billboard Top Rock Track for 1994. Dean Roland has called the song "basically a prayer" and many mistakenly labeled the band a Christian rock band initially.
The very funky, nearly hip-hop "Love Lifted Me" is led by the strong bass of Will Turpin and a great drum beat by Shane Evans. "In a Moment" starts with a chorus of acoustic guitars and some sharp electric above, while taking a very new-wavish approach vocally. "Heaven's Already Here" is a great short folk song with a picked acoustic and slight arrangement, giving it the perfect fireside feel.
The only real filler on the album is the instrumental "Pretty Donna", which contains no real rock-oriented instruments just some synth and string arrangements co=producer Matt Serletic. The very melodic and pop-oriented "Reach" is acoustic throughout with some excellent electric guitar overtones, a sonic candy factory. "Breathe" is an electric dance song, reminiscent of INXS, which made it a moderate radio hit, while "Scream" is a hyper song which really seems like the band's token attempt at modern punk and does little more than diversify the album a bit.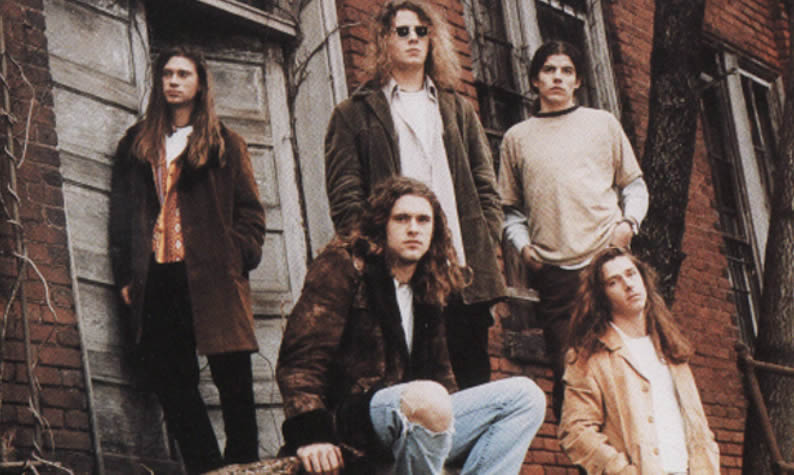 The album ends strongly with two very melodic songs. "Burning Bridges" is passionate with a top level guitar solo, and calming vocals. "All" finishes things up nicely with a topical whining lead guitar over the rhythm mixture of electric and acoustic and a vocal chorus effect to make it a bit more interesting. "Beautiful World" finished the original album but was left off the The 1994 Atlantic re-release.
Hints, Allegations, and Things eventually peaked at number 15 on the Billboard album charts and launched Collective Soul towards a solid but short ride near the top of the rock world through the mid 1990s.
~

Part of Classic Rock Review's celebration of 1993 albums.