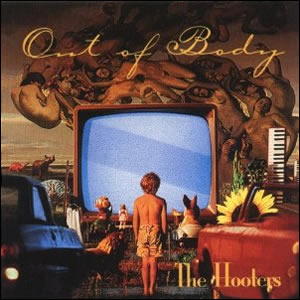 Out of Body was the fifth studio album by The Hooters, released in 1993, and would be the last before the band's decade and a half hiatus from recording. As with all previous Hooters albums, the album of all original material was mainly composed by the team of guitarist/vocalist Eric Bazilian and keyboardist/vocalist Rob Hyman, who founded the group in the Philadelphia in 1980. However, Out of Body did mark a series of firsts for the band.  It was their first album for MCA Records and the first to employ Joe Hardy to co-produce along with Bazilian and Hyman. This was also the first album since the band had expanded to become a six-piece after the addition of vocalist, violinist, and multi-instrumentalist Mindy Jostyn, who started performing with the Hooters in 1991 and became a permanent member of the band in early 1992.
Following the band's previous album, Zig Zag in 1989, the Hooters participated in Roger Waters' The Wall, Live in Berlin, performing the song "Mother" with Sinead O'Conner and members of the classic group The Band. As the new decade dawned, the band's popularity in Europe continued to grow as it inversely subsided in the US, something that would be reflected in the sales figures for Out of Body.
Recorded in Memphis, Hardy and the band took a much different approach to the recording process than on any previous band efforts, as Hardy took tracks directly from demos without much rehearsing and reworking. This resulted in a rapid recording process and final production which is sonically pleasing but a bit confused at times. Still, the band showcases their multi-faceted influences and every song contains unique blends of traditional instrumentation with modern rock and pop.

Out of Body

by

The Hooters
Released: May 11, 1993 (MCA)
Produced by: Joe Hardy, Eric Bazilian, & Rob Hyman
Recorded: 1993
Track Listing
Band Musicians
Twenty-Five Hours a Day
Boys Will Be Boys
Shadow of Jesus
Great Big American Car
Private Emotion
Driftin' Away
Dancing On the Edge
All Around the Place
One Too Many Nights
Nobody But You
Eric Bazilian – Guitars, Mandolin, Saxophone, Sitar, Vocals, Piano, Harmonica
Rob Hyman – Piano, Keyboards, Accordion, Hooter, Vocals
John Lilley – Guitars, Vocals
Mindy Jostlyn – Violin, Harmonica, Vocals
Fran Smith Jr. – Bass, Vocals
David Uosikkinen – Drums, Percussion



Some of the defining elements of Out of Body is the cross influences with other top-notch pop stars. "Boys Will Be Boys" was co-written by Cyndi Lauper who also provided some vocals, returning the favor a decade after Bazilian and Hyman contributed to her debut album She's So Unusual and her hit, "Time after Time". "Dancing On the Edge" was co-written by famed lyricist John Bettis and also has a bit of Celtic influence, which is well camouflaged here by a strong rock arrangement and percussive effects. "Private Emotion" would become the biggest "hit" on the album when it was later redone by Ricky Martin. The original version here is the heart of the album, led by mandolin throughout and very melodic vocals by Bazilian, accented by interesting, minimalist guitar lead and fretless bass.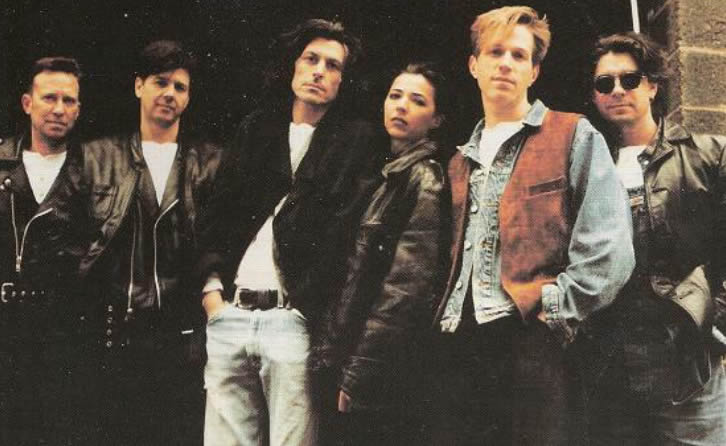 The opener "Twenty-Five Hours a Day" gives the album its name in the very first verse and is sonically diverse with a mandolin intro, funky electric during the chorus, some synth effects, and an interesting lead section which blends violin, accordion, and the "hooter". The song is fast paced like an Irish jig, getting off to a running start and the pace never slowing until the final notes.  Jostyn makes an immediate mark in her debut with the band as her violin and vocals add the perfect accent to blend with the folk rock funk of the rest of the group.
On the opposite end, the closer "Nobody But You" is an unusual yet compelling song. It is a love song, albeit a bit twisted with a back beat and sound that could be a hybrid of The Wallflowers and Tom Petty and quirky lyrics which make one wonder if this is a song of love or an unhealthy obsession –
"well I'm lying in your flower bed, I'm drunk on your perfume Just waiting for the seeds I planted once to come in bloom / You ravage me, you savage me and you know I love it too…"
Some other fine tracks on the album include "Shadow of Jesus", which has good ambience in the spirit of "All You Zombies", with great funky bass by Fran Smith Jr. and harmonica by Jostlyn along with with strings and a dramatic presentation and lyrics. "Great Big American Car" brings the band right back to the eighties sound with a lyrical nod to psychedelia and nostalgic times past. "One Too Many Nights" is highlighted by a great organ lead by Hyman and more mandolins by Bazilian, while "All Around the Place" is just that, as the aptly titled song moves from a heavy percussive dance beat by David Uosikkinen to mandolin to country chant feel with strings and accordion. Later some funky guitars and "The Memphis Horns" join in, giving the song's climax an "All You Need is Love" feel.
The Hooters followed Out of Body with a live album the following year before the band would enter an extended hiatus period which would last nearly a decade of no touring or any activity. In 1995, Bazilian and Hyman worked on the debut album by Joan Osbourne called Relish, which produced the worldwide hit "One Of Us", which was originally intended for an upcoming Hooters album.
~

Part of Classic Rock Review's celebration of 1993 albums.