Buy August and Everything After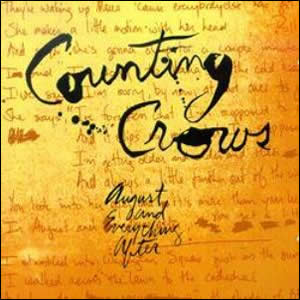 One of the more impressive debuts of 1993, August and Everything After by Counting Crows fuses lyrically rich ballads with such long forgotten sonic treasures as the Hammond B-3 organ, the accordion, and the straight-forward strummed acoustic guitar. Led by singer/songwriter Adam Duritz, the Northern California-based group put most of their efforts into live performances which results in this debut effort having a natural, non-contrived feel throughout. Still, most of the songs on this album contain strong hooks and memorable melodies, making for a solid collection of songs which assured that this debut album would be the band's most successful ever.
The roots of Counting Crows began as an acoustic duo made up of Duritz and guitarist David Bryson starting in 1991, around Berkeley and San Francisco. As the duo gained popularity, other Bay Area musicians would join them on stage, with some signing on as permanent members of this emerging "band". Several demo tapes using various backing musicians were produced through 1991 and 1992, containing most of the material which would later become August and Everything After.
By the beginning of 1993, the band had grown to include a stable five-piece lineup and was soon signed to Geffen Records. On January 16, 1993, the still relatively unknown band made their national debut when they filled in for Van Morrison at the Rock and Roll Hall of Fame ceremony. Duritz's vocal and songwriting style has often been compared to Morrison's, and on this occasion, the band did a cover of his song "Caravan".

August and Everything After

by

Counting Crows
Released: September 14, 1993 (Geffen)
Produced by: T Bone Burnett
Recorded: Los Angeles, 1993
Track Listing
Band Musicians
Round Here
Omaha
Mr. Jones
Perfect Blue Buildings
Anna Begins
Time and Time Again
Rain King
Sullivan Street
Ghost Train
Raining in Baltimore
A Murder of One
Adam Duritz – Lead vocals, Piano, Harmonica
David Bryson – Guitars, Vocals
Charlie Gillingham – Keyboards, Accordion
Matt Malley – Bass, Vocals
Steve Bowman – Drums, Vocals
Starting off the album is "Round Here", which dates back to before the formation of Counting Crows when Duritz was with a band called the Himalayans. The rock version of the song was originally recorded by the group and members Dan Jewett, Chris Roldan and Dave Janusko all receive co-writing credits. On this August and Everything After version, Bryson's poignant, picked guitar notes set the original melancholy and theatrical scene, as the song migrates through many sections of differing intensity, including a brief funk section, before dissolving back where it began. "Omaha" follows with some bright accordion by keyboardist Charlie Gillingham highlighting this relatively upbeat and bouncy folk song.
"Mr. Jones" is, by far, the most popular song by the band through their career. A straightforward musical riff decorated by dynamic vocal parts and rich lyrics in the style of Van Morrison, the song reached the top of the pop charts in early 1994. The song has its roots in the basic struggle to "make it" as a rock musician and was the major influence in Jonathan Pontell coining the later era Baby Boomers "Generation Jones".
Driven by a choppy but effect drum beat by Steve Bowman, "Anna Begins" builds into a very pleasant and melodic listen with stream-of-consciousness lyrics which are at once intense yet relaxed and a great harmonized counter-melody towards the end. "Time and Time Again" is a slow ballad in the realm of latter-era Rolling Stones and contains a great presence of Hammond organ by Gillingham and bouncy bass by Matt Malley. "Perfect Blue Buildings" is another rhythm-driven song by Malley and Bowman, although kind of thin lyrically. But what this song lacks in substance, it makes up for in great ambiance.
The most upbeat song on the album is "Rain King", a song about optimism and possibilities. It contains great blend of guitars by Bryson and mandolin by guest David Immerglück, a similar sound to that used by the Badlees on their Diamonds In the Coal album a year earlier. Duritz explained the song's meaning;
"I can remember being eight years old and having infinite possibilities. But life ends up being so much less that we thought it would be when we were kids, with relationships that are so empty and stupid and brutal…"
The moody "Sullivan Street" with its slowly strummed, twangy guitar blended with some great topical piano is great ode to lost love. "Raining in Baltimore" is perhaps the most Springsteen-esque song led by the solo piano and vocals by Duritz. Rounding out the album is "A Murder of One", co-written by Malley who provides some great bass up front in the mix to compliment Bryson's heavy use of sustained guitars and later guitar textures. This closer acts as the default theme song for the band with the recital of a traditional British rhyme about "counting crows".
August and Everything After sold over seven million copies and brought instant fame and international attention to Counting Crows. But like many groups, this fame had a downside and the band went through some turbulent times which led to the departure of Bowman and a widely-publicized nervous breakdown by Duritz. Although the band was mostly dormant for the entire year of 1995, they did return with their strongly anticipated second album, Recovering the Satellites in late 1996.
~

Part of Classic Rock Review's celebration of 1993 albums.