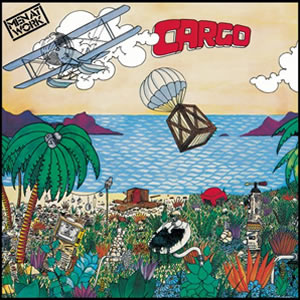 It is funny how fame works. When Men at Work recorded their second album Cargo in the summer of 1982, they were just a regional act who had moderate success in their native Australia with their debut album Business As Usual. Then a few songs from that debut began to get heavy airplay in Western Canada and finally the United States. By late 1982, with this follow-up already recorded and set for release, Business As Usual skyrocketed to the top of the charts and the group were suddenly superstars, a fame which carried into 1983 when the delayed release of Cargo finally occurred and collection of similar yet more mature tracks continued the band's momentum in the pop world.
On Cargo, the personnel and production team from the debut album remained, led by producer Peter McIan and the band's chief songwriter and vocalist Colin Hay. The band returned to their signature mixture of reggae with new wave-fused rock and pop, accented by Hay's distinct vocal delivery and pronunciation. However, on this album they did attempt more ambitious and deep compositions, which gives it a slight edge.
The album has a very polished rhythm with bassist Jonathan Rees and drummer Jerry Speiser holding down the bottom end with precision and tightness, giving Hay the space to let melodies and riffs develop on top. Also, with this "typical" production any of the sonic flourishes (albeit few and far between) and brought out with maximum contrast and effect.

Cargo

by

Men At Work
Released: June 28, 1983 (Columbia)
Produced by: Peter McIan
Recorded: 1982
Side One
Side Two
Dr. Heckyll and Mr. Jive
Overkill
Settle Down My Boy
Upstairs In My House
No Sign of Yesterday
It's a Mistake
High Wire
Blue For You
I Like To
No Restrictions
Band Musicians
Colin Hay – Lead Vocals, Guitars
Greg Ham – Keys, Saxophone, Flute, Vocals
Ron Strykert – Guitar, Vocals
Jonathan Rees – Bass
Jerry Speiser – Drums

The opener "Dr. Heckyll and Mr. Jive" is almost frivolous in nature as the song employs a sped-up reggae beat during the verse and dissolves to a slow, waltz/rock during the chorus. The good lead guitar of Ron Strykert sets the pace for his fine work on this album. Strykert also composed and sang lead on "Settle Down My Boy", a song where the underlying reggae is brought to a pop extreme, alternating keys in the first few verses, with another great guitar lead with some sharp room effects. "Upstairs in My House" is a frantic and desperate, yet still upbeat pop song may have been a representation of type of material the band was going for on this album.

The strong first side ends with "No Sign of Yesterday", a song of nostalgia and longing lyrically, where Rees and Speiser add some rare rhythm accents, adding effect to the darkness of the song. Strykert also gets into the act with a souring and soulful guitar lead. Perhaps the best pure pop song of the entire decade of the 1980s, "Overkill" contains a hyper new-wave rhythm beneath the deep and melodic vocals of Colin Hay. This is all topped off with a signature saxophone and haunting synths by Greg Ham and yet another tremendous lead guitar by Strykert. The song reached #3 on the Billboard Pop chart and contains spastic yet profound lyrics, highlighted by the fantastic line;
"ghosts appear and fade away…"
Side two begins with "It's a Mistake", another Top Ten hit for the band, where Hay's sharply picked, choppy guitar chords are synched with a fine reggae accompaniment in a light but macabre presentation in the spirit of the film Doctor Strangelove. The song breaks out of this choppy rhythm about three quarters through for a memorable coda, led by a chorus of melodic guitars and Hay's desperate, shouting vocals, for a climatic ending.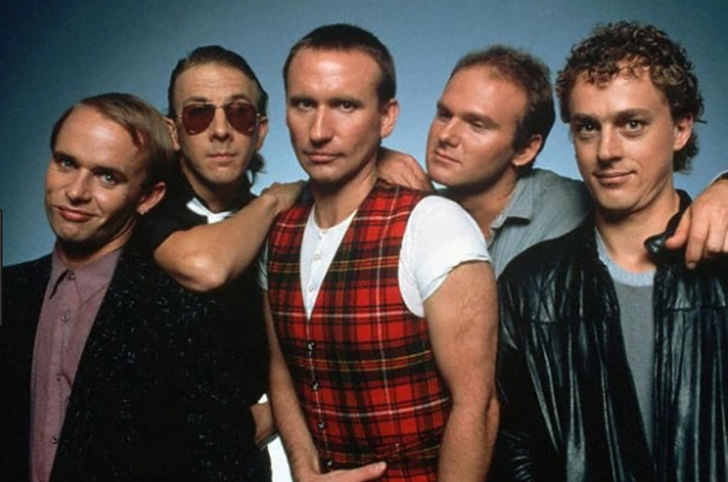 "High Wire" contains a heavier rock arrangement similar to some of the contemporary material by Huey Lewis (although it does contain a lame "carnival" section during the bridge). This was the fourth and final single from Cargo, released at the end 1983, just about the time the group's fame trajectory began to plateau. The most effect-driven song on the album is the closer "No Restrictions", which contains an interesting flute lead by Ham, but is otherwise a rather weak attempt at anthem rock.
Cargo is not without its weak spots, as side two does contain some blatant filler, starting with "Blue For You", a song that is pure Caribbean in texture right down to the percussive and keyboard effects. "I Like To" is the most universally panned song on the album due to the harsh, exaggerated, late-70s techno-punk vocals by Greg Ham.
In 1984, Men At Work took a long break from the years of constant touring they'd done in support of both albums. This proved to be a momentum killer and, when the band reconvened, in-fighting proliferated and Speiser and Rees left the band. Although the remaining trio recorded a third album, Two Hearts, it made little waves and by early 1986, Men At Work was no more.
~

Part of Classic Rock Review's celebration of 1983 albums.