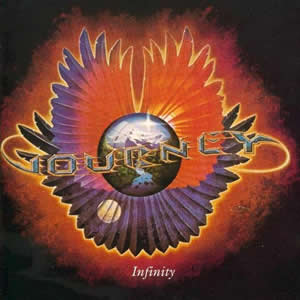 The classic lineup of Journey came together for the album Infinity, released in 1978. Although this was the fourth overall album for the group that had been together since 1973, it was the first to feature lead vocalist and iconic front man Steve Perry. With his smooth tenor voice and apparent ability to traverse keys at will, Perry ushered in a new era of pop accessibility for Journey. the album was produced by Roy Thomas Baker, who had worked with such rock legends as The Rolling Stones, David Bowie, The Who, Nazareth, and Queen. Baker said he aimed for a layered sound approach, complete with harmonized lead guitars, similar to his work with Queen in the mid seventies.
Journey was formed as a professional jazz/fusion "backing band" built by former Santana manager Herbie Herbert, originally called the Golden Gate Rhythm Section. Guitarist Neal Schon and keyboardist/vocalist Gregg Rolie were also recent Santana members and they were surrounded by a number of musical lineups through the early years of the group, eventually settling on bassist Ross Valory and drummer Aynsley Dunbar. Journey released three albums in three years with none achieving significant sales. Schon, Valory, and Dunbar took singing lessons in an attempt to add vocal harmonies to Rolie's lead and even brought in a temporary front man, Robert Fleischman in 1977 to transition to a more popular style.
Perry had achieved moderate success with California bands, Ice and Alien Project, but was on the verge of giving up music when Herbert heard a demo of Perry in Alien Project. Perry was brought on tour and eventually replaced Fleischman permanently in late 1977. With a new contract with Columbia Records, the band set out to make a cohesive and popular record.

Infinity

by

Journey
Released: January 20, 1978 (Columbia)
Produced by: Roy Thomas Baker
Recorded: His Master's Wheels Studio, San Francisco, October-December 1977
Side One
Side Two
Lights
Feeling That Way
Anytime
Lă Do Dā
Patiently
Wheel In the Sky
Somethin' To Hide
Winds of March
Can Do
Opened the Door
Primary Musicians
Steve Perry – Lead Vocals
Gregg Rollie – Keyboards, Vocals
Neal Schon – Guitars
Ross Valory – Bass
Aynsley Dunbar – Drums, Percussion
The geographical ballad "Lights" (which can still regularly be heard at San Francisco Giants baseball games) leads things off on Infinity. The complete ode to their home "city by the bay", was actually written by Perry about Los Angeles before he joined the band. Although originally just a very minor hit, which reached #68 on the charts, the song became more popular over the years to the point where it is now one of Journey's most easily recognizable songs.
Greg Rollie takes the lead vocal mic on the next two tracks. On "Feeling That Way" he duets with Perry, on a pleasantly moody track with an eighties moderate rock feel. The first incarnation of the song was an instrumental intended for the group's third album Next, but was left off that album. When Perry joined the band, he helped add a chorus with Rolie adding the verse lyrics. "Anytime" features Rollie solo on lead vocals. This song was co-written by Robert Fleischman during his short time with the group and was released as a single from the album.
"Lă Do Dā" is an upbeat, pure rocker, driven almost entirely by texture, from Schon's opening guitar effects to the long sustained vocals with electronic effects. "Patiently" was the first collaboration between Perry and Schon and soon became a fan favorite. On this delicate yet hip ballad, Schon plays an acoustic-like form on his electric guitar through the beginning verses, while the concluding full-band jam makes it all the more interesting.
The second side opens with "Wheel in the Sky", which contains almost an upbeat country riff, especially in the interplay between Schon's guitar and Ross Vallory's bass. The song began its life as a poem called "Wheels in My Mind" by Diane Vallory, wife of the bassist and it reached No. 57 on the Billboard charts.
"Somethin' to Hide" is another pleasant quasi-ballad, driven by Perry's soaring, atmospheric vocals and Schon's scorching fret work, along with some subtle keyboard arrangements by Rolie.
Neal's father, jazz musician Matt Schon composed some of the fine chord structures for "Winds of March", an arrangement would have worked well with many of the later prog metal acts. This has a love-song-like lyric but with a more somber feel from the dark piano runs to the flange effects on Dunbar's drums, making it one of the better songs on side two. The album's final two racks offer a slight glimpse into Journey's future. "Can Do" is a pure upbeat rocker co-written by Perry and Ross Valory, while "Opened the Door" is the only real soft rock song on the album. Led by the synths from Rollie and more layered guitars from Schon, it is easy to see how the group laid the brickwork here for a lot of their 80s ballads.
Infinity was the first album by the group to contain tracks that received regular airplay as well as the first with charting singles. It was the first of a string hit albums, which eventually served to help Journey become one of the top rock groups in the world. While a few more changes would take place in subsequent years, starting with Herbert firing drummer Dunbar, Journey would consistently gain more popularity through the next half decade.
~

Part of Classic Rock Review's celebration of 1978 albums.