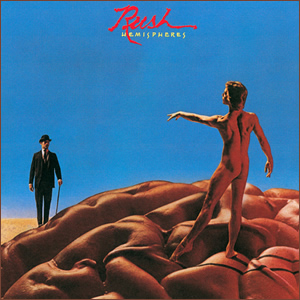 Hemispheres, the sixth studio album by Rush, was the second straight album recorded in the United Kingdom. It also contained the second half of a multi-album concept called "Cygnus X-1", which took up the entire first side  as its title track. Musically, the group continued to use multi-movement song structures, complex rhythms and time signatures to pack this album with musical virtuosity by this trio at the very height of their talent and creativity. Lyrically, Neil Peart continued the scientific/fantasy approach of recent albums but with a decidedly philosophical bend, using a mixture of literary, factual, and fictional methods.
The music is complex and flowing with a lush production. Like the previous four studio album, Hemispheres was produced by Terry Brown. Influenced by progressive rock bands like Yes and King Crimson, the group set out to make more complex music, stretching the maximum potential of three rock musicians to be replicated in live situations. Lead vocalist and bassist Geddy Lee added Minimoog synthesizer and bass pedals to his arsenal while guitarist Alex Lifeson  experimented with classical and twelve-string guitars, often using a holder stand to easily switch between guitars live. Peart continued to add diverse percussion to his ever-growing drum set, including timpani, blocks, orchestral bells, chimes, and melodic cowbells.
Although the second half of a multi-part fantasy which starts in space but ends on Mount Olympus, the overall concept of Hemispheres is to explore and interpret human psychology via the left and right portions of the brain. This whole concept was developed by Peart who, as lyricist, had led the group to to ever greater levels of conceptual complexity since joining Rush in 1974. For their part, musical composers Lee and Lifeson, matched the ingenuity with their tightest, sharpest, and most inventive playing ever with brilliant complexity.

Hemispheres

by

Rush
Released: October 29, 1978 (Mercury)
Produced by: Terry Brown and Rush
Recorded: Rockfield Studios, South Wales, June–August 1978
Side One
Side Two
Cygnus X-1, Book II:
Hemispheres
Circumstances
The Trees
La Villa Strangiato
Primary Musicians
Geddy Lee – Lead Vocals, Bass, Synthesizers
Alex Lifeson – Guitars, Synthesizers
Neil Peart – Drums, Percussion, Synthesizers
While the story line isn't as comprehensible as "2112", the side-long suite of "Cygnus X-1, Book II: Hemispheres" is much more consistent musically. In fact, it is constructed more like a stage musical than a contemporary prog-rock piece, with the "Prelude" section acting as a true overture. starting off with slow rudiments which, for a moment, feel unsure, the music soon finds its groove, moving through seamless passages in the first three instrumental minutes. You don't have to be a Rush fanatic to appreciate the quality rock on display here, which (like "2112 Overture") is the most indelible part of the overall extended piece. A single verse three minutes in sets the stage for the story.
Next come the two parts which describe the two sides of Hemispheres – "Apollo (Bringer of Wisdom)" and " Dionysus (Bringer of Love)". These two parts are really just different verses of the same tune, with a Lifeson guitar lead representing the "the bridge of death" crossing between them. Surprisingly, there is not a bigger contrast sonically between these two contrasting characters, as Geddy Lee brilliantly has shown he could pull off in "2112". The awkward transition into these tracks is the first real flaw of the extended piece. After abandoning the "chains of reason" in pursuit of "joy and love", the mythical civilization faces cold, starvation, and predators, which causes caos and ultimate battle in the very theatrical climax to the piece, "Armageddon (The Battle of Heart and Mind)". Here Lee's voice hits the highest of registers, perhaps a bit too far for contemporary tastes, as he relates the story of aimless conflict which ensued with the confusion brought on by the awareness of Apollo and Dionysus.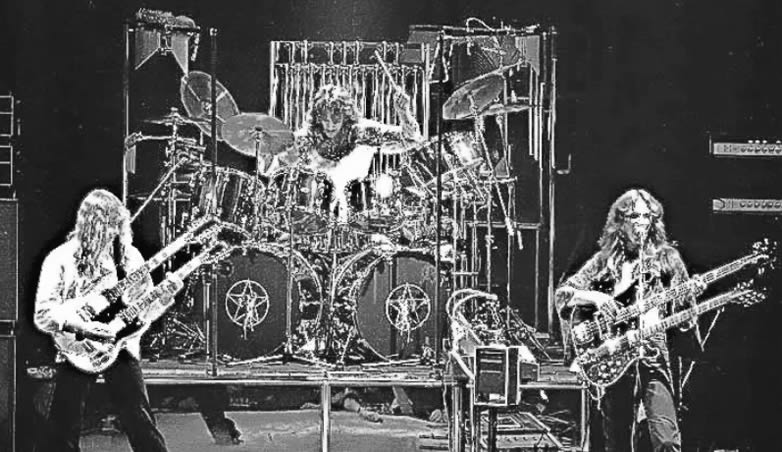 Finally, comes the bridge back to the final song from A Farewell to Kings. "Cygnus X-1:Book I" was a spacey number about a guy who deliberately steers his spaceship into a black hole out of his burning curiosity to see what was on the other side. On the "Cygnus (Bringer of Balance)" echoes from that song overlaid on the long synth sounds of Lee while Peart's lyric morphs from the philosophical to the fantasy. The protagonist from the former song was able to make the chaos suddenly cease (although it is really unclear why) and the world unites into a "single, perfect sphere" as described in the pleasant acoustic final part with its Pollyanna, Utopian vision.
The second side begins in sharp contrast with excellent, frenzied musical piece of "Circumstances". This is Rush, the rock band, at their absolute best. Peart's crazed but ultra-tight drumming and Lee's thundering Rickenbacker bass provide the best rhythm section in rock and are in top form. There is very short middle section for variety, where a synth-led waltz gives way the chord-and-riff-driven jam before breaking back into one final chorus. In a way, there is more sonically packed into this less-than-four-minute piece than all of the extended, 18-minute "Hemispheres". Further, the song has great philosophical lyrics in two languages;
"Plus ça change, plus c'est la même chose, the more that things change, the more they stay the same…"
The philosophy continues with "The Trees", a parable on socialism and collectivism. Here, Lifeson takes center stage from his classical acoustic intro through the incredible movement through differing guitar textures. Like "Circumstances", there is another mid-section which starts with some synth and percussion motifs before breaking into a full band jam, which brings the tune to a fevered conclusion with an ironic lyrical ending.
This all leads to "La Villa Strangiato", the crowning musical achievement of Rush's long career. The band admits that this was incredibly difficult to record, even claiming that this single track took longer than the entire album Fly By Night. At first, they were obsessed with recording the nine-minute, twelve-section track in one single take, but eventually capitulated and recorded it in three parts. The result is an analog recording with a bit of tape hiss, but this does not detract from the music one bit. Based on a dream by Lifeson, "La Villa Strangiato" ("The Strange House") begins with half minute Spanish guitar that gives way to, perhaps, the most exciting intro in rock and roll. Like a world awakening from a long slumber, the dream flanged guitar is cut through by the underlying, three-note beat by Lee and Peart. Eventually, the tension breaks into a full band rudimentary riff offset by interludes of smooth instrumental soaring. During the complex middle section, the mood comes down a little bit, to a basic beat for Lifeson's bluesy guitar leads (like Rush in Pink Floyd mode), again building ever so slowly towards a more intense rhythm part. Several more connecting sections ensue, including a jazzy section led by bass and drums. The music meanders and draws the listener to a lull before suddenly breaking back to the main theme as a lead-in to the outro with a sudden and abrupt ending, which leaves the audience wanting for more.
Although Hemispheres received relatively good reviews it did not fare well commercially. With great success on the horizon, this would be the last Rush studio album to fail to make the Top 10 until 1987's Hold Your Fire, six albums in the future. The recording of five studio albums in four years, coupled with 300 gigs a year, and the shear exhaustion of making such a complex album would play a major factor in the band deciding to move towards more accessible material in the future.
~

Part of Classic Rock Review's celebration of 1978 albums.