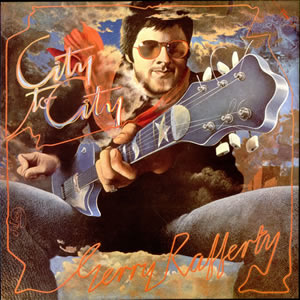 Gerry Rafferty was an artist who really didn't like fame all that much. In fact, he once walked out on his former band, Stealers Wheel,  shortly after they topped the charts with "Stuck in the Middle with You"  in 1973. The success found Rafferty  retreating to his native Scotland before being coerced back into rejoining that band. Ironically, City to City brought Rafferty fame in droves after a long hiatus from the public eye. This album reached the top of the U.S. album charts and produced three Top 20 hits. But beyond its commercial success, it was the absolute apex of Rafferty's career where if left indelible musical marks which define his output to this day.
Rafferty joined the folk group The Humblebums in 1969. Two years later he was signed to a solo contract an released his 1971 debut Can I Have My Money Back?, a critical success but commercial failure. In 1972, Rafferty formed Stealers Wheel with Walter Egan and recorded three albums before the duo disbanded in 1975. This was followed by legal wrangling over the demise of Stealers Wheel which kept Rafferty out of the studio for three solid years.
Though it would seem to have strike the pop charts out of the blue, City to City does not depart dramatically from the music Rafferty has recorded over the past decade. In fact, he used much of the same personnel he had on his first solo album seven years earlier, starting with producer Hugh Murphy. The album's title was meant to be satirical, as Rafferty conquers the world one metropolis at a time. Fueled by Rafferty's compositional skills, the group forged a fresh sound with diverse styles, while lyrically Rafferty juxtaposes the differences between urban and pastoral life.

City to City

by

Gerry Rafferty
Released: January 20, 1978 (United Artists)
Produced by: Hugh Murphy
Recorded: Chipping Norton Recording Studios, London, 1977
Side One
Side Two
The Ark
Baker Street
Right Down the Line
City to City
Stealin' Time
Mattie's Rag
Whatever's Written In Your Heart
Home and Dry
Island
Waiting For the Day
Primary Musicians
Gerry Rafferty – Lead Vocals, Guitars, Piano
Hugh Burns – Guitars
Tommy Eyre – Piano, Keyboards, Brass
Graham Preskett – Fiddle, Strings
Gary Taylor – Bass, Vocals
Henry Spinetti – Drums
The opening tune "The Ark" starts with a Celtic-flavored thumping intro led by fiddle and mandolin combo of Graham Preskett. It soon breaks into a pleasant ballad, reminiscent of the band Badfinger, with the vibe of sailing along calm water within the beat. While it never really breaks from its deliberate and steady tone, this five and a half minute song feels full and complete.
While long considered Rafferty's signature song, "Baker Street" may also be one of the quintessential tracks of the late seventies. At once pop yet progressive, this song is an urban journey accompanied by baskets of sonic candy, The bass of Gary Taylor supplies a lot of this décor, as do the keyboards, organ, and synths of Tommy Eyre as do the cool and smooth layered vocals of Rafferty, delivering the self-reflecting and mature lyrics. But all this plays a supporting role to the memorable saxophone riff by Raphael Ravenscroft, which guides the song from phrase to phrase. Rafferty lobbied the record label to have "Baker Street" as the lead single from the album and it became hugely popular, reaching the top 3 on both sides of the Atlantic before the album was even released.
The mechanical yet groovy "Right Down The Line" was the other major hit from the album. An upbeat song of romance, this tune is firmly within easy listening range while still feeling vibrant and young and in no way sappy. Rafferty's excellent vocal harmonies during the bridges along with the cool steel guitar intro and lead of Brian Cole are the musical highlights for this song which reached #12 on Billboard pop charts and topped the "Easy Listening" charts. The album then takes a sharp turn with title song "City to City". A quasi-blue grass composition, the song comes complete with a train-whistle-sounding harmonica by Paul Jones and could be an outlaw country song if not for all the production flourishes throughout. "Stealin' Time" is a great mood-setting song to complete side one. Led by the electric piano of Tommy Eyre, the song is very patient and deliberate musically, like mid-era Pink Floyd. Following a nice lead by Hugh Burns, the arrangement turns interesting as it builds some intensity in the outro section.
The second side starts a long, thumping fade-in on "Mattie's Rag", which gives way to an upbeat and bouncy tune including an interesting dobro lead by Cole, and a fantastic fiddle and string coda riff by Preskett. "Whatever's Written In Your Heart" feels like a Gospel song at first, before Rafferty takes control of this McCartney-styled piano ballad. Musically, this six and a half minute song is almost entirely Eyre's piano, with a short Moog synth lead in the middle while lyrically, the melancholy song is a bit introspective and spiritual;
"Maybe I've always set my sights too high, you take the easy way and still get by
I know there ain't no special way, we all get there anyway…"
Topping off the album are three upbeat songs. "Home and Dry" contains a thumping beat by Henry Spinetti with smooth vocal delivery by Rafferty, much like the hit songs from side one. In fact, "Home and Dry" was the third single from the album in the U.S. and it peaked at #28 on the pop charts. "Island" does its title justice with a strong Caribbean beat and gently strummed acoustic by Rafferty, but topically it has more of a jazz nightclub feel. It contains the ever-present saxophone of Ravenscroft and plenty of other exotic instrumentation. Rafferty plays rudimentary piano on "Waiting For the Day", which complements Eyre's boogie-woogie electric piano. Starting as perhaps the most straight-forward rocker on album, the song takes a couple of unexpected breaks where Rafferty's solo vocals are highlighted, clear and up front.
Although Rafferty declined to tour right away following the release of City to City, the momentum carried on to his 1979 album Night Owl, which spawned another trio of Top 40 singles. While the artist continued to release albums throughout the 1980s, his popularity waned and heavy drinking ultimately led to his demise.
~

Part of Classic Rock Review's celebration of 1978 albums.