Van Halen's debut album is a pedal-to-the-metal hard rocker with a distinct approach that thundered onto the scene in early 1978. This self-titled album continues to rank among the top debuts of all time and makes appearances on other straight-up rock album lists. While not particularly original musically, Van Halen was completely original sonically. This was due to the jaw dropping speed and flair guitar work of Eddie Van Halen. With a noted lack of blues-based licks, which were replaced by a furious placement of picked, crunched, and hammered notes, Van Halen's leads, solos, and riffs are the most indelible moments on a very memorable album. Forged in the fresh shadow of punk rock, the Van Halen sound showed that musical talent can be every bit as fresh, energetic, and bombastic. With this innovative record which sounds every bit as fresh 35 years after its release, Van Halen has risen to become Classic Rock Review's album of the year for 1978.
Van Halen was formed in Southern California in 1972 by the brothers that give the band its name – guitarist Eddie and drummer Alex Van Halen. Born in the Netherlands, the Van Halen brothers were the sons of jazz musician Jan Van Halen and were "forced" to study classical piano at very young ages. When the brothers began playing rock and roll, Alex was actually on guitar and Eddie was on drums.  But once Alex heard his younger brother pick up the guitar and play more naturally, he forced him to switch instruments and took over as drummer. In 1974, the group rented a sound system from David Lee Roth and soon invited him to join as lead vocalist. Roth was the son of a renowned eye surgeon, who had considerable wealth and was the nephew of Manny Roth, who built and owned the New York establishment Cafe Wha?, which featured performers such like Bob Dylan and Jimi Hendrix. Roth possessed an in-your-face charisma that demanded attention (like a true frontman should). While not considered a particularly accomplished crooner, his yelps and screams fit perfectly within the high-energy sound of the group.
Soon after Roth joined,  the band decided to replace their current bass player with Michael Anthony, bassist and lead vocalist from a rival band called "Snake", who impressed the Van Halen brothers during an all-night jam session. In subsequent years, the group played everything from backyard parties on a flatbed truck to some of the most famous night clubs on the Sunset Strip. They forged what Roth calls a "girl-friendliness" to heavy rock. In the summer of 1976, Gene Simmons of Kiss saw Van Halen perform and offered to produce a high end demo tape for the group. After a few recordings in Los Angeles and New York, Simmons opted out of the arrangement after the group declined his suggestion to change their name to "Daddy Longlegs" and Kiss management told Simmons that they had "no chance of making it".
In mid-1977,  Ted Templeman of Warner Bros. Records saw the group perform in Hollywood and was so impressed that he scored Van Halen a recording contract within a week (although the group now laments that this contract was not financially favorable to the members who ended up owing money by the end of 1978). Templeman produced the debut album at Sunset Sound Recorders over a three week period in the Fall of 1977. All of the tracks were recorded with minimal over-dubbing and a simple musical set-up was used to give the record a "live" feel. After the sessions, the group returned to playing small venues in Southern California until the album was released in early 1978.

Van Halen

by

Van Halen
Released: February 10, 1978 (Columbia)
Produced by: Ted Templeman
Recorded: Sunset Sound Recorders, Hollywood, CA, September – October 1977
Side One
Side Two
Runnin' with the Devil
Eruption
You Really Got Me
Ain't Talkin' 'Bout Love
I'm the One
Jamie's Cryin'
Atomic Punk
Feel Your Love Tonight
Little Dreamer
Ice Cream Man
On Fire
Band Musicians
David Lee Roth – Lead Vocals
Eddie Van Halen – Guitars, Vocals
Michael Anthony – Bass, Vocals
Alex Van Halen – Drums, Percussion
The album is made of nine original compositions, credited to all four band members, along with two re-interpreted covers. Drummer Alex Van Halen and bassist Michael Anthony drive the opener "Runnin' with the Devil", which arrives like an alien visitor and then comes off heavier than it actually is in reality. It is down-and-dirty but short of hedonistic and got its lyrical inspiration from the Ohio Players song "Runnin' from the Devil". While released as a single, it failed to chart in 1978 but has  become a classic rock radio staple and still a signature tune of Van Halen.
The instrumental "Eruption" contains some of the best 100 seconds of guitar ever recorded. This masterpiece by Eddie Van Halen was not intended for the debut album but was overheard by Templeman as Eddie was rehearsing it for a club date and he decided to include it on the album. The piece is the first to feature Van Halen's custom two-handed finger-tapping technique which had not been perfected by any other player to that date (but went "viral" among guitarists in the eighties). Played on his custom Frankenstrat with a custom array of effect units and vintage tube amps, the piece has been named the 2nd greatest guitar solo ever by Guitar World magazine. "Eruption" works as a perfect lead-in to the kinks cover "You Really Got Me", the lone charting "hit" from this album.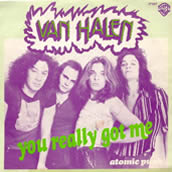 This may be one of the very few remakes that actually best the original, which is saying something since the 1964 tune by Ray Davies is a bona fide classic which features a young session player named Jimmy Page. But Van Halen takes this simple, two and a half minute piece, and brings it to a fevered level of excitement with Eddie performing riffs within riffs, Roth adding vocal ad-lib screams in the chorus, and the post solo guitar dribble leading to a unique mid section with sound effects by both. The song became the lone Top 40 single from Van Halen.
Although very repetitive, "Ain't Talkin' Bout Love" is an extremely entertaining song which borders on being a Van Halen-flavored punk epic, especially with closing "Hey! Hey! Hey!" chant. Unlike the totally feel-good "You Really Got Me", this has a much darker feel, especially with the deep bridge lyrics;
"I've been to the edge and there I stood and looked down, you know I've lost a lot of friends there baby, ain't got time to mess around…"
"Ain't Talkin' Bout Love" displays the effortless expression of the band, which replaces the pretension and self-consciousness of many of their late seventies peers. The hyper-blues shuffle of "I'm the One", which highlights the entertaining showmanship of the band. With dynamics which range from the monstrous rhythmic surge to the later a cappella do-wop section, "I'm The One" is an underrated gem, which concludes the fantastic first side of the album.
Although not nearly as memorable, the second side of Van Halen does contain its share of high moments. "Jamie's Cryin'" and "Feel Your Love Tonight" shows that the band definitely can play pop rock anthems. These two tracks share similar memorable riffs and catchy harmonized choruses and they both sound like they should have been bigger radio hits. Sandwiched between the two is "Atomic Punk", an almost experimental song with intro guitar effects giving way to theatrical verses. However, this song's title may be more provocative than the overall tune is actually substantive and the disorganized return after the guitar lead appears to be one of the few faux pas of the recording.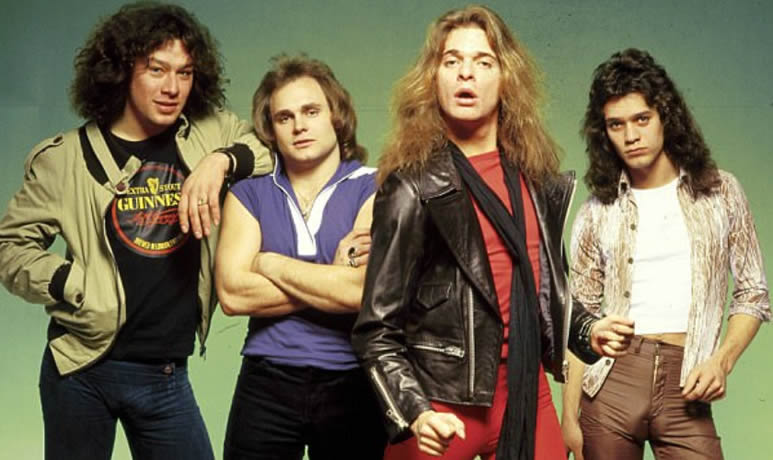 "Little Dreamer" is the finest tune on side two and may be the one true band effort on Van Halen. Eddie comes down to Earth with a standard riff and more subtle theatrics while the rest of the group steps forward as Michael Anthony's bouncing bass contrasts yet compliments Alex Van Halen's steady drum beat and Roth's actual singing is at its finest on this record. "Little Dreamer" also offers a preview of some of the more substantive music featured on upcoming albums Van Halen II and Women and Children First. "Ice Cream Man" is cover from Chicago blues artist John Brim, which features David Lee Roth solo on acoustic guitar and vocals for a couple of turns before it finally breaks into a full-fledged rocker, ala Led Zeppelin. Unfortunately, the most forgettable song on the album is the finale "On Fire", making for the only true weak spot on this incredible debut. While Eddie's guitars are still impressive, the overall vibe makes really feels more like weak, hair-band material from a future Van Halen clone.
Van Halen initially peaked at #19 on the U.S. Albums chart and made a reappearance in 1984. By the end of the century, it was certified a Diamond album (over ten million copies sold or 20x platinum) and it made yet another appearance on the album charts in 2012 to coincide with Van Halen's latest reunion. The band toured for nearly a year as the opening act for Black Sabbath before returning to the studio in late 1978 to record the follow-up Van Halen II, an album similar in style to their debut.
~

Part of Classic Rock Review's celebration of 1978 albums.