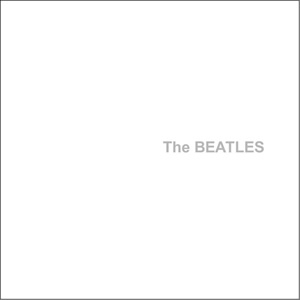 In 1968, The Beatles released their only double studio album, an eponymous release commonly referred to as The White Album. Despite the official title which emphasized group identity, the actual recordings were segmented and increasingly individualized based on the original composer of each tune.  Much of this was due to dissent and inner turmoil in which members openly objected to certain tunes. In fact, all four members of the group play together on barely half of the album's 30 tracks and producer George Martin later admitted he advocated for a "very good single album" in lieu of including so many marginal individualized tracks. Thematically, the White Album was a complete withdrawal from The Beatles 1967 albums, retreating from the lush and vivid colorful themes of Sgt. Pepper's Lonely Hearts Club Band and Magical Mystery Tour with a plain white sleeve (save for the band's name discreetly embossed) to pair with the most simple of titles. This was also the first release by the group on their independent label, Apple Records.
Even with 30 tracks, the album omitted much potential material. Several songs started during the five months of recording were later included on Abbey Road and several solo albums by the members and the group opted to release the tracks "Hey Jude" and "Revolution" (two of the most popular songs ever by the Beatles) as a pre-release single than include them on the White Album. With such a large amount of tracks, the album contains an eclectic mix of songs from wide musical genres, including folk, country , avant-garde, classical and chamber music, and British dance-hall music. The Beatles only slightly continued their psychedelic leanings from 1967 but spent much more effort returning to basic rock and blues of their earlier years. Such diversity on a single album was largely unprecedented in 1968 and seemed to bring equal measures of praise and criticism from fans and critics over the years. Still, The Beatles was a phenomenal commercial success, reaching number one on both side of the Atlantic and selling well over 10 million copies worldwide.
Many of the songs originated in Rishikesh, India while the band was collectively on a Transcendental Meditation retreat with Maharishi Mahesh Yogi in the spring of 1968. Both John Lennon and Paul McCartney used the time to write songs in earnest and would frequently meet to discuss song ideas (even though this was in contrast to the meditation "course"). Theses songs were composed on acoustic guitar, the only Western instrument available during their Indian visit. Once back in England, the group gathered at George Harrison's home to hash out the close to forty new compositions and make preliminary plans for recording. The sessions for The White Album were the first on which the band used 8-track recording, starting with "Hey Jude" at Trident Studios in central London before returning to Abbey Road Studios once EMI installed their own 8-track machine.
During the lengthy sessions from May through October 1968 much internal conflict began, group members later pinpointed this as the beginning of their ultimate breakup. Frustrated with his diminished role on several tracks, drummer Ringo Starr quit the band for a brief time, leaving McCartney as the drummer on a couple of tracks. These were also the first Beatles sessions where wives and girlfriends frequently attended, most notably Lennon's future wive Yoko Ono, who was constant presence at the sessions. As a result of the tension McCartney and Lennon would often record in separate studios at Abbey Road (there were three), each using different engineers. The turmoil of these sessions extended beyond the band members. Engineer Geoff Emerick, who had worked on several albums with the Beatles, abruptly quit and announced he would no longer work with the band and even George Martin took an unannounced holiday midway through the sessions, leaving the group to scramble for an interim producer. In the end, however, Lennon. McCartney, and Martin got together for a 24-hour session to mix, master, and sequence the White Album.

The Beatles

by

The Beatles
Released: November 22, 1968 (Apple)
Produced by: George Martin
Recorded: EMI and Trident Studios, London, May-October, 1968
Side One
Side Two
Back In the U.S.S.R.
Dear Prudence
Glass Onion
Ob-La-Di, Ob-La-Da
Wild Honey Pie
The Continuing Story of Bungalow Bill
While My Guitar Gently Weeps
Happiness Is a Warm Gun
Martha My Dear
I'm So Tired
Blackbird
Piggies
Rocky Raccoon
Don't Pass Me By
Why Don't We Do It in the Road?
I Will
Julia
Side Three
Side Four
Birthday
Yer Blues
Mother Nature's Son
Everybody's Got Something to Hide…
…Except Me and My Monkey
Sexy Sadie
Helter Skelter
Long, Long, Long
Revolution 1
Honey Pie
Savoy Truffle
Cry Baby Cry
Revolution 9
Good Night
Group Musicians
John Lennon – Guitars, Keyboards, Harmonica, Saxophone, Vocals
Paul McCartney – Bass, Guitars, Keyboards, Drums, Flugelhorn, Vocals
George Harrison – Guitars, Organ, Percussion, Vocals
Ringo Starr – Drums, Percussion, Piano, Vocals
McCartney played drums on the first two tracks of The Beatles. The opener "Back in the USSR" commences with jet aircraft effects and breaks into an upbeat rocker, combining elements of earlier Beatles and Beach Boys songs. In fact, Mike Love of the Beach Boys also attended the retreat in Rishikesh and he encouraged McCartney to "talk about the girls all around Russia" when Paul told him of his idea to write a song called "Back in the USSR" as a homage to Chuck Berry's "Back in the USA". Although no tracks from The White Album were initially released as singles, "Back in the USSR" was released by Parlophone as a single in the UK in 1976, eight years later. "Dear Prudence" arrives like an awakening or a drawing out, with the hypnotically picked, rotating guitars by Lennon. The subject of this song is Prudence Farrow, part of the Rishikesh entourage, who became so serious about her meditation that she rarely came out of the cottage she was living in, prompting others to enlist Lennon to try and make sure she came out more often. Towards the end of the song is a good rock jam which previews some of the finer moments on the album.
"Glass Onion" contains lyrics and music that acts as an epilogue to Magical Mystery Tour. Like a psychedelic trip through the past year, the lyrics call out earlier Beatles songs by name with provocative lyrics to fans such as; "Well here's another clue for you all, the Walrus was Paul", which Lennon later dismissed as having no deeper meaning. On the gibberish front, McCartney's "Ob-La-Di, Ob-La-Da" may contain sophomoric lyrics, but this song shines for its pure sonic quality, starting with McCartney's vocals which sound like nothing else he had (or has) done. Thematically, this infectiously fun song is an expression of the pure joy of everyday, ordinary life. While Lennon, openly detested this song in its original, reggae-influenced form, the band spent many sessions reworking it towards its finished form.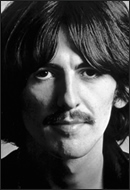 After the filler experimental piece "Wild Honey Pie", a flamenco guitar phrase introduces "The Continuing Story of Bungalow Bill". Like a kids song gone rogue, the song mocks a guy in Maharishi's meditation camp who took break from meditation to go hunting tigers. Recorded later in the album sessions, "Bungalow Bill" features Yoko Ono singing co-lead vocals for a single line, the only female lead vocal in the Beatles library. Harrison's "While My Guitar Gently Weeps" is the best moment on the album. With a great piano intro and chord structure, the song features a pulsating rhythm beneath the profound vocals of Harrison and wild guitar  by guest Eric Clapton. Inspiration for the song came from reading the I Ching which prompted Harrison to experiment by writing a song based on the first words he saw upon opening a random book. Those words were "gently weeps" and he immediately began writing the song, although many of his verses were later omitted. The presence of Clapton also served to temporarily alleviate the studio tension, as the band members were on their best behavior during his time in the studio.
The fantastic first side concludes with Lennon's "Happiness Is a Warm Gun", an asymmetrical mini suite, which moves several sections rapidly, each becoming more anthemic and rocking. Lennon claims the title came from the cover of a gun magazine that George Martin showed him. and it has been cited by both McCartney and Harrison as one of their favorites on the White Album.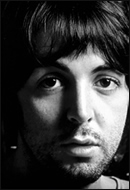 "Martha My Dear" begins with a great piano through intro, soon accompanied by orchestration and a very slight thumping rock section during the middle of the bridge. McCartney is the only Beatle to appear on this track (written about his English sheepdog), which includes nice brass and string arrangements by Martin. "I'm So Tired" is another short masterpiece by Lennon with very emotive vocals masterfully adjusted for differing effects. A direct, first-person account of a sleepless night in India, the unabashed examination of his own fragile state of mind, previews later solo work by Lennon such as Plastic Ono Band. Back to McCartney, with the solo recording of "Blackbird", a beautiful acoustic solo piece with music based on J.S. Bach's "Bourrée". The hypnotizing acoustic, double-tracked vocals and tapping percussion and the guitar make for a pretty and inspirational tune with lyrics inspired by the Civil Rights struggle.
"Piggies" is a Baroque influenced song by Harrison as social commentary on the class system. Originally written in 1966 at his parents' home, Harrison's mother provided the line "What they need's a damn good whacking" while Lennon contributed the line "clutching forks and knives to eat their bacon." The predominant harpsichord is accompanied by a string quartet, produced by Chris Thomas in Martin's absence.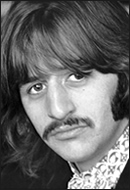 "Rocky Raccoon" is a Western saloon type folk song with McCartney on consistent acoustic and lead vocals, Lennon providing harmonica and harmonium, and George Martin adding the nice honky-tonk piano breaks. An actual collaboration between McCartney and Lennon, this storytelling song originated during a three man acoustic jam with folk singer Donovan on retreat in India. "Don't Pass Me By" is the first composition credited to Richard Starkey (Ringo Starr) and would have made for a good Ringo Starr solo track. Starr also provides an interesting tack piano, accompanied by great bluegrass fiddle playing by guest Jack Fallon. The song was a #1 hit in Denmark in April 1969.
Following his frivolous, minute and a half "Why Don't We Do It in the Road?", McCartney provides the retro feeling "I Will". With much nod towards early Beatles, this song contains a unique arrangement with vocal bass and unconvential percussion. Although simple and short, "I Will" took 67 takes to record. Lennon's solo ballad "Julia" is a finger-picking acoustic song written for his mother Julia Lennon, who died in car accident when John was 17 years old. The fun celebration rocker "Birthday" starts the album's third side. One of the rare tracks written in the studio, the song features a catchy blues progression guitar riff augmented by choppy piano.
This third side is where some of the White Album's weaker spots come to the fore. "Yer Blues" is one of these, as an almost-annoying blues tune with the only redeeming quality being the slight middle jam section that is unfortunately cut short by a return to the repetitive verse. "Everybody's Got Something to Hide Except Me and My Monkey" is another marginal song by Lennon, albeit a little more interesting due to its frantic rocking style, complete with groovy late sixties guitars and rudiments. in between these is the pleasant folk diddy "Mother Nature's Son" by McCartney, the best song on this side. This song completely captures the intended mood with great acoustic riffs and horns ensemble musically and inspired lyrics based on a lecture by the Maharishi. McCartney recorded it "live", singing and playing acoustic guitar simultaneously with overdubs done later.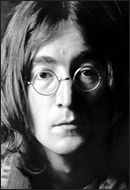 The four Beatles left India at different times and with different opinions of the Maharishi. Lennon, a t one point a "true believer", ultimately became the most jaded by the experience and expressed this brilliantly on the song "Sexy Sadie". starting with an interesting reverbed piano, the song is arranged in manner frequently used by the group Queen a decade later, with lush backing vocal choruses, other parts laden with effects, and a lead guitar lying sharply above the mix. "Helter Skelter" is a style piece, with little substance by McCartney, in a deliberate effort to create a sound as loud and dirty as possible. Still, this became one of the most famous (or infamous) on the album following the Manson family murder spree and its use as title for the subsequent book. After the 18th take, Ringo Starr flung his drum sticks across the studio and screamed, "I got blisters on me fingers!", included on the stereo mix of the song. Harrison's "Long, Long, Long" completes side three as a cross between jazz waltz, folk, and psychedelia with good underlying riffs and great drum interludes, but not very cohesive overall. With the topical organ this track sounds like it may have been influenced by Pink Floyd.
And then there is Lennon's "Revolution". Originally, a single ten-minute piece comprised of a song proper and an improvised coda, the first part of the song was edited out as "Revolution 1", a slow acoustic blues number with "shooby-do-wah" vocals and added horns. However, most of the Beatles were unhappy with this version, so a heavier, more upbeat version of "Revolution" was recorded and released as the B-side of the "Hey Jude" single. Still, Lennon wanted to return to the earlier recording and fought to have "Revolution 1" included on the White Album as well as re-record the avant-garde sound collage as the track "Revolution 9", using the last six minutes of the original recording as a starting point. With numerous sound effects, tape loops, and overdubs, and virtually no musical melody, the eight and a half minute track is the longest track that the Beatles officially released. McCartney was against including this song on the album and Beatles fans have debated its merits for four and a half decades. In any case, it was a dissatisfying "tour de force" for this otherwise fine musical collection.
The Beatles was quickly followed up by Yellow Submarine less than two months later in January 1969. By then the band had already moved on to their next project, which was eventually released as Let It Be. Despite the unevenness of the music, the controversial inclusions, and the utter lack of promotion, the album became a classic. As McCartney later unapologetically put it, "it's the bloody Beatles White Album!"
~

Part of Classic Rock Review's celebration of 1968 albums.