Buy Shades of Deep Purple
Buy The Book of Taliesyn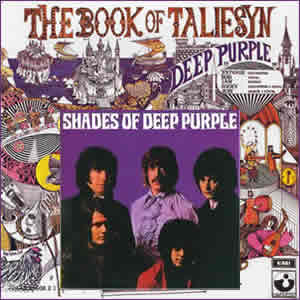 Deep Purple arrived on the music scene like a tornado in 1968. Conceived as a super group called Roundabout in 1967, the band went through much personnel shifting before the renamed quintet was in place in early 1968. Within that year, the group would record and release their first two albums, Shades of Deep Purple and The Book of Taliesyn. Both of these albums involved a fusion of long instrumental jams, original interpretations of famous cover songs, and a handful of originals written by band members. In between the prolific writing and recording, Deep Purple also went on extensive tours of Europe and opened for Cream at the height of that band's popularity.
The group's debut, Shades of Deep Purple was released in the summer of '68. Although it didn't gain much attention or sales in the their native UK, it was a success in the US, where it fit better stylistically. The grandiose fusions of cover songs with long introductions were some of the earliest examples of progressive rock with just a hint of sixties psychedelic music. Also, the group's American upstart label, Tetragrammaton, was actively looking for a British band to work with on their new label and offered much more affirmative support to this brand new band than an established British label would have done.
Like the debut album, The Book of Taliesyn was produced by Derek Lawrence and it follows the same psychedelic/progressive rock template of the debut, with the exception of a few notable originals. The title of this album was taken from a 14th century Welsh manuscript which contained poems attributed to the 6th-century poet Taliesin. After this album was released in October '68, Deep Purple embarked on a rather excessive tour in the United States.

Shades of Deep Purple

by

Deep Purple
Released: July, 1968 (Tetragrammaton)
Produced by: Derek Lawrence
Recorded: De Lane Lea Studios, London, May 11-13, 1968
Side One
Side Two
And the Address
Hush
One More Rainy Day
Prelude: Happiness/I'm So Glad
Mandrake Root
Help!
Love Help Me
Hey Joe
The Book of Taliesyn

by

Deep Purple
Released: December 11, 1968 (Tetragrammaton)
Produced by: Derek Lawrence
Recorded: De Lane Lea Studios, London, August-October 1968
Side One
Side Two
Listen, Learn, Read On
Wring That Neck
Kentucky Woman
Exposition / We Can Work It Out
Shield
Anthem
River Deep, Mountain High
Band Musicians (Both Albums)
Rod Evans – Lead Vocals
John Lord – Organ, Keyboards, Vocals
Ritchie Blackmore – Guitars
Nick Simplar – Bass, Vocals
Ian Paice – Drums
The instrumental "And the Address" starts off Shades of Deep Purple with organist Jon Lord's long, low rotating rumble. This accelerates to a higher pitch after about a minute-long intro before breaking into the main rock riff by Ritchie Blackmore with a whining guitar lead and a later, faster lead by Lord, showing Deep Purple was about this dynamic duo right from the very beginning.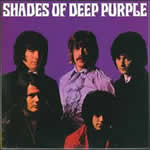 "Hush" was Deep Purple's biggest early hit as well as a hard rock classic. With the thumping bass line by Nick Simplar, the "Na-Na" vocal hook, and a fluctuating organ solo by Lord which seems to be constantly searching to find its end before finally reaching resolution with the final verse. "Hush" was written by American songwriter Joe South and was a minor hit for Billy Joe Royal in 1967. The Deep Purple version was a much bigger hit, peaking at #4 in the US and #2 in Canada.
A whistle organ brings in upbeat, sixties-flavored "One More Rainy Day", featuring crooning vocals by Rod Evans, an interesting, bouncy bass line by Simper, and well-animated drum fills by Ian Paice, but virtually no presence at all by Blackmore's guitar. Side one closes with the jam/cover medley of "Prelude: Happiness/I'm So Glad". This second great instrumental contains a fantastic drum march/roll and a very dramatic climax before it all resolves with the calm riff of Skip James's "I'm So Glad", which is not all that different from Cream's earlier version on their 1966 debut album, Fresh Cream, but with just a bit more restless tension.
The second side of the debut begins the strong blues-based heavy rocker "Mandrake Root", featuring Evans deep vocals and a driving rhythm section backing up the frantic lead by Lord. Later, Blackmore abruptly interrupts with an effect-laden, Eastern-inspired lead section of his own on this song which got its title from a hallucinogenic plant. "Help!" is the best cover from these early albums, with a real moody and quasi-psychedelic keyboard intro which leads into a subtle and quiet entry into the finger-picked guitar of the first verse. Evans provides very soulful vocals, probably his best vocals on the debut album, and after using the original Beatles' intro as a bridge, the song breaks into a showcase section of Lord's and Blackmore's talents before dissolving softly in a return to the intro. "Love Help Me" is an original by Blackmore and Evans that is very similar in approach to "Hush", but tilts more towards sixties music flourishes and vocals and seems to suffer production-wise as much of the instrumentation gets lost in the mix and Blackmore's short wah-wah guitar leads are way out front. Closing the album is another jam/cover with an instrumental reprise of "Mandrake Root" before morphing into the oft-covered "Hey Joe", which almost feels like an afterthought, as it pretty much mimics the Jimi Hendrix version but in a more laid back fashion.
On the debut albums, many of the highlights came during the original re-interpretations of these cover songs. However, on The Book of Taliesyn, it is the Deep Purple originals which really stand out. "Listen, Learn, Read On" is the default title song of the album with a heavy reverb on Evans' vocals and a manical driving drum beat by Paice in between measured riffs and leads by Blackmore. "Wring That Neck" is an upbeat, bluesy instrumental jam that was an instant classic. Starting with Lord's uniquely distorted organ riff and moving through a few inspired guitar solos by Blackmore (some completely solo), the piece continuously returns to the infectious main riff. "Wring That Neck" was released as a single from the album and is a true preview of "Mark II" Deep Purple of years forward.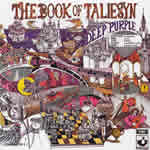 The other single from the album was the cover of Neil diamond's "Kentucky Woman", which is driven by the pulsating bass of Simplar and the crazy drumming of Paice. While this song did reach the Top 40, it was considered a failure by the label because it was nowhere near as big a success as "Hush" had been earlier in the year. Another jam/cover medley follows with the near program piece of "Exposition", complete with drum rolls behind deliberate guitar riffing. After going through a few very intense iterations, the piece dissolves into a groovy beat led by Simplar's bass and the Beatles' hit "We Can Work It Out".
On the second side of The Book of Taliesyn, Deep Purple breaks away from the mode of their first album with a couple of truly original songs, which really make this album diverse and interesting. "Shield" builds on Paice's drums, followed by a bass riff, guitar overlay, and piano by Lord. The vocals are very laid back and measured and the song's best parts are when the piano and guitar harmonize for a slow but powerful riff. A percussion section in the middle leads to a partially improvised jam section and the ending percussion reprisal contains cool, rounded bass notes by Simplar. "Anthem" is a fine acoustic ballad with a great chorus harmonized hook. It's only flaw is a production flaw, where the entire arrangement suddenly drops out for Lord's organ intro into a middle string section, showing the groups classical leanings. This middle section also contains a great lead by Blackmore, which sounds like something Brian May might perform, and when full band returns it is at top form with a second back-to-back guitar lead by Blackmore and fantastic drumming by Paice. "River Deep, Mountain High" is the climatic ending to The Book of Taliesyn with more musical drama, including a musical mock-up of the title score to the movie 2001: A Space Odyssey before building into the frantic groove of the soul cover of this hit by Ike & Tina Turner.
Keeping up a tremendous scale of production, Deep Purple recorded and released their third album in 12 months, in early 1969, However, the fledgling Tetragrammaton Records was starting to fizzle out and could offer only lackluster promotion, causing that album to sell poorly. Further, the band was starting move in a heavier musical direction, which resulted in the replacement of Evans and Simpler and the end of Deep Purple's "Mark I" era.
~

Part of Classic Rock Review's celebration of 1968 albums.