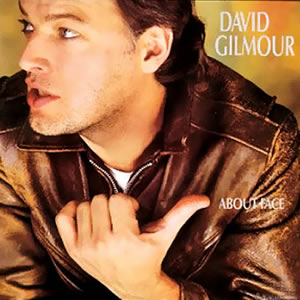 There are some musical creations that are astoundingly forgotten. David Gilmour's 1984 solo album, About Face, is one of these. This is sad considering it just might be one of the better albums produced in the 1980s. Of course, it is impossible to discuss this album without touching on the era in which it was put together, as About Face was forged in the fire of Pink Floyd's darkest hour. The band's internal tensions had reached all-time highs and Gilmour was feuding internally with Roger Waters, after the latter accused the former of not contributing enough to the band. This was sadly ironic for Gilmour because he had complied (and even agreed) with Waters when he decided to kick Richard Wright out of Pink Floyd prior to the release of The Wall in 1979, for basically the same reason. So, in a true bout of rock and roll rebellion, Gilmour went off and created a solo album which served to prove Waters wrong by establishing that he could create music on his own and channel his anger about the situation at the same time. The result is nothing short of superb.
Co-produced by Bob Ezrin, this is the second solo record by Gilmour following his self-titled 1978 debut. The album is filled with great and diverse music and, in contrast to the recent Waters-dominated Pink Floyd era, it is not concerned with creating giant lyrical operas, just a solid collection of songs. Change is consistent throughout as each song goes in unique directions that are unexpected and pleasing to the ear. Gilmour explores sounds that he probably could not explore within the confines of Pink Floyd. The lyrics are soaked with subtle references to the Waters' feud and many of the songs reflect the conflict.
Gilmour was backed by a solid core of musicians and also invited some famous contemporaries to work on the album with him, adding depth to his artistic work. A bit uneven sequentially, the earlier songs on the album are slightly superior to the closing tracks, but none of the tracks are by any means boring or without merit. With that in mind, let's dive into the individual songs.

About Face

by

David Gilmour
Released: March 5, 1984 (Harvest)
Produced by: Bob Ezrin & David Gilmour
Recorded: Pathé Marconi Studio, Boulogne-Billancourt, France, 1983
Side One
Side Two
Until We Sleep
Murder
Love On the Air
Blue Light
Out of the Blue
All Lovers Are Deranged
You Know I'm Right
Cruise
Let's Get Metaphysical
Near the End
Primary Musicians
David Gilmour – Lead Vocals, Guitars, Bass  |  Ian Kewley – Piano, Organ
Pino Palladino – Bass  |  Jeff Porcaro – Drums, Percussion
The album opens with "Until We Sleep", a great jam with some really fantastic guitar. The lyrics are a straightforward call to action, essentially saying to live your life to the fullest before you sleep, which is taken as meaning both literal sleep and metaphorical death. "Murder" may be the best overall song on the album. It starts off as a very somber folk song with some excellent fret-less bass by Pino Palladino. Then it crashes into a crescendo as other instruments join the fray. About three quarters of the way through the song it takes an abrupt change as the guitar becomes more pronounced and reverberates through the song. The lyrics describe Gilmour's anger over the murder of John Lennon.
Both Pete Townsend (lyrics) and Steve Winwood (organ) worked on the third song, "Love On the Air". Its opening is reminiscent of Townsend's own solo work, while most of the song sounds a bit more like a Townsend song viewed through a Gilmour prism as a great combination of the two artists' work. After this comes "Blue Light" with a super jazzy intro. The use of horns in the song adds an unexpected and welcome element to the song that elevates it. This song is a great example of why someone like Gilmour does a solo album since I can't imagine this song being done by Pink Floyd. Winwood also gets a great moment to shine while playing a smooth organ solo during this song.
Following "Blue Light" is another song with blue in the title, "Out of the Blue", a slow, reflective piano-driven melody, led by keyboardist Ian Kewley. In the middle section of the song it picks up a bit but still relies on Gilmour's vocals and the piano. "All Lovers Are Deranged" is the second Townsend-written song on the album. It is a wild counterpoint to "Love On the Air", in title as well as music, as this song itself sounds a lot more like Gilmour's own as he jams on the guitar throughout. "You Know I'm Right" is slower than other works on the album but has a lot of interesting layers to it, despite sounding a tad dated. Lyrically, Gilmour takes a direct shot at Waters, discussing one person who is unable to see another point of view in an argument;
"Why should you bother with the other side / when you know that yours is right…"
"Cruise" is one of the most interesting songs on the album, as a tongue-in-cheek love song dedicated to a ballistic missile. With some Paul McCartney influence musically blended with 1980s elements like Palladino's fret-less bass and a great Hammond organ by Kewley, the song unexpectedly adds some reggae elements near at the end, led by the drumming of Jeff Porcaro. Next comes a fantastic instrumental, "Let's Get Metaphysical". It starts with only an electric guitar and a piano, evoking a wonderful sense of the classical and modern coming together. Later, the song feels very orchestral in a great kind of way as it builds layers, almost as if Gilmour is telling the listener a story with instruments alone as he leads the listener through the different movements of the song. The album closes out with "Near the End". There is an interesting use of bells in the song which add to its lullaby feeling. Again, the lyrics seem to directly address Roger Waters with lines like, "And there's a stranger where once was a friend". The song not only serves to end the album but in its own way it speaks to the end of the previous era of Pink Floyd.
In the decades since About Face was released it seems to have relatively vanished from many music lover's horizons. This is a tragedy as the album not only encapsulates some of Gilmour's finest work but also a dramatic period for him and Pink Floyd. His solo work is great and Roger Waters' solo work has its merits as well. Although I must admit my personal opinion is that Gilmour's focus on music makes his work superior to Waters, as Waters seems to focus a bit too much on his grand concepts that all seem to revolve around himself. That said the tragedy of this album and the situation as a whole for Pink Floyd is that none of them seem to recognize that their best work was done in a period when they all shared an equal amount of the creative process. Gilmour's focus on music combined with Waters' grand concepts created multiple masterpieces. That said, this album seemed to prove exactly what Gilmour wanted it to prove.
~

Part of Classic Rock Review's celebration of 1984 albums.