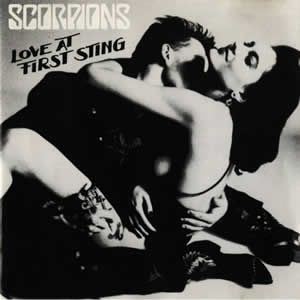 Scorpions reached the peak of their long career with the 1984 album Love at First Sting. This album spawned the group's best selling singles and peaked in the Top 10 of the American album charts. The album is also notable due to a couple of ancillary facts. The original cover art (shown here) was deemed unsuitable for certain retail outlets, forcing the group to re-package the album in some markets. This was one the first albums to be recorded wholly using digital technology. While on the technological cutting edge, this also caught some blow-back from some long time fans who felt the sound was too polished and metallic.
Scorpions were formed in 1965 by guitarist Rudolf Schenker, the only original member to remain through the decades. Vocalist Klaus Meine joined the group just prior to the release of their debut album Lonesome Crow in 1972. Through the seventies, Scorpions gained popularity, led by releases like 1976's Virgin Killer and 1978's Lovedrive. This latter album was the first to feature guitarist Matthias Jabs.
At the dawn of the eighties, the band's popularity accelerated with the release of Animal Magnetism in 1980 and Blackout in 1982. During this period, Meine required surgery on his vocal cords and his future with the band was in doubt. But he eventually had a full recovery and came back stronger than ever as an MTV audience was exposed to this band.

Love at First Sting

by

Scorpions
Released: March 27, 1984 (Harvest)
Produced by: Dieter Dierks
Recorded: Dierks Studios, Germany, 1983–1984
Side One
Side Two
Bad Boys Running Wild
Rock You Like a Hurricane
I'm Leaving You
Coming Home
The Same Thrill
Big City Nights
As Soon as the Good Times Roll
Crossfire
Still Loving You
Group Musicians
Klaus Meine – Lead Vocals
Rudolf Schenker – Guitars, Vocals
Matthias Jabs – Guitars
Francis Buchholz – Bass, Keyboards, Vocals
Herman Rarebell – Drums, Vocals
Love at First String was produced by the group's long time collaborator, Dieter Dierks, and recorded at his studios in Pullheim Stommeln, Germany. Co-written by drummer Herman Rarebell, the opener "Bad Boys Running Wild" starts with a screaming lead and steady riff but falls into a lame and dated chorus. "Rock You Like a Hurricane" brings things back with great sonic qualities and melodies and a fantastic guitar lead by Schenker. A staple of 80s hard rock, the song reached #25 on the pop charts and its sex-charged lyrics include the album's title.
"I'm Leaving You" is a decent rock song with good vocals and variations of melodic sections over a steady rock arrangement. "Coming Home" is a bit more complex as a multi-part track which starts as a soft ballad before breaking into a frenzied rocker led by the drums of Rarebell and a harmonized mocking-vocal guitar riff. "The Same Thrill" finishes off side one as an almost punk song in the way it noisily comes in and does not relent throughout.
The album's second side is far more solid and even than the first. On "Big City Nights" the duo riff approach works well, along with a thumping bass by Francis Buchholz and dynamic vocals with a decent hook by Meine. "As Soon As the Good Times Roll" is a moderately slow and unique tune which contains some reggae elements in its approach, while "Crossfire" has a darker feel, led by the marching drum roll throughout with some good harmonies in the hook and rapid fire guitar phrases.
The intro to the ballad "Still Loving You" is the true highlight of the album due to the masterful guitar work of Schenker and Jabs. Dramatic but not tacky, this ninth and final track brings the whole album up to another level as an indelible love song which sounds as fresh and bright thirty years on as it did in 1984.
Love at First Sting reach the Top 20 on both sides of the Atlantic and Scorpions toured extensively in the wake of its success, forging a live album along the way. The group's output and popularity remained high throughout the decade and well into the 1990s.
~

Part of Classic Rock Review's celebration of 1984 albums.