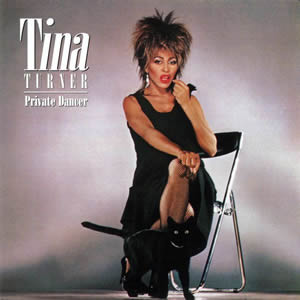 The story surrounding Tina Turner and her remarkable comeback with Private Dancer is the stuff of Hollywood movies. In fact, it was a Hollywood movie, and this remarkable vocalist who got her start nearly three decades earlier made the biggest commercial splash of her career in 1984. The fifth overall solo album from Turner since leaving her ex-husband Ike's band in 1976, this was Turner's debut for Capitol Records after she had absurdly been left without a recording contract during several previous years. When the album that so many record executives were hesitant to make was finally released to the public, it was a tremendous smash world wide.
Just a few years earlier, no one could have imagined that this longtime star of the soul genre would become the top performer on the pop charts, and do so without compromising her musical repertoire. In the late 1970s, Turner made her living through various television appearances and Las Vegas-style gigs and her initial solo albums reflected this strategy musically. In 1982, Turner met A&R man, John Carter, who promised her a new record deal.
Carter also set about finding the right songs for Turner, which she recorded at several different studios and with several different producers. However, while recording was in process a new regime of executives at Capitol and initially planned to drop Turner. The new label president called Roger Davies and summarily dropped Tina Turner from the roster. Carter fought hard to keep her on and the label was more than rewarded when Private Dancer spawned seven singles.

Private Dancer

by

Tina Turner
Released: May 29, 1984 (Capital)
Produced by: Terry Britten, John Carter, Leon Chancler, Wilton Felder, Rupert Hine, Joe Sample, Greg Walsh & Martyn Ware
Recorded: England, 1983-1984
Side One
Side Two
I Might Have Been Queen
What's Love Got to Do With It
Show Some Love
I Can't Stand the Rain
Private Dancer
Let's Stay Together
Better Be Good to Me
Steel Claw
Help!
1984
Primary Musicians
Tina Turner – Lead Vocals
Terry Britten – Guitars, Vocals
Rupert Hine – Bass, Keyboards, Percussion, Vocals
Jack Bruno – Drums
Bassist and producer Rupert Hine was enlisted to work on several tracks on Private Dancer, starting with the opener "I Might Have Been Queen". The song was co-written by Jamie West-Oram, lead guitarist of The Fixx, a band which Hine had recently produced with great success. The song was written specifically for Turner and its lyrics reflect Turner's belief in reincarnation. "What's Love Got to Do with It" is the most popularly sustained song from the album, due in part to the later movie of the same name. Turner's vocal and melodic delivery are masterful in both their ascent and constraint. Written by guitarist Terry Britten and Graham Lyle, the song topped the charts in the Summer of 1984 and marked the undeniable moment of Turner's comeback success.
"Show Some Respect" is another song written by Britten with a decidedly eighties synth and funk approach. One of the later songs released as a single, this track became a Top 40 hit in 1985. Britten also produced the next track, "I Can't Stand the Rain", a remake of of the 1974 hit for Ann Peebles. The album's title song was written by Mark Knopfler of Dire Straits, who wrote the song for his band's Love Over Gold album, but ultimately decided he didn't want to sing a song from a female perspective. Ironically, Knopler is the only member of Dire Straits not to appear on Turner's version of the song, which also features a guitar solo by the legendary Jeff Beck.
Private Dancer's second side begins with a cover of Al Green's "Let's Stay Together", which turner released in late 1983, well ahead of the album. While Turner remains faithful to the original, she also adds some unique delivery to this track which topped the Billboard Dance chart. "Better Be Good to Me" is the most pop/rock oriented song on the album, originally intended for Pat Benatar. Produced by Hine and composed by the team of Holly Knight, Mike Chapman, and Nicky Chinn, the song reached #5 on the pop charts.
The album winds down with three lesser known recordings. "Steel Claw" was written by Paul Brady and features a lineup similar to "Private Dancer", with members of Dire Straits (sans Knopfler) and Beck adding a solo. The Beatles' "Help!" is delivered in a gospel-tinged by Turner, in a rendition she had been working on since the early eighties. David Bowie's "1984" concludes the album as an electronic track that pays homage during the actual year it was written about.
Private Dancer reached the Top 10 in over a dozen countries, sold over eight million copies, and won four Grammy's for Turner. Capitalizing on this immense popularity, Turner went on a World tour through 1985, which included over 170 dates on three continents.
~

Part of Classic Rock Review's celebration of 1984 albums.