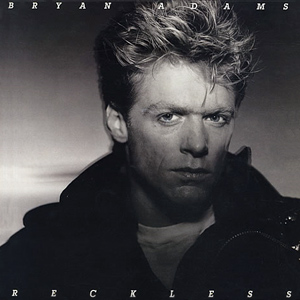 Reckless was the first album by a Canadian artist to sell more than one million units within Canada. Not to mention that this fourth studio album by Bryan Adams was also a major commercial success well beyond the Canadian borders, charting near the top worldwide and spawning six singles which each reached into the top 15 of Billboard's pop charts in the U.S. All of the ten tracks on the album were co-written by Adams and his longtime composing partner Jim Vallence and it firmly displays the masterful ability of this songwriting team to tap into the pop/rock, radio-friendly vibe of the middle eighties.
Adams dropped out of high school in his mid teens and was working and recording as a professional musician by age 16. In 1978, Adams met Vallance, former drummer of the group Prism, in a Vancouver music store. Vallance had resolved to focus on a career as a studio musician and songwriter and by year's end the team had landed Adams a contract with A&M records. His self-titled debut album was released in early 1980 and Adams' second album, You Want It You Got It, was released the following year, both to very minor success. Released in 1983, Cuts Like a Knife contained four radio hits with adjoining videos, setting up Adams and Vallance for a blockbuster follow-up.
Co-produced by Bob Clearmountain, the sessions for Reckless began in March 1984 with daily songwriting sessions in Vallance's home studio. A group of initial tracks were recorded but Adams was unhappy with the sound and took a month off and came back with some new songs and new ideas for the record. Once completed, the album was a particularly strong showcase for the layered guitars of Keith Scott and has a pristine sonic quality that holds up 30 years later.

Reckless

by

Bryan Adams
Released: November 5, 1984 (A&M)
Produced by: Bob Clearmountain & Bryan Adams
Recorded: Little Mountain Sound Studios, Vancouver, March–August 1984
Side One
Side Two
One Night Love Affair
She's Only Happy When She's Dancin'
Run to You
Heaven
Somebody
Summer of '69
Kids Wanna Rock
It's Only Love
Long Gone
Ain't Gonna Cry
Primary Musicians
Bryan Adams – Lead Vocals, Guitars, Piano
Keith Scott – Guitars, Vocals
Tommy Mandel – Keyboards
Dave Taylor – Bass
Pat Steward – Drums, Vocals
Although nowhere near the hit of some of the other tracks, the opener "One Night Love Affair" is possibly the best overall track on the album and captures mid-eighties mainstream rock at its finest. The song contains great, ethereal guitars throughout above the simple base riff and direct beat by drummer Pat Steward. The song's arrangement changes at sonically strategic times through the later verses as the sound wall is built masterfully by Clearmountain. Unfortunately, the mood is quickly broken by "She's Only Happy When She's Dancin'", the only real overt filler on Reckless, unfortunately placed so early on the album.
The last song to be recorded for the album but the first of its string of hit singles, "Run to You" has just a tinge of surreal darkness in the rotating riff of this otherwise mainstream pop song. The highlight of the track is a harmonized guitar lead by Scott during the bridge. "Heaven" is the lone "power ballad" on the album. While Adams would focus on such ballads later in his career, this was still something of a novelty when it was recorded in 1983 for the soundtrack for the film A Night in Heaven and features former Journey drummer Steve Smith. Nearly two years later, the song was re-released as the third single from Reckless and topped the charts in June 1985.
Book-ending the sides are another couple of more hits from the album. "Somebody" is a good pop-rocker, with an easily catchy hook that makes it a rock anthem. "Summer of '69" is a story-telling song that struck a chord in the summer of '85 as a nostalgic look at the "best days of my life". This latter song almost didn't make it on the album because neither Adams nor Vallance originally thought it was a strong enough.
"Kids Wanna Rock" sounds to be influenced by ZZ Top, with a bit of a Tex-Mex blues vibe through its guitars, further accented by the upbeat bluesy lead section. "It's Only Love" was a happy accident when Tina Turner was touring in Vancouver during the final week of recording and agreed to come in the studio and perform co-lead vocals. The result was the final hit from the album in January 1986. Reckless concludes with a couple of forgotten gems. "Long Gone" is another good bluesy rock song in a style which would later emulated by artists like Tommy Conwell and even includes an impressive harmonica solo by Adams. "Ain't Gonna Cry" is new wave in tempo but rock in approach due to the heavy guitars, penny-whistle organ by Tommy Mandel and the good driving bass by Dave Taylor. The song's finale breaks down into a noisy implosion, given this otherwise polished album an improvised conclusion.
In total, Reckless has sold more than 12 million copies worldwide and is Adams' best-selling album in the United States. Following the album's release, Adams embarked on a two year world tour and would not follow-up with a new studio album until 1987. A 30th Anniversary edition of the album, featuring previously unreleased material, is slated for release in November 2014.
~

Part of Classic Rock Review's celebration of 1984 albums.