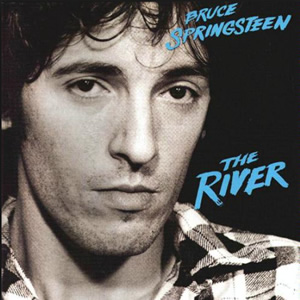 Bruce Springsteen's fifth studio album, The River, is a massive album in both length and scope. Released in late 1980, this double album includes tracks that originated during the early years of Springsteen's career as well as a plethora of new material drawn from recent projects and recent tours. Some consider The River to be the closing act of a three album "trilogy", starting with Born to Run in 1975 and moving through Darkness at the Edge of Town in 1978, as each of these follow Springsteen's mythical characters during crucial periods of their lives.
This album was originally intended as a single album with the working title "The Ties That Bind", intended to be released in late 1979. However, the composition of the title song, motivated Springsteen to add darker, folk-influenced material and compile a more sweeping collection of songs of diverse genres. In all the album's recording took about 18 months with Jon Landau and Steven Van Zandt joining Springsteen as co-producers. Sonically, the album aimed for a cinematic-style "live" sound through most of the tracks. Lyrically, the songs range from hope to disillusionment, from the point of view of individuals to that of outside storytellers. As Springsteen stated at the time;
"I finally got to the place where I realized life had paradoxes, a lot of them, and you've got to live with them…"
Much like with the previous album where he penned nearly eighty songs, Springsteen composed all the tracks and was very prolific in writing for this album. While The River contains a healthy twenty tracks, even more than that were excluded from the album. A handful of these, such as "Be True", "Held Up Without a Gun", and "Roulette" were issued as B-sides of singles, while a few tracks were given to other artists, such as Gary U.S. Bonds and Warren Zevon, to record. Several others landed on future Springsteen box sets, with several more yet to be released.

The River

by

Bruce Springsteen
Released: October 17, 1980 (Columbia)
Produced by: Jon Landau, Bruce Springsteen, & Steven Van Zandt
Recorded: The Power Station, New York, March 1979–August 1980
Side One
Side Two
The Ties That Bind
Sherry Darling
Jackson Cage
Two Hearts
Independence Day
Hungry Heart
Out In the Street
Crush On You
You Can Look
I Wanna Marry You
The River
Side Three
Side Four
Point Blank
Cadillac Ranch
I'm a Rocker
Fade Away
Stolen Car
Ramrod
The Price You Pay
Drive All Night
Wreck On the Highway
Primary Musicians
Bruce Springsteen – Lead Vocals, Guitars, Harmonica, Percussion
Steven Van Zandt – Guitars, Vocals
Roy Bittan – Piano, Keyboards, Vocals
Danny Federici – Organ, Glockenspiel
Clarence Clemons – Saxophone, Percussion, Vocals
Garry Tallent – Bass
Max Weinberg – Drums, Percussion
The album starts with "The Ties That Bind", which was originally slated as the title song. It has a jangly kind of sound which would be reverberated through the eighties and beyond, but the group still seems too force it just a bit to find an accessible hook. In all, Clarence Clemons's sax solo is the best part of this open track. On "Sherry Darling", the producers added some "fake" live elements which really aren't needed because this track is quite catchy enough on its own. Here, Springsteen's lead vocals seem to mimic Elvis Costello while the backing vocals are meant to mimic a live barroom, right down to the point where they are slightly off-time and slightly off-key. While still upbeat and catchy, "Jackson Cage" seems to have a richer and more profound meaning than the preceding songs, once again displaying Springsteen's commitment to directness and honesty in popular music. "Two Hearts" is driven by the rapid-fire drums of Max Weinberg, backing the multi-level lyrics;
"I was living in a world of childish dreams, someday these childish dreams must end, to become a man and grow up to dream again…"
The first side closes with "Independence Day" which is introduced by a calm acoustic and high whistle organ from Danny Federici. This father-and-son character sketch, where the son concludes that they will never agree and thus declares his "independence" unilaterally. This first side closer was, essentially a rewrite of "Adam Raised a Cain" on Darkness At the Edge of Town.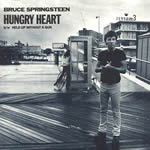 "Hungry Heart" adds an instant charge to the album, as Springsteen's vocal seem much brighter than normal, matching the overall vibe of this catchy track. Led by the piano riffing of Roy Bittan throughout with great contributions by everyone else, like Clemens's low sax bass notes, Federici's choppy organ lead, and the rich vocal choruses backing up Springsteen. The song's title was drawn from a line in Tennyson's poem "Ulysses" and the song was written at the request of Joey Ramone, with the intent to be recorded by The Ramones. However, Landau convinced Springsteen to keep it for himself and it went on to become his first Top Ten hit.
"Out In the Street" follows as another great, catchy tune led by Bittan's piano. here, the arrangement is spectacular, maximizing the best elements of the E Street Band. This catchy number has some elements of sixties pop with contemporary sound that became timeless. The album unfortunately drops off a bit with the pure filler "Crush On You" and "You Can Look (But You Better Not Touch)", with the latter at least using some slightly satirical lyrics to make it a bit more entertaining. "I Wanna Marry You" is weak lyrically but has a great vibe musically with just a hint of Caribbean vibe led by the bass pattern by Garry Tallent . The album's title song closes the second side as the first true folk/Americana track in the sequence. The lyrics closely resemble the story of Springsteen's own sister and brother-in-law and is cited as the source inspiration for future 1980s heartland rock.
"Then I got Mary pregnant and man that was all she wrote, and for my 19th birthday I got a union card and a wedding coat…"
The jazzy "Point Blank" contains some great sonic textures on piano, guitar and bass. The theme works hand-in-hand with the title song and Springsteen gets really intense vocally and lyrically through last verse, before a long fade out to complete this six-minute tune. "Cadillac Ranch" is an upbeat jam backed by a cool, rockabilly guitar which is mocked by the vocal melody. Named after the makeshift automobile monument in Amarillo, Texas, the theme here is similar to the youthful missions on earlier Springsteen albums. "I'm a Rocker" has all the elements of a top-notch pop/rock song, with a choppy drum pattern by Weinberg, a good hook, and a cool call and response. Still, the track lacks something production-wise which keeps it from reaching its full potential.
The second song released from the album, "Fade Away" is pleasant and solid throughout. Great vocals and melody by Springsteen lead the fine musical blend of acoustic guitar, organ, and steady, seventies style bass. This desperate love song is a true classic which Van Zandt cited as one his all-time favorites. "Stolen Car" uses more texture than substance to achieve the dark mood, with plucked piano, distant drums with heavy reverb, and an almost church-like organ.
The final side begins with "Ramrod", an organ/synth led rocker with a growling sax lead by Clemens. While the song is entertaining enough, it doesn't really go anywhere. "The Price You Pay" is a moderate ballad with a steady beat and dry vocals which tend to get monotonous vocally and lyrically. However, this track remains strong musically, especially with Bittan's piano and the slight harmonica by Springsteen. The epic length "Drive All Night" starts with simple, heartbeat like bass by Tallent and moves along at a crawl, only to be salvaged by Clemens' fine solo and Springsteen's exceptional, passionate singing. This song works in concert with the closing "Wreck On the Highway", a bright, almost Country ballad with a steady beat. The relaxed feel and vibe of the music betray the grim lyrics of death on this song, closing the album with the dark feel which would be picked up on Springsteen's next solo album, Nebraska.
The River was Springsteen's first number one album and was followed by a lengthy tour through 1980 and 1981. Springsteen called this album a "gateway" to a lot of his future writing, with Nebraska and Tunnel of Love directly picking up on stories and themes that originate on The River.
~
Part of Classic Rock Review's celebration of 1980 albums.