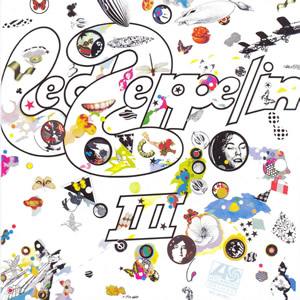 Led Zeppelin III is a classic album from Led Zeppelin. Composed largely at a remote cottage in Wales which lacked any modern amenities, the band found a pastoral vibe of folk and acoustic instrumentation, which ultimately led them to thrive as one of the most diverse rock acts in history. However, the plethora of acoustic tunes were not met with great accolades at the time by either critics or the rabid fans who had enormous anticipation for the long awaited a follow-up to the group's pair of fantastic 1969 albums. In fact, the album fared much better pre-release (with advance sales driving it to #1 on both sides of the Atlantic) than afterward, as it was one of the weakest selling records in the group's catalog when they disbanded a decade later.
Led Zeppelin had been touring relentlessly through 1969 in both the US and Europe, with each successive tour booking larger and larger venues. Some of these early concerts lasted in excess of four hours and the band members took no extended breaks to rejuvenate. In early 1970, guitarist/producer Jimmy Page and vocalist/lyricist Robert Plant retreated to a Welsh cottage called Bron-Yr-Aur to write new material. With no electricity, they were forced to compose songs with acoustic instruments and they found strong influences in local Celtic folk music.
Later, Page and Plant were joined by drummer bassist John Paul Jones and drummer John Bonham for rehearsals and initial recordings at another rural location called Headley Grange in Southern England. Adding to the album's mystique was the totally unique cover for the original vinyl edition. Designed by an art school friend of Page's, the packaging featured a rotating wheel behind a gatefold, similar to crop rotations. Further, the original pressings of the album included inscribed phrases from occultist Aleister Crowley, whom Page studied intensely.

Led Zeppelin III

by

Led Zeppelin
Released: October 5, 1970 (Atlantic)
Produced by: Jimmy Page
Recorded: Bron-Yr-Aur, Snowdonia, Wales, Headley Grange, England, and Olympic Studios, London, January–August 1970
Side One
Side Two
Immigrant Song
Friends
Celebration Day
Since I've Been Loving You
Out On the Tiles
Gallow's Pole
Tangerine
That's the Way
Bron-Y-Aur Stomp
Hat's Off to (Roy) Harper
Group Musicians
Robert Plant – Lead Vocals, Harmonica
Jimmy Page – Guitars, Banjo, Dulcimer
John Paul Jones – Keyboards, Bass, Mandolin
John Bonham – Drums, Percussion, Vocals
While Led Zeppelin III is considered their "acoustic" album, it is kind of ironic that it begins with one of Led Zeppelin's heaviest and most strident numbers. Written during the band's tour of Iceland, "Immigrant Song" is the ultimate action/adventure song, fitting in just as easily with Saturday action matinees as with the Norse legends it portrays. Released as a single, the song reached the Top 20 on the pop charts, a rare feat for this decidedly non-Top 40 band.
"Friends" goes to the true heart of the album as a song which straddles both the acoustic and electric elements. Starting as a totally unplugged number with a true Middle Eastern flavor, the song builds with a string arrangement along with an early synth effect by Jones. Bonham plays a unique percussive rhythm while Page employs an open tuning for the first of many times on the album. "Celebration Day" is a distinctly "modern" seventies rock song, perhaps the first moment when Zeppelin moved a little away from the raw blues of "II" and towards the more polished rock of "IV". Page utilizes several guitar riffs simultaneously while Plant's lyrics were inspired by his first trip to New York City.
"Since I've Been Loving You" appears to be the original blues classic that Zeppelin had been searching for through their first couple albums. Recorded live in the studio, the song features Jones played Hammond organ and bass pedals behind Page's blistering blues guitar work and Plant's most soulful vocals. Not to be outdone, Bonham's drum sound is as potent as any ever recorded, a tribute to both his playing talent and Page's production methods. Bonham also got a songwriting credit for "Out On the Tiles", the side one closer which he named after the British phrase for hitting the pubs. The track contains one of the more aggressive riff sequences along with some heavy natural reverb and unique rhythm and syncopation. Played live only a few times in the early 1970s, this is truly an underrated gem in the Led Zeppelin catalog.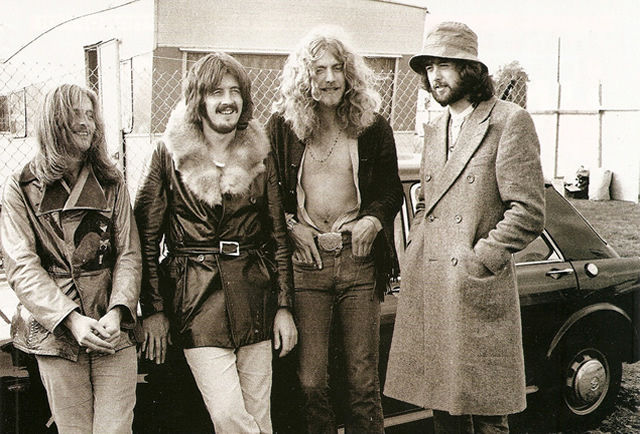 "Gallows Pole" sets the pace for the purely acoustic second side. Derived from a centuries old Scandinavian folk song called "The Maid Freed from the Gallows", this rendition of the song is great through its building first half, but does lose some steam through the bit-too-long outro, where the song's building motion loses some momentum, even if Page's banjo playing is a fascination. "Tangerine" is the oldest composition on the album, written solely by Page while he was a member of the Yardbirds. On the track Page uses a twelve-string acoustic and pedal steel guitar on this excellent folk/Country song, which is often forgotten in the pantheon of Zeppelin greats. The track is also the final one on the album to feature a full rhythm arrangement with electric bass and drums.
"That's the Way" is a fantastic piece in its elegant simplicity, pure beauty, and poetic lyrics. Page and Jones find perfect texture with acoustic guitar, dulcimer, mandolin, and pedal steel through the somber verses. During the song's outro, the song uses subtle backward masking on the acoustic for a unique effect. "Bron-Y-Aur Stomp" is an acoustic rendition of a heavy blues instrumental called "Jennings Farm Blues", which the band performed and recorded in late 1969. Pure fun (stomp is so adequate), the album version pays tribute to the Welsh cottage with Page and Jones strumming dual acoustics and Bonham playing spoons, castanets, and a thumbing kick drum throughout the recording. Finishing off the album is "Hats Off to (Roy) Harper", an odd tribute to Bukka White as well as the afore mentioned harper. The song was recorded solely by Plant and Page, using a vibrato effect and a slide acoustic guitar respectively.
In 1990, twenty years after its release Led Zeppelin III had reached double platinum status. However, just nine years later the album's total sales had tripled and this classic work's stature has only grown through th early 21st century, with the recent 2014 special edition of the album entering the Top 10 of the Billboard album charts.
~
Led Zeppelin online



Led Zeppelin official website
Buy Led Zeppelin III

Part of Classic Rock Review's celebration of 1970 albums.