Released less than a month after the announcement of their breakup, Let It Be was a unique release by The Beatles on several fronts. First, the bulk of the album was recorded over a year earlier (and before the recording and release of 1969's Abbey Road) and was slated to be released twice in 1969 as different incarnations of an album called Get Back. Also, after it was finally released, there was debate over the enriched production added by Phil Spector, which ultimately led to a 2003 re-mixed version called Let It Be Naked.
The idea for this project was sparked by Paul McCartney who wanted to use these sessions to "get back" to the rock basics of the band's early years. McCartney was also eager to play live again and wanted simplify the band's sound, which had gotten increasingly complex in the studio. As an added dimension, the rehearsals and recording sessions would be filmed as part of a planned documentary showing the group prepare for a return to playing live.
Starting in late 1968, the project was marred by confusion in purpose and production duties and, ultimately, led to strong animosity within the band itself. In fact, George Harrison temporarily quit the band and agreed to return only if plans for a live tour were nixed (the band ended up playing a single "show" on the roof of Apple Studios). Still, the band was incredibly prolific in rehearsing over a hundred songs during these sessions, which included early incarnations of songs which would end up on Abbey Road and several early solo albums by individual band members.
An originally intended release date for Get Back was set for the summer of 1969, but the group members were dissatisfied with the mix and the project was temporarily shelved while they worked on Abbey Road. Early in 1970, a second version was attempted, again to less-than satisfactory results. Finally, Spector was brought in to "save" the project in March 1970 and finished the album which now had a new title and new status as the final album by the world's most popular rock band.

Let It Be

by

The Beatles
Released: May 8, 1970 (Apple)
Produced by: Phil Spector & George Martin
Recorded: Abbey Road, Twickenham & Apple studios, London, February 1968-April 1970
Side One
Side Two
Two of Us
Dig a Pony
Across the Universe
I Me Mine
Dig It
Let It Be
Maggie Mae
I've Got a Feeling
One After 909
The Long and Winding Road
For You Blue
Get Back
Group Musicians
John Lennon – Guitars, Bass, Vocals
George Harrison – Guitars, Tambora, Vocals
Paul McCartney – Bass, Keyboards, Guitar, Vocals
Ringo Starr – Drums, Percussion
"Two of Us" was written by McCartney about a driving adventure with his future wife, Linda. While early incarnations were electric guitar-driven, the final album version was mostly acoustic with harmonized vocals by McCartney and John Lennon. "Dig a Pony" was composed and sung by Lennon, almost as a counterpart to the opener as it was inspired by his future wife, Yoko. This song was also the first of several to feature guest Billy Preston on electric piano.
The oldest composition on Let It Be, "Across the Universe" was written by Lennon in 1967 and originally recorded in early 1968. The song's vibe was heavily influenced by the transcendental meditation the band was studying at the time, and its melodic flow make it one of the most enjoyable tracks on the album. "I Me Mine" was Harrison's first songwriting contribution to the album with lyrics that mock the bickering within the band. Late on the album's first side are a couple of filler tracks, each less than a minute in duration. "Dig It" is credited to all four group members (giving Ringo Starr a rare songwriting credit), while "Maggie Mae" is a traditional British skiffle tune.
McCartney's title ballad was Billboard's highest debut single to that date and the final single before the band's breakup announcement. The song was sparked by a dream he had about his mother (Mary), who had died when Paul was a teenager and its title and theme served as a call for serenity in the face of the band's breakup.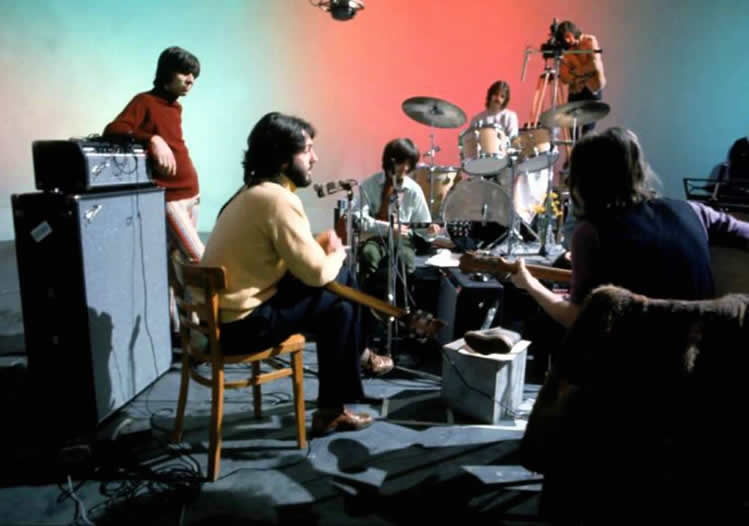 The album's second side begins with "I've Got a Feeling", a fusion of two unfinished songs, along with John Lennon's "Everybody Had a Hard Year", which may have been one of the last true collaborations between the famous songwriting team. McCartney's guitar-driven and upbeat rock theme fuses nicely with Lennon's mellow folk lines to make a unique tune. In contrast, "One After 909" was a song written a full decade earlier in 1960, as one of the first Lennon–McCartney compositions. It was recorded here as a symbolic gesture to signify the band's return to "good ol' rock n' roll". "The Long and Winding Road" became the group's twentieth and final number one song as a mature and philosophical piano ballad by McCartney. After production modifications by Spector, which included orchestral strings Richard Anthony Hewson and a choral arrangement by John Barham, McCartney expressed outrage at the enhancements without his input.
Harrison's "For You Blue" features Lennon playing lap steel guitar with McCartney playing an intentionally dulled piano, which act as the only "bass" on the track. The album closer, "Get Back", was the earliest single from the album, released over a year before the album as a single credited to "The Beatles with Billy Preston." The album's version is a different mix of the song. The song's evolution was fully documented on film and the album's version ends with the ironic quote by Lennon,
"I'd like to say thank you on behalf of the group and ourselves,
and I hope we passed the audition…"
Let It Be topped national charts in a half dozen countries worldwide and won an Academy Award for the Best Original Score for the songs in the film. Beatles fans still debate whether this is truly their final studio album or more of a posthumous release of tracks from an unfinished project. In any case, it is a quality addition to the band's portfolio.
~

Part of Classic Rock Review's celebration of 1970 albums.