Buy Workingman's Dead
Buy American Beauty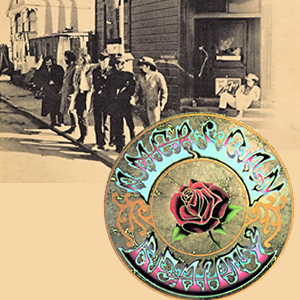 With the arrival of a new decade, the Grateful Dead decided to shift towards scaled back folk and country style rock. This proved to be a wise endeavor as their two 1970 releases, Workingman's Dead and American Beauty are both regarded among the finest studio albums of their long career. These albums were recorded and released just a few months apart with each expanding further into the realm of Americana as tracks on each album explicitly cite locations throughout the United States.
Prior to producing Workingman's Dead, members of the Grateful Dead were facing tumultuous times. The cost of recording their ambitious 1969 album, Aoxomoxoa had put the band in significant debt and they were also dealing with the aftermath of a drug bust while on tour in New Orleans. The new musical direction was at least partially influenced by the group's friendship with Crosby, Stills, and Nash, who inspired the harmonized vocal approach above simple, acoustic-based music. The title of Workingman's Dead was coined by Jerry Garcia when describing the new sound of the band. The album was recorded front to back in just nine days in February 1970.
American Beauty takes an even more reserved approach, with just four of the six band members recording the vast majority of the album. Co-produced by Steve Barncard, who was brought on board when the group's normal sound crew was off working on the Medicine Ball Caravan Tour in Canada. Guitarist Bob Weir describes the approach as a total abandonment of the San Francisco sound that they helped establish in the mid 1960s but was co-opted by the press hyped "summer of love". On this latter album, the group's compositions, melodies and harmonies were all better formed and more brilliantly refined, making this perhaps the finest overall Grateful Dead album.

Workingman's Dead

by

Grateful Dead
Released: June 14, 1970 (Warner Bros.)
Produced by: Bob Matthews, Betty Cantor, & Grateful Dead
Recorded: Pacific High Recording Studio, San Francisco, February 1970
Side One
Side Two
Uncle John's Band
High Time
Dire Wolf
New Speedway Boogie
Cumberland Blues
Black Peter
Easy Wind
Casey Jones

American Beauty

by

Grateful Dead
Released: November 1, 1970 (Warner Bros.)
Produced by: Steve Barncard & Grateful Dead
Recorded: Wally Heider Studios, San Francisco, August–September 1970
Side One
Side Two
Box of Rain
Friend of the Devil
Sugar Magnolia
Operator
Candyman
Ripple
Brokedown Palace
Till the Morning Comes
Attics of My Life
Truckin'
Band Musicians (Both Albums)
Jerry Garcia – Guitars, Banjo, Vocals
Bob Weir – Guitars, Vocals
Phil Lesh – Bass, Vocals
Ron McKernan – Keyboards, Harmonica, Vocals
Bill Kreutzmann – Drums
Micky Hart – Drums, Percussion
Workingman's Dead commences with "Uncle John's Band", built on moderate, acoustic chords and an overdubbed lead acoustic guitar. There are exquisite harmonies during first half of each verse, with Garcia taking solo lead at sporadic parts beyond that. The dual drummers, Bill Kreutzmann and Micky Hart have a strong presence throughout the song, which was written by Garcia and lyricist Robert Hunter, like the majority of songs on this album.
"High Time" is an almost pure country song with a strummed acoustic waltz and vocals to match by Garcia. Here the harmonies are a little off and bass a bit too deep sonically, but the later pedal steel works really well on this track. "Dire Wolf" is an upbeat folk ballad with very active pedal steel along with other lead guitar licks over the strummed acoustic backing. This colorful tale features the catch phrase "don't murder me", which makes it dark and accessible at once. "New Speedway Boogie" leans more towards British-style blues of the 1960s with rumbling bass and hand clap-like percussion, while the lyrics tackle the tragic events of the December 1969 Altamont concert in the group's home region.
The second side of Workingman's Dead begins with a couple of unheralded gems. "Cumberland Blues" was co-written by bassist Phil Lesh and is a fun, rambling song where Garcia's banjo and Lesh's bass drag the adventurous music along as the group's new direction towards Americana and roots music fully materializes. "Black Peter" is a slower country track where Garcia's reverb-drenched vocals are strong but sweet, bringing the sad song up to a higher level of quality. Dual acoustics, bass, and brushed drums set the sparse backing that gives the vocals the room they deserve. On "Easy Wind" keyboardist Ron "Pigpen" McKernan takes the helm, with his vocal style matching Hunter's laboring lyrics and the rocky beat dual drum beats. Mckernan's harmonica lead after first chorus commences a long middle section with sporadic guitar leads interspersed throughout.
The album concludes "Casey Jones", starting with an infamous "snort" and unabashedly narrating a tale of cocaine abuse. Musically, the group launches into the most popular and accessible song on Workingman's Dead with great electric guitars throughout that compliment Garcia's fine vocal melodies along with great, animated rhythms by Weir, Lesh, and Kreutzmann, making this the most complete group performance on the album.
American Beauty starts with "Box of Rain", a collaboration between Hunter and Lesh where the bassist takes a rare shot at lead vocals above bright and jangly music and a chorus of harmonized vocals. The song is constructed with subtle chord changes which give it an air of unidirectional originality. "Friend of the Devil" is a more straight-forward rendition of bluegrass-inspired Americana with a consistent, descending riff and fine vocal melody by Garcia. An exceptionally well produced track, the song features a mixture of guitars, bass, and a lead mandolin by guest David Grisman and lyrics about an outlaw on the run. "Sugar Magnolia" ia a quintessential Dead "hippie" song and a rare collaboration between Weir and Hunter. Written as a souped-up love song by Weir, it features a definitive groove on guitars and well-defined drums by Kreutzmann with lyrics speak of an extraordinary woman in beauty and character;
"She can dance a Cajun rhythm, jump like a Willys in four wheel drive / She's a summer love in the spring, fall and winter, she can make happy any man alive…"
"Operator" is the fourth track on American Beauty with a fourth different lead vocalist, McKernan, who also wrote the tune. This song has an Arlo Guthrie feel with root acoustic and a bright electric lead and is the only song to include all six band members as Hart adds some cool percussion effects. "Candyman" completes the album's first side as a slow, bluesy ballad with an exception slide guitar lead with weird tremolo effects which, combined with Hammond organ of guest Howard Wales, give it a real spacey and surreal effect.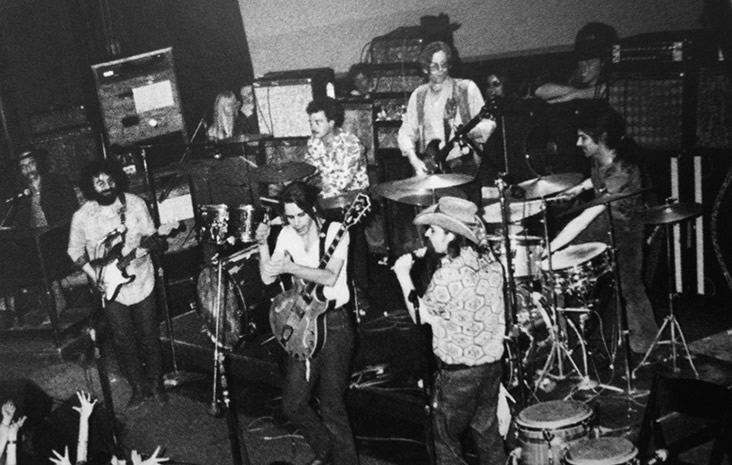 "Ripple" may be the sweetest overall song recorded by the Grateful Dead with exquisite lyrics by Hunter which are poetic and quasi-religious. Musically, a consistent drum shuffle by Kreutzmann is complimented by Lesh's potent and sharp, yet extraordinarily complementary bass and rapid mandolin notes by Grisman. But, by far the best element here is Garcia's voice, as he delivers the haiku phrased lyrics masterfully. "Brokedown Palace" is almost a medley from "Ripple" as it starts during the dissolve of that song. However, where the previous track was so effortless, this ballad almost tries too hard, especially during the closing harmonized scat section.
"Till the Morning Comes" is an upbeat acoustic with various lead guitar phrases and harmonized vocals throughout, while "Attics of My Life" bring the harmonies to a whole new level while the song is musically rhythm driven with Lesh, and Kreutzmann moving to the forefront. American Beauty concludes with "Truckin'", the quintessential song about touring. An autobiographical song which was a complete band collaboration, it was written to be an "endless tune" with future verses added as new experiences were had. The hook harmonies are complimented by Weir's verse vocals, almost like a Greek chorus response, and the bridge is the payoff, where the group almost employs a traditional rock riff and coins the famous phrase "What a long, strange trip its been…"
Following the release of American Beauty, Hart briefly left the Grateful Dead, returning in 1974. The year before that, McKernan lost his life to alcoholism and Garcia lost his life in 1995. In July 2015, the remaining band members will play select shows to celebrate the Grateful Dead's 50th anniversary as a band. These shows have been dubbed as the "Fare Thee Well" tour after a lyrical phrase in the song "Brokedown Palace."
~

Part of Classic Rock Review's celebration of 1970 albums.