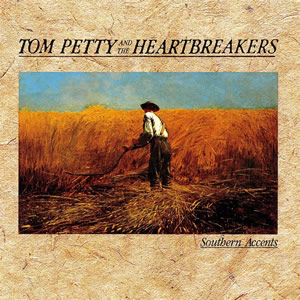 Tom Petty & the Heartbreakers found a nice blend of mid-eighties pop and their traditional rock sound on 1985's Southern Accents. This sixth album by the group (and first new release in nearly three years) was put together by a vast number personnel. Along with Heartbreakers' members Tom Petty and Mike Campbell, three other producers were involved in the production and beyond the five band members, over thirty session players and singers were used in recording this album.
Petty and the Heartbreakers entered the 1980s on a high streak, following the success of their 1979 album, Damn the Torpedoes. However, the follow-up album, Hard Promises in 1981, saw some friction between the band and the record company over pricing policy. Their 1982 album, Long After Dark saw the arrival of bass player Howie Epstein, who had been a member of Del Shannon's backing band.
Southern Accents was originally conceived as a concept album about the "modern South". This mission was ultimately abandoned when Eurhythmics founder Dave Stewart contributed some compositions and production techniques which contrasted with the overall concept. Tensions arose among the band members, who each had distinct visions of the album's musical direction. These frustrations culminated with Petty breaking his left hand after punching a wall during a mixing session.

Southern Accents

by

Tom Petty & the Heartbreakers
Released: March 26, 1985 (MCA)
Produced by: Tom Petty, Jimmy Iovine, Mike Campbell, David A. Stewart, & Robbie Robertson
Recorded: Sound City, Village Recorder, & Sunset Sound, Los Angeles and Church Studio, London, 1983–85
Side One
Side Two
Rebels
It Ain't Nothin' to Me
Don't Come Around Here No More
Southern Accents
Make It Better (Forget About Me)
Spike
Dogs On the Run
Mary's New Car
The Best of Everything
Group Musicians
Tom Petty – Lead Vocals, Guitars, Piano, Keyboards
Mike Campbell – Guitars, Keyboards, Dobro
Benmont Tench – Piano, Keyboards, Vocals
Howie Epstein – Bass, Vocals
Stan Lynch – Drums, Percussion, Vocals
The album begins with "Rebels", which features a traditional Tom Petty-style, musical approach with the additional elements of brass and rich backing vocals. Thematically, this track perfectly fits the "Southern Accents" theme and the song also found mainstream appeal by reaching #5 on the Billboard Album Rock Tracks chart. "It Ain't Nothin' To Me" is the first Petty/Stewart collaboration and migrates more towards, mid-eighties slick production, But with a funk bass by Epstein and call and response vocals between Petty and a backing chorus, the song is still interesting, especially with Benmont Tench's cool new-wave/jazz piano during the long outro.
The album's biggest hit, "Don't Come Around Here No More" employs Indian-style sitar by Stewart and repetitive but effective track percussion. The song proper is pleasant and melodic throughout and it breaks out into a full rock jam at the end with a wailing guitar lead by Campbell, thumping bass by Epstein and some "real" drums by Stan Lynch. The song was allegedly inspired by Stevie Nicks break up with Joe Walsh, but is best known for its Alice in Wonderland themed music video.
"Southern Accents" is a Jackson Browne-like piano tune, which is unique for the group, albeit a little bit dragged out and mundane, Still, the track works as a graceful title track which hits on the original theme of the album. "Make It Better (Forget About Me)" is the third and final collaboration between Petty and Stewart and employs a full-fledged, upbeat Motown vibe which is executed finely. Oft forgotten in the Petty catalog, this song reached the Top 20 of the Modern Rock charts.
The rest of the second side features an eclectic mix of lesser-known songs. "Spike" is down-home country with cool, chanting lyrics, brush drums and Tench's electric piano to carry the day. "Dogs On the Run" was co-written by Campbell and returns to old Heartbreakers-style rock for the final time on the album. "Mary's New Car" has a late-seventies funk/pop vibe (almost disco), along with interesting sounding lead vocals and a subtle, reverb-drenched sax lead. Like the first side, the second side ends with a piano ballad. "The Best of Everything" contains better melodies and good brass to close out the album with style.
Southern Accents reached the Top 10 in the US and the Top 40 in several other countries. The subsequent concert tour spawned the live album Pack Up the Plantation in late 1985 before the band toured with Bob Dylan through the next couple years.
~

Part of Classic Rock Review's celebration of 1985 albums.