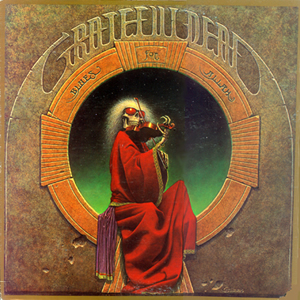 A unique album in the Grateful Dead's vast catalog, Blues for Allah, is made up of four proper songs, three instrumentals, and the bizarre, Avant Garde title suite. Produced and released following a year-long break by the group (the first such hiatus of their then 10-year career), the music features a crisp and energetic approach which captures the band's seven members at their most natural while still maintaining an inspired edge which is usually only associated with the Grateful Dead's live performances.
Mickey Hart temporarily left the Grateful Dead in early 1971, following their two hugely successful 1970 albums. This left Bill Kreutzmann as the sole drummer/percussionist for nearly four years. During this same time, keyboardist Ron "Pigman" McKernan lost his life and was replaced by Keith Godchaux, with his wife Donna Jean Godchaux later joining as a vocalist. The Dead released a couple of critically acclaimed live albums during the early 1970s as well as the studio albums, Wake of the Flood (1973) and From the Mars Hotel (1974), both of which were released on their new Grateful Dead Records label.
In the Spring of 1975, the band convened at Ace Studios, owned by guitarist/vocalist Bob Weir, to begin production on Blues for Allah, which would become their eighth studio album and the first to feature Hart since 1970's American Beauty. The album's (and song's) title was a tribute by lyricist Robert Hunter to Saudi King Faisal, a fan of the Grateful Dead who was assassinated during the time of recording.

Blues for Allah

by

Grateful Dead
Released: September 1, 1975 (Grateful Dead)
Produced by: Grateful Dead
Recorded: Ace Studio, San Rafael, CA, February–May 1975
Side One
Side Two
Help On the Way
Slipnot!
Franklin's Tower
King Solomon's Marbles
The Music Never Stopped
Crazy Fingers
Sage and Spirit
Blues for Allah
Group Musicians
Jerry Garcia – Guitars, Vocals
Bob Weir – Guitars, Vocals
Donna Jean Godchaux – Vocals
Keith Godchaux – Keyboards, Vocals
Phil Lesh – Bass
Bill Kreutzmann – Drums
Mickey Hart – Drums
The album commences with the pleasant and melodic, "Help On the Way", complete with plenty of complex riffing by Weir and bassist Phil Lesh and a clear and assertive lead vocal by Jerry Garcia. The fusion of riffs and melodies, licks and leads soon morphs into the jazzy, "Slipnot!", where Keith Godchaux gets into the act with a short electric piano lead before a searing electric guitar by Garcia. This fine interlude climaxes with the danceable funk of "Franklin's Tower", the third tune in the opening medley and, ultimately, the most popular song from this album. Here Garcia again takes the lead vocals, softly crying out Hunter's fine lyrics on music and freedom, albeit with a slight foreboding tone;
"God help the child who rings that bell,
it may have one good ring left, you can't tell…"
"King Solomon's Marbles" is an exciting and upbeat jam, built from the bottom up by the group's rhythm section, Lesh, Hart, and Kreutzmann. Distinguished in two parts, the second part builds intensity with additional layers, while maintaining the same complex rhythmic patterns. "The Music Never Stopped" starts with a basic drum beat followed by Lesh's bass and the two rhythm guitars as it reaches an orchestrated groove. Weir takes lead vocals through the verses with Donna Godchaux leading the chorus sections and a slight saxophone added throughout by guest Steven Schuster. This track features lyrics by John Perry Barlow and breaks into a bit of a waltz after the final chorus before coming back to the main rhythm for one final guitar lead. The original second side starts with the fantastic "Crazy Fingers", featuring a very slow reggae musically with Garcia reciting some of Hunter's best lyrics. On this track, every musician plays a pleasant riff or phrase which at once clash and harmonize for a beautiful musical effect. There is a freedom and easiness about the whole song as well as a theme of serenity to one's place;
"Gone are the days we stop to decide where we should go, we just ride…"
From this point, the fine danceable grooves and rock arrangements dissipate. "Sage and Spirit" is an asymmetrical piece by Weir, featuring mainly acoustic guitar and piano throughout and lacking any sort of real rhythmic definition. The piece does seem to dip into a mellow bit in the middle, before coming back with full folk intensity. This all leads to the totally off-the-wall title track which starts with a very short, harmonized riff before falling into monk-like chants harmonized by Garcia and Donna, along with some Indian-style hand percussion. The interesting middle section, credited to all seven members of the group, is an ad hoc jam of no form before the track reaches the third and final phase of the suite, which is closest to an actual song with richer harmonies accompanying Donna's scat vocals, a loose guitar and bass riff, and an actual drum beat. The opening chants do return at very end but with some traditional rock instrumentation to close out the album.
Blues for Allah reached number 12 on the pop albums chart in 1975 but, until recently, had not been heralded as a Grateful Dead classic. The group resumed touring in 1976 and returned to more traditionally formatted albums in the years to follow.
~

Part of Classic Rock Review's celebration of 1975 albums.