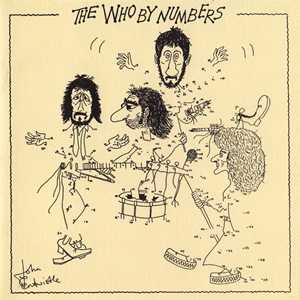 With both the successes and failures of conceptual rock operas behind them, The Who made a transitional record with 1975's The Who By Numbers. The album contains some leftover tracks from early 1970s aborted projects, Lifehouse and Long Live Rock, along with a few other tracks which remain faithful to the group's classic rock sound. Conversely, the rest of the album contains songs previewing the solo work of guitarist Pete Townshend, who would become an ever dominant force in the group.
Following the success of 1969's rock opera album, Tommy, the members of The Who were able to live comfortably for the first time. Townshend was actually embarrassed by his wealth and felt an immediate pressure to make an even more impressive follow-up. He conceived of the multi-media project, Lifehouse, and even booked a series of experimental concerts, but couldn't convince his band mates of the merits of this project. Instead, Who's Next featured the best songs composed for Lifehouse and became its own classic album. In May 1972, the group started and abandoned another proposed album called, Long Live Rock, causing tensions between Townshend and lead vocalist Roger Daltrey. Still, the band regrouped and recorded the fine 1973 double album, Quadrophenia, and spent much of 1974 working on the major motion picture version of Tommy, which earned Townshend an Oscar nomination for its score.
Townshend admits that, The Who By Numbers, was very difficult to compose and record as he suffered from writer's block and  a bout of depression as his 30th birthday approached. Produced by Glyn Johns, the sessions for the album were reportedly long and uninspired, only saved by the group's stellar performances even when at their worst. The apathy of this project went so far that no one really cared about packaging, so bassist John Entwistle submitted the hand-drawn artwork which became the album's cover.

The Who By Numbers

by

The Who
Released: October 3, 1975 (Polydor)
Produced by: Chris Charlesworth, Bill Curbishley, Glyn Johns, & Robert Rosenberg
Recorded: Shepperton Studios, Middlesex, England, April–June 1975
Side One
Side Two
Slip Kid
However Much I Booze
Squeeze Box
Dream From the Waist
Imagine a Man
Success Story
They Are All in Love
Blue, Red and Grey
How Many Friends
In a Hand or a Face
Group Musicians
Roger Daltrey – Lead Vocals, Percussion
Pete Townshend – Guitars, Keyboards, Ukulele, Banjo, Accordion, Vocals
John Entwistle – Bass, Brass, Vocals
Keith Moon – Drums, Percussion
"Slip Kid" opens with and is built on a steady percussion which persists throughout without much further affirmative animation by drummer Keith Moon. Townshend provides crisp riffing throughout and a soaring guitar lead in the middle, with a post-lead interplay section between his pedal-effected guitars and the piano tickling of guest Nicky Hopkins. "However Much I Booze" features a bright acoustic, with bouncy bass and steady drums throughout the pleasant verses. Townshend takes lead vocals above an arrangement which is reflective of a traditional Who track in dynamics and theatrical vibe.
"Squeeze Box" is the most popular track on The Who By Numbers as an upbeat and fun number with plenty of ethnic instrumentation including acoustic guitar, mandolin, and banjo lead, but no real "squeeze box" accordion except possibly during the sweet refrain section. The song was originally written for a proposed television appearance which didn't materialize, but it did reach the Top 20 in the US and the Top 10 in the UK. Perhaps the peak level of the album comes with, "Dreaming from the Waist", where Moon's talent is finally unleashed at a top level of animation. Similar in tone and temperament to the tracks on, Quadrophenia, Daltry's vocals are strong and direct during the upbeat verses with a mellower call and response during the choruses. The only real flaw on this track is that it fades out way too soon. "Imagine a Man" is a finger-picked acoustic folk ballad with heavy reverb on Townshend's vocals and strong harmonies during the hook where Moon adds an intense drum roll which never resolves fully, more like an orchestral percussionist than a rock drummer.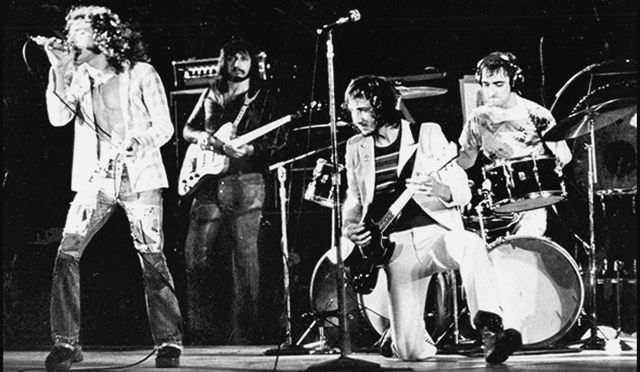 The album's second side features more obscure, albeit interesting, selections. "Success Story" was written by Entwistle and features an easy three-chord rock riff and slightly humorous lyrics about the rock n' roll lifestyle. "They Are All in Love" has a nice piano by Hopkins and a quasi-Irish folk feel overall. "Blue, Red and Grey" features a Townshend solo on ukulele and some swelling brass by Entwistle in the background, an overall quiet and personal reflection brought down to the smallest stage. "How Many Friends" returns back to the more majestic, theatrical setting with  overdubs of guitars and piano, while the closing "In a Hand or a Face" contains some of the most contemporary hard rock elements, with the real highlight being an intense hold on a climactic bass and drum fill.
The Who by Numbers, peaked in the Top 10 album charts on both sides of the Atlantic. However, the group opted to play little material from the album during a subsequent tour, which included some record breaking concerts where The Who focused on their classic material.
~

Part of Classic Rock Review's celebration of 1975 albums.