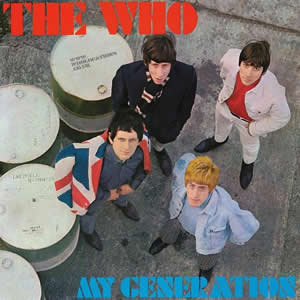 The Who released an impressive debut album in December 1965 with My Generation. Although the group was initially dissatisfied with the album, it has grown in the past half century to be regarded as one of the pivotal rock albums of the mid sixties. With most songs composed by guitarist, Pete Townshend, along with a few select blues and funk covers, the album features a raw, hard rock sound and approach which may have been heavier than any on any popular rock album up to that point in time.
Townshend grew up in a musical family outside London and met future bandmates, Roger Daltrey and John Entwistle in grammar school. Daltrey, who was a year older than the others, started the group The Detours in 1959 and soon recruited Entwistle into the band on bass. Although Daltrey played guitar originally, in 1961 Entwistle suggested Townshend be hired as guitarist with Daltrey moving to lead vocals. In early 1964, the group changed their name to The Who and brought on drummer Keith Moon to round out the classic quartet.
Over the next year plus, The Who toured relentlessly and became a favorite band of the English "mod" movement. The group adopted mod fashion and lifestyle and even temporarily changed their name to, "The High Numbers", for their initial 1964 single because management thought the name played better to their audience. Filmmakers Kit Lambert and Chris Stamp later took over as managers and encouraged the group to change their repertoire towards R&B, Motown, and soul with the new slogan "Maximum R&B". In late 1964, The Who recorded and released the song "I Can't Explain", which further expanded their sound to the raw, riff-driven sound made popular by The Kinks.
My Generation reflects a confluence of these evolving early sounds by the group. Produced by Shel Talmy, the album features songs released as singles earlier in 1965 along with a further mix of originals and cover songs which reflect their strongest live material.

My Generation

by

The Who
Released: December 3, 1965 (Brunswick)
Produced by: Shel Talmy
Recorded: IBC Studios, London, April-October 1965
Side One
Side Two
Out In the Street
I Don't Mind
The Good's Gone
La-La-La-Lies
Much Too Much
My Generation
The Kids Are Alright
Please, Please, Please
It's Not True
I'm a Man
A Legal Matter
The Ox
Tracks Included on Alternate Versions of the Album
Circles
I Can't Explain
Bald Headed Woman
Group Musicians
Roger Daltrey – Lead Vocals, Harmonica
Pete Townshend – Guitars, Vocals
John Entwistle – Bass, Vocals
Keith Moon – Drums, Percussion, Vocals
To kick off the album, "Out In the Street", sounds like it has a false start by Daltry during intro, but when it does fully kick in it is a gritty rocker with driving rhythms and strong drumming by Moon. Later in the song they play with harmony arrangements, rudiments and guitar effects, making it an interesting listen. "I Don't Mind", follows as the first of two James Brown covers. Dramatic and soulful, the group again shows off their tight rock ability and style versatility.
"The Good's Gone", is a unique, droning rocker built on sharp drum patterns and extended guitar chording by Townshend.  The song is  repetitive but to great effect during verses and choruses with the tension finally relieved during the slight bridges, and this arrangement stretches it out beyond an almost-unheard-of-for-1965 four minutes in duration. "La-La-La-Lies", is the first pure pop song on the album and it features a heavy piano presence by guest Nicky Hopkins along with rich backing harmonies throughout. The song failed to chart in the UK but was a significant hit in Sweden. While still entertaining, "Much Too Much", is the first song to sound incomplete and the lead vocals melody seem to meander a bit.
The title track, "My Generation", is the obvious highlight of the side and album, as well as the strongest song for both Entwistle and Moon. Perhaps the first ever true punk song, it gives a heavy nod to teenage angst in general and the mod counterculture specifically. The song is distinct musically with Daltrey's signature stutter through the verses, Entwistle's fantastic bass lead, and a final verse which goes up a key to add intensity and climaxes in a wild, unhinged coda. The song reached number 2 in the UK in October 1965 and is The Who's highest charting single ever in their home country through a long and distinguished career.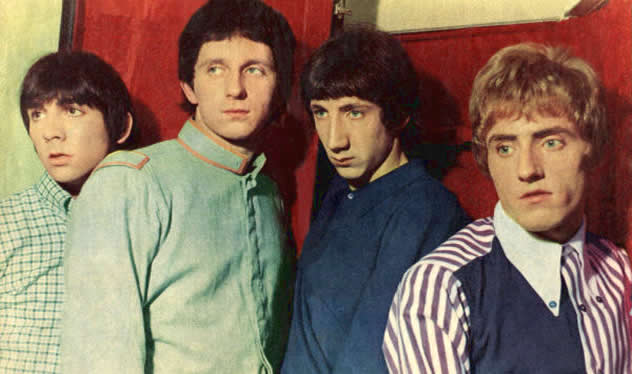 The second side begins with "The Kids Are Alright", another indelible Who classic which features rhythm, melody and strong accessibility. The song also features musical interludes where Moon gets to wail on the drums, making this a precursor to many Who classics in years to come and was referred back to during an interlude part of 1973's Quadrophenia. After this zenith, the album regress's a bit starting with, "Please, Please, Please", which sounds like it would have been an exciting live track but doesn't quite translate on this studio record. "It's Not True", is an upbeat, Southern-style rocker with rich harmonies and lyrics more reflective of outlaw country, while the oft-covered Bo Diddley classic, "I'm a Man", features fascinating blues vocals by Daltrey and a wild piano lead by Hopkins.
The album does end strong with a couple of original and innovative tracks. "A Legal Matter", is a frenzied rocker, sandwiched between an interesting guitar intro and outro and featuring pleasant and strong rock elements and melodies throughout. "The Ox", closes the album as an improvised jam with Moon working off the floor tom drums of the Sufari's 1963 classic "Wipeout" and Townshend, Entwistle, and Hopkins complementing each other throughout the improvisation.
My Generation became a template for future garage rock, heavy metal and punk genres. However, The Who quickly moved on to forge their own distinct sound, starting with 1966's A Quick One, with increasing elements of theatrical arrangements and philosophical themes which would elevate the group to ever-increasing heights.
~
Part of Classic Rock Review's celebration of 1965 albums.