As a final wrap up of our final classic year review, 1965, we still needed to decide on an Album of the Year for that year. This was a unique situation, because all other classic years reserved the Album of the Year until the end of the review period but, in the case of 1965, we've gone with the "50 Years Ago Today" process of reviewing each album on (or near) the anniversary of each album's release date.
For quite a while, we had decided that one of the two Bob Dylan classics from that year, Bringing It All Back Home or Highway 61 Revisited, would fill this top honor for 1965. For most of this year, I had championed the album that I personally reviewed (and my longtime favorite of all Dylan's works), Bringing It All Back Home. There were two simple reasons for this – it came first and it perfectly intersects at the point of Dylan's folk climax and rock n' roll inception.
On the other hand, J.D. Cook had reviewed and championed Highway 61 Revisited as the album which "honors his past but also points a big bright burning finger towards works yet to come". At one point, I had challenged Mr. Cook to debate the merits of each album and put it up for a public survey vote (much like we had for 1980's Album of the Year). However, you really can't put the two up against each other like a sporting competition so, after careful consideration I have decided to capitulate and concede Mr. Cook's position. After all, this is Classic "Rock" Review, and there is little doubt that Highway 61 Revisited is closer to a traditional "rock" album out of the pair.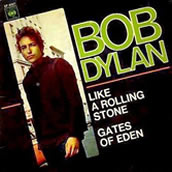 Beyond that, Highway 61 Revisited contains incredible musical benchmarks, from the innovative "Ballad of a Thin Man" to the exquisite gem "Just Like Tom Thumb's Blues" to the epic folk/Western "Desolation Row". Further, this album is the first to include a heavy piano and keyboard presence, not only blazing the path in this regard, fully setting the template for countless rock albums to follow. Then there is the true classic part of this album, the opening track "Like a Rolling Stone", a composition with a perfect balance of structure and improvisation, freak and thought, poetry and melody, which makes this song one of the very finest of the entire 20th century.
Finally, there is the true tipping point of the decision – the story behind the album's title. As told in this River of Rock article; "as a teenager near Duluth, Minnesota, a young Robert Zimmerman used to daydream about riding down Highway 61 to the legendary musical locales of America." Here, I believe, lies the true heart of rock n' roll, not just the static situation, but the ongoing journey, whether it be in retrospective reflection or introspective vision. Highway 61 must always be revisited.
Merry Christmas 2015!
…..Ric Albano, Editor
~