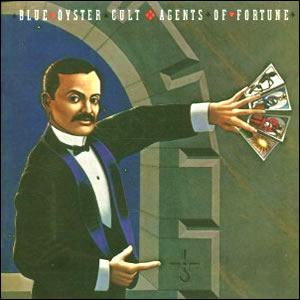 The most commercially successful album of the group's career, the platinum selling Agents of Fortune is a diverse and interesting (albeit a bit incohesive) album by Blue Oyster Cult. Musically, this fourth album from the New York based quintet branched out from the dark and mysterious strain of heavy metal toward more pop-oriented, synth-drenched, arena style rock. Quite ironically, this album yielded the band's most indelible single, which is a track that advances Blue Oyster Cult's traditional musical approach rather than one which capitulates to popular trends.
Following the 1972 release of their self titled debut album, the group went on an extensive tour while simultaneously writing material for their next album, Tyranny and Mutation. This sophomore effort included the first of the band's many collaborations with composer Patti Smith. The group's third album, Secret Treaties in 1974 was the first to receive positive mainstream critical acclaim and launched the band into headlining status for the first time in their major label career.
Three producers collaborated on Agents of Fortune, Sandy Pearlman, Murray Krugman, and David Lucas along with engineer Shelly Yakus. The compositions on the album were dispersed among four of the five group members as well as some outside composers such as Smith, which made for an extremely diverse sequence in both sound and style as the album progresses.

Agents of Fortune

by

Blue Oyster Cult
Released: May 21, 1976 (Columbia)
Produced by: Murray Krugman, Sandy Pearlman & David Lucas
Recorded: The Record Plant, New York City, 1975–76
Side One
Side Two
This Ain't the Summer of Love
True Confessions
(Don't Fear) The Reaper
E.T.I. (Extra Terrestrial Intelligence)
The Revenge of Vera Gemini
Sinful Love
Tattoo Vampire
Morning Final
Tenderloin
Debbie Denise
Band Musicians
Eric Bloom – Guitars, Percussion, Vocals
Donald Roesar – Guitars, Keyboards, Vocals
Allen Lanier – Guitars, Keyboards, Vocals
Joe Bouchard – Bass, Piano, Vocals
Albert Bouchard – Drums, Percussion, Vocals
The album begins on a sober, if not cynical, note to reflect the darker mood of the mid 1970s with,"This Ain't the Summer of Love", co-written by drummer Albert Bouchard. While musically this is rather typical pop/rock with a slightly harder edge, it has been suggested that this song forecasts the rage and thematic subject matter of punk rock. "True Confessions" was composed and sung by guitarist and keyboardist Allen Lanier. It is much brighter than the opener as a piano driven tune with an electric guitar trailing close behind to form a Randy Newman-type vibe with choppy rhythms.
Continuing the vast diversity of the album is the dark and smooth classic "(Don't Fear) The Reaper", the group's biggest chart success and the only Top 10 single. Written by lead guitarist Donald "Buck Dharma" Roeser and primarily built around his ringing guitar riff. The lyrics are clearly about death, an odd choice of subject matter and arrangement to work for a mainstream audience, but this one certainly caught fire. The song is also notable for Bouchard's consistent use of cowbell (later parodied on this classic Saturday Night Live skit) and a dynamic middle section which diverts into Roesar's theatrical, feedback-laden guitar lead.
"E.T.I. (Extra Terrestrial Intelligence)" starts with the infectious talk-box drenched riff, complemented by a choppy piano. On this track, Bloom's vocals are dry and cool in contrast to the upbeat musical riffs, beats and rhythms. The lead section starts with wild synth effects to give life to the spacey lyrics, a line of which gives the album its title. Co-written by Smith, "The Revenge of Vera Gemini" finishes side one as a smooth, unique, interesting, and entertaining track with some spoken and sung female backing vocals under smooth musical arrangements and upbeat rhythms.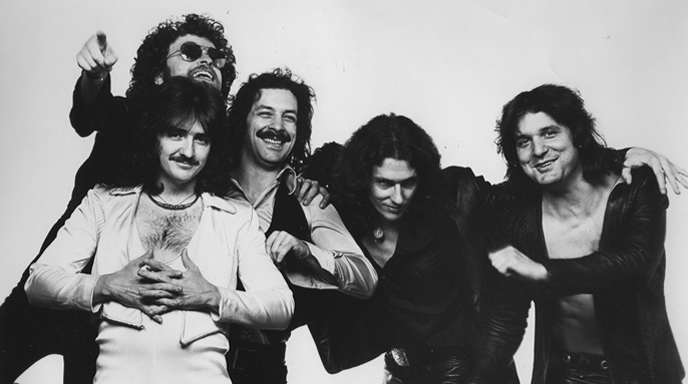 The album's original second side starts with two of its weaker tracks. "Sinful Love" is a pale attempt at pop/soul with its only redeeming traits being a good guitar lead and consistent animated bass by Joe Bouchard. "Tattoo Vampire" continues the theatrical sequence but with a much harder rock approach, led by the guitars and lead vocals of Eric Bloom. Agents of Fortune does finish very strong, starting with Joe Bouchard's "Morning Final", which starts with a squealing guitar lead before settling into a funk groove accented by melodic injections through the verse sections and later musical rudiment sections featuring multiple keyboards. On "Tenderloin", the bass motors along with calm synths/piano on top and very unique lead vocals by Bloom. "Debbie Denise" closes the album as a pleasant and moderate pop ballad which tries to pack in a bit too much variety of instrumentation and tempo.
Agents of Fortune reached the Top 30 on the Pop Albums chart and launched the band into an even larger concert attraction, where the Blue Oyster Cult indulged in a state-of-the-art laser light show to accompany their music. Through the next half decade, the group's popularity continued to grow with more album and live success, reaching its peak just before Albert Bouchard left the group in the early 1980s.
~

Part of Classic Rock Review's celebration of 1976 albums.