Buy King of the Delta Blues Singers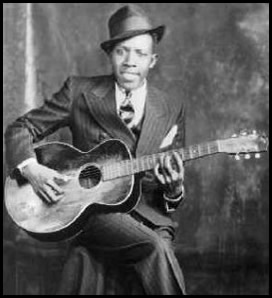 On November 23, 1936 in San Antonio, TX, a young blues man from the Mississippi Delta cut the first half of his famed 29 recorded tracks. These simple songs would ripple through the rock and roll world some three decades later, when some soon-to-be-famous musicians in England discovered the classic recordings and implemented many of the unique and innovative techniques of this young blues player, named Robert Johnson. Johnson was a huge influence on Brian Jones of the Rolling Stones, Eric Clapton of Cream, and most especially Jimmy Page & Robert Plant of Led Zeppelin. It turns out that these 29 tracks were a lot of recordings for Delta musicians of the time and may have helped to preserve the legend of a constantly traveling, Depression-era, blues man of which only two known photographs exist. He otherwise may have gone overlooked or simply forgotten in time, and then how would rock n roll have turned out?
Johnson, who was born 100 years ago in 1911, has come to be known as the "grandfather of rock n roll" due to the rippling of his influence on rock decades later. He lived a short and nomadic life, dead by the age of 27, and was a truly mythic blues figure, shrouded in mystery and rumor. The biggest of these was that he sold his soul to the devil in exchange for extraordinary talent as a guitarist, singer, and composer. Extensive research into his life have suggested Johnson was haunted and driven by a desire to never return to the sharecropper's agricultural work of his adolescent years, and he lived a live of constantly appearing, disappearing, and reappearing in several locations throughout the south and mid-west. These facts could have certainly played right into the overactive imaginations of some who like to attribute supernatural hands to the unexplained genius, much like the rumors that would swirl about rock n roll stars a half century later. Nonetheless, a true telling of the Robert Johnson story would not be complete without covering this legend, as has been told in print and film many times over the year. Here is the AMG (All Music Guide) version:
Robert Johnson was a young black man living on a plantation in rural Mississippi. Branded with a burning desire to become great blues musician, he was instructed to take his guitar to a crossroad near Dockery's plantation at midnight. There he was met by a large black man (the Devil) who took the guitar from Johnson, tuned it, and handed it back to him.

Within less than a year's time, in exchange for his everlasting soul, Robert Johnson became the king of the Delta blues singers, able to play, sing, and create the greatest blues anyone had ever heard. As success came with live performances and phonograph recordings, Johnson remained tormented, constantly haunted by nightmares of hellhounds on his trail, his pain and mental anguish finding release only in the writing and performing of his music.

Just as he was to be brought to Carnegie Hall to perform in John Hammond's first Spirituals to Swing concert, the news had come from Mississippi; Robert Johnson was dead, poisoned by a jealous girlfriend while playing a jook joint. Those who were there swear he was last seen alive foaming at the mouth, crawling around on all fours, hissing and snapping at onlookers like a mad dog. His dying words (either spoken or written on a piece of scrap paper) were, "I pray that my redeemer will come and take me from my grave." He was buried in a pine box in an unmarked grave, his deal with the Devil at an end.
Although this legend may seem far-fledged, there is some further situational evidence to support this. Johnson was a teenage plantation worker in Robinsville, MS when married his first wife, who died shortly after during childbirth. It was at this point that Johnson apparently got his drive to get away from agriculture and be a blues musician. He started on harmonica, sitting in with some of the local Delta legends such as Son House and Charley Patton. By their later accounts, he played adequately as a harmonica player but really wanted to play guitar. But when they let him play during sets, he was a bit of a joke, seemingly possessing no skill at all. Johnson then suddenly left Robinsville only to reappear a year later with some unbelievable and innovative skills on the guitar, which far exceeded that of Son House or any of his contemporaries. According to House;
When he finished all our mouths were standing open. I said, 'Well, ain't that fast! He's gone now!' To a man, there was only one explanation as how Johnson had gotten that good, that fast; he had sold his soul to the devil.
While no one is sure where the "devil tuning the guitar at the crossroads" detail of the story came about, there is some evidence that Johnson was tutored by Ike Zimmerman of Hazelhurst, Mississippi, who would frequently play late at night in graveyards, as a pragmatic measure to not disturb anyone. Further, some have suggested that the "crossroads" story was actually that of a lesser known musician named Tommy Johnson (as suggested in the film Oh Brother, Where Art Thou?, and later combined with the already mysterious bio of the legend Robert Johnson.
In another similarity to later rock myths, Johnson was also believed by some to have faked his own death. The following footage from 1942, shows a yet-to-be identified street musician with incredible finger skill, that some claimed is actually Robert Johnson;
Another rumor has Johnson living until the mid sixties, dying of liver cancer after his legend was re-discovered with the release of Columbia Record's King of the Delta Blues Singers, which was the direct recordings that influenced so many 60's-era musicians. But the truth is, there were many witnesses to Johnson's death in 1938, allegedly due to poison slipped in his drink by the jealous husband of a woman he had bedded.
Johnson's success at serial womanizing was another attribute that is sometimes attributed to his deal with the devil. He wandered up and down the Delta and as far away as Nashville, St. Louis, and Chicago. He supposedly used different names in different places, with as many as eight different surnames confirmed by researchers. He had a multi-pronged routine when he would arrive in a new town. He'd first, play popular songs for tips on street corners. Later, in the local black saloon or "juke joint", he would play the dark and complex original blues which made him legendary, usually accompanying local blues men. Finally, he would find a woman to suit his needs for his stay in that town. The duration of stays were also erratic, some times a day or two, sometimes a week, and he would often disappear suddenly and without notifying anyone.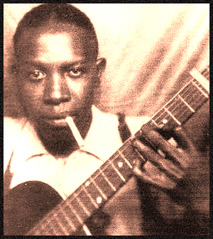 Eventually, Johnson sought out H.C. Speir, talent scout from Jackson, Mississippi, who put Johnson in touch with producer Ernie Oertle. On November 23, 1936, Oertle brought Johnson to the Gunter Hotel in San Antonio, Texas, a temporary "studio" for Brunswick Records. There, Johnson performed facing a corner in order to enhance the sound of the guitar, a technique later labeled "corner loading", which Johnson apparently invented on the spot. In the ensuing three-day session, Johnson recorded sixteen selections along with alternate takes for most of these. These included "Cross Road Blues", "Kind Hearted Woman Blues", "Terraplane Blues", which became his first regional commercial "hit", selling 5,000 copies. The rest of Johnson's historic recordings were made in 1937.
Robert Johnson's recordings began to pick up steam and his popularity grew. By 1938, Johnson was about to go national, as a Columia Records executive sought him out to play the first From Spirituals to Swing concert at the famed Carnegie Hall in New York City. But unfortunately, Johnson had already been murdered in Mississippi and was replaced that night by Big Bill Broonzy, who paid tribute to Johnson by performing a couple of his songs from the stage.
Ironically, Johnson did not have nearly the influence on his fellow blues musicians through the 30's, 40's, and 50's as he did on the young rock musicians of the 60's, who amazingly recognized his skills through the dusty old recordings. This may be because many of his techniques, such as the boogie bass line, were "re-invented" during the advent of rock n roll in the 1950's, showing just how far ahead of his time Johnson was. In fact, when Brian Jones first played Johnson for fellow Rolling Stone Keith Richards, he reacted by asking, "Who is the other guy playing with him?" not realizing it was Johnson playing all himself.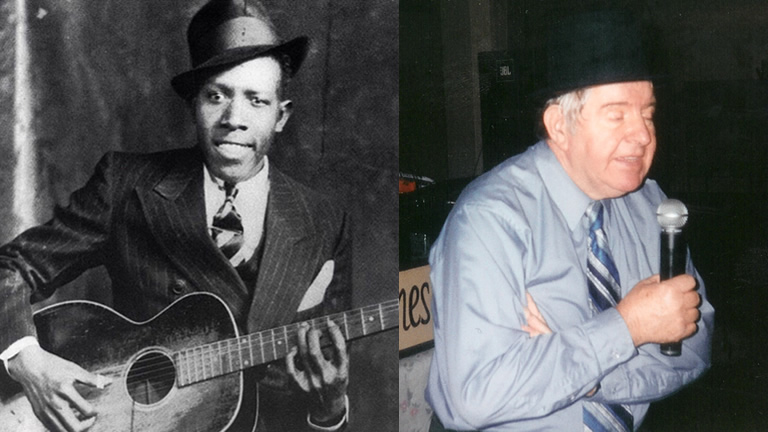 None of this would have been possible, had he not found his way to that makeshift recording studio, 75 years ago today. On that very same day, the ninth child of Italian immigrants Donata and Guiseppe Albano was born in Hazleton, PA. That child was named Pasquale John Albano, my father, who today celebrates his 75th birthday.
Happy birthday, Dad.
– Ric Albano 11/23/11
~