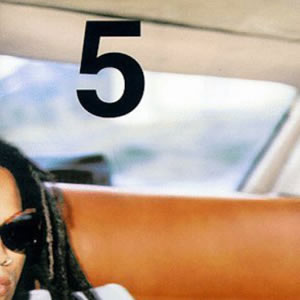 The fifth studio album by Lenny Kravitz, released in 1998 is aptly titled 5 and saw the talented artist return to top commercial success as well as expand his world wide audience. This winner of two Grammy Awards, successfully found Kravitz both establishing himself as a genuine funk and R&B artist while also advancing his incredibly diverse fusion of rock and soul which he had established early on in his recording career. The result is an accessible and accomplished work that offers an array of sonic candy.
Following the success of Kravitz's 1989 debut, Let Love Rule and the 1991 follow-up record, Mama Said, Kravitz advanced his songwriting and production projects for multiple artists. In 1993 he released Are You Gonna Go My Way, which reached number 12 on the album charts and spawned several singles. This album was also the initial to feature guitarist Craig Ross and was partially recorded in The Bahamas where Kravitz would eventually build a recording studio. Kravitz's fourth album, Circus, was released in 1995 but was a bit of a commercial disappointment.
With 5, Kravitz both aimed to return to commercial relevance and, for the first time, he embraced digital technology and sampling. The album was recorded in both Kravitz-owned studios in New York City and The Bahamas with the assistance of engineer Terry Manning.

5

by

Lenny Kravitz
Released: May 12, 1998 (Island)
Produced by: Lenny Kravitz
Recorded: Ghetto Lounge Studios and Compass Point Studios, Bahamas, 1997–1998
Track Listing
Primary Musicians
Live
Supersoulfighter
I Belong to You
Black Velveteen
If You Can't Say No
Thinking of You
Take Time
Fly Away
It's Your Life
Straight Cold Player
Little Girl's Eyes
You're My Flavor
Can We Find a Reason?
American Woman
Without You
Lenny Kravitz – Lead Vocals, Guitars, Keyboards, Bass, Drums
Craig Ross – Guitars, Keyboards
Jack Daley – Bass


"Live" was co-written by Kravitz and Ross as a riff driven guitar rocker with a Rick-James–like funk approach. The rich arrangement includes a brass section, a choppy bass rhythm by Jack Daley and a long saxophone lead by Harold Todd late in the song. "Supersoulfighter" finds Kravitz fully immersing in the genre of old as he personally provides soul synths, sound effects, a cool clavichord and a steady drum beat. In contrast, "I Belong to You" starts with electronic percussion soon accompanied by some R&B bass with not too much more variation.
A heavy synth rhythm and some electronic treatment on vocals are prevalent on the track "Black Velveteen", which later features a Bowie-like vocal delivery. "If You Can't Say No" employs maximum modern R&B and strategically placed sonic décor (clav, piano, organ, etc.) and a fantastic bluesy guitar lead, while ultimately still being a singer's song. The sad and emotional ballad "Thinking of You" was dedicated to Kravitz's mother, Roxie Roker, who died of cancer in 1995, while "Take Time" features a slow, sloshy drum beat accompanied by psychedelic keys and an overall mechanical background to soulful vocals, There is obviously a heavy Prince influence on this latter one, especially during the heavy rock guitar lead.
While 5 is pretty solid throughout,  the second half of the album is where real gems lie with rock, funk and soul musical diversity. The guitar driven rocker "Fly Away" was an immediate hit with its catchy melody, interesting slap bass and a potent drum beat. Originally composed as a ballad, this revised funky track also makes great use of effects on the vocals, which helped it ascend to the Top 20 and won Kravitz a Grammy Award in 1999 for Best Male Rock Performance. Though much less popular, "It's Your Life" is equally as excellent as its predecessor as a heavy funk rocker with some synth horns and melodic verses over a pointed bass line. "Straight Cold Player" is a quasi-instrumental driven by a complex drum beat by guest Cindy Blackman, while "Little Girl's Eyes" is a slow soul ballad with much synth atmosphere and a long outro with a guitar lead.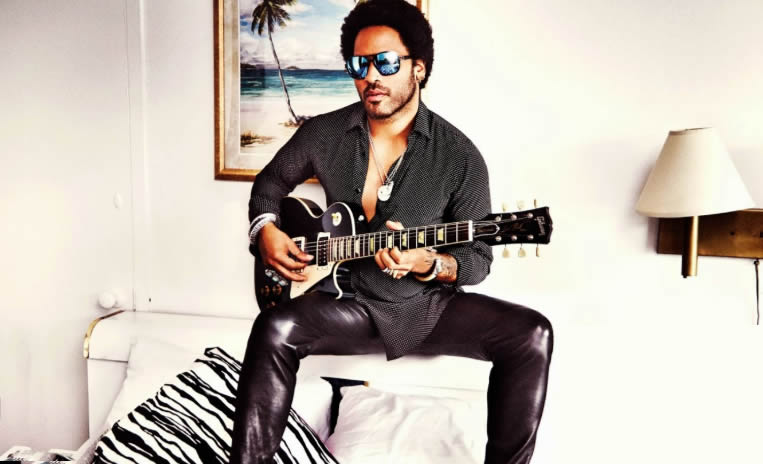 The original release of 5 wrapped up with two more excellent tunes. "You're My Flavor" features a unique blend of rock with bass moving faster than guitars in verses and a melodic hard guitar riff in choruses. "Can We Find a Reason?" is an acoustic track with trippy lead guitar overtones, a heavy Hammond organ and a Gospel like backing vocals to augment Kravitz's droning, alternative rock guitar lead and soulful, peacenik vocals. In 1999, the album was re-issued to include Kravitz's smash hit cover of The Guess Who's "American Woman" and the acoustic ballad "Without You".
A Top 40 album, 5 spawned further commercial success for Kravitz, with the subsequent 2000 Greatest Hits album being his most successful album, selling nearly 11 million copies worldwide.
~

Part of Classic Rock Review's celebration of 1998 albums.