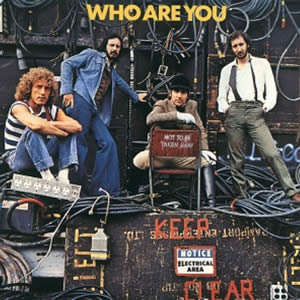 The Who's eighth overall and final studio album with drummer Keith Moon, 1978's Who Are You marks a notable transition for the rock quartet. Here, the music is built on layered arrangements which heavily utilizes synthesizers while multiple styles are explored among the album's ten tracks. Further, some of the lyrical themes draw from defunct theme albums from earlier in the 1970s such as Pete Townshend's Lifehouse and John Entwistle's 905.
Through a five year span in the mid-1970s, the band recorded and released only one studio album, The Who by Numbers in 1975. This era was marred by disagreements among the band members over musical direction and the approach to live touring. However, they did work on several peripheral projects over this span, such as the Tommy motion picture in 1974 and the documentary film The Kids Are Alright in 1977 and 1978.
Recording of Who Are You began in London in January 1978 with producers Glyn Johns & Jon Astley. During production there were several personnel clashes as well as some issues with Moon's playing and lead singer Roger Daltrey underwent throat surgery. Ironically, this was perhaps the strongest album vocally for Daltrey while being one of the weaker outputs by Townshend, the band's traditional composer.

Who Are You

by

The Who
Released: August 18, 1978 (Polydor)
Produced by: Glyn Johns & Jon Astley
Recorded: Ramport Studios, Olympic Studios, & RAK Studios, England, October 1977 – April 1978
Side One
Side Two
New Song
Had Enough
905
Sister Disco
Music Must Change
Trick of the Light
Guitar and Pen
Love Is Coming Down
Who Are You
Group Musicians
Roger Daltrey – Vocals, Percussion
Pete Townshend – Guitars, Piano, Keyboards, Vocals
John Entwistle – Bass, Keyboards, Brass, Vocals
Keith Moon – Drums, Percussion
It is obvious from beginning that this differs from any classic Who album with heavy synth presence from the jump on the opener "New Song". Still, the multiple theatrical parts of this Townshend song show that there are still complex rock compositions on this Who album. The next two tracks were originally intended for a defunct attempt of a rock opera by Entwistle. "Had Enough" has a synth-guided melody with steady, thumping bass and slightly animated drums by Moon. Released as a single from the album, the song features a full string orchestra arranged by Astley. A wild synth arpeggio gives way to strummed acoustic guitar and a steady rock beat on "905". Here, Entwistle provides smooth and melodic lead vocals with a slight country/rock feel during the choruses, while employing a heavy sci-fi feel elsewhere.
"Sister Disco" is the first song to lean towards classic era Who (or at least as far back as 1973's Quadrophenia). This is also the first track to feature Townshend's vocals as a co-lead vocalist while the music features moderate rock riff and beat with rapid, high string synths before the song dissolves with an extended solo acoustic outro. "Music Must Change" is a theatrical piece with many interesting changes. Here, Daltrey's vocals show fantastic range on this jazz, Broadway blues track which completed the original first side of the album. Entwistle's third songwriting contribution, "Trick of the Light", may be the most straightforward rocker on the album with a hypnotizing, rotating rock riff accented by Moon's mobile drumming and more strong vocals by Daltrey.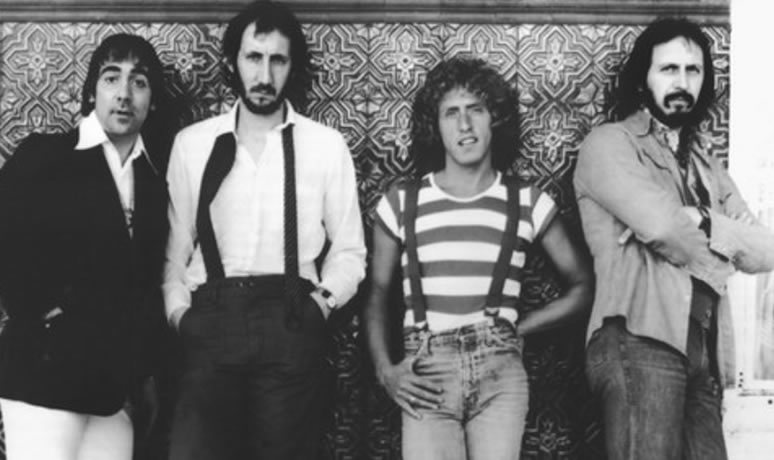 Another highlight on the album, "Guitar and Pen", has a straight-forward main riff in contrast to the odd-timed beats followed by much building to strong crescendos throughout. The song also features virtuoso piano playing by guest Rod Argent along with some generous but judicious use of synths throughout. "Love Is Coming Down" is a ballad with call and response vocals and some complex string orchestration. The album concludes with its climatic title song, which kicks off with a jazzy synth, slow dance beat and harmonized hook. The verses of "Who Are You" resort to pure rock with Moon exploring the rapid drum rolls and Daltry providing his most straining yet melodic vocals, while the bridge middle section explores many little musical minuets, including a slight piano lead by Argent. Released as a single, "Who Are You" reached the Top 20 in both the US and UK.
During a break from recording this album in May 1978, The Who played live on a sound stage for a sequence in the upcoming documentary The Kids Are Alright, which turned out to be the final performance by the classic quartet which was formed in 1964. Moon died on September 6, 1978, about three weeks after the release of Who Are You.
~

Part of Classic Rock Review's celebration of 1978 albums.