Buy Vagabonds of the Western World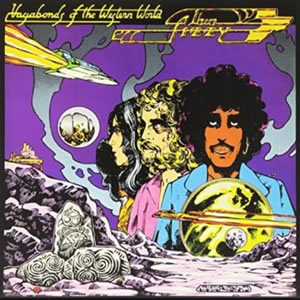 The 1973 release Vagabonds of the Western World, the third studio album by Thin Lizzy, is a cohesive collection of original style and substance by this group from Ireland. The songs are presented in a range of rock sub-styles from British style blues-rock to their own style of Irish folk rock with some slight psychedelic and jazz tinged numbers. The album would prove to be the high water mark for the original trio of Phil Lycott (bass, vocals), Eric Bell (guitars) and Brian Downey (drums, percussion).
Lynott and Downey knew each other since school in the early 1960s and they played together in the Dublin area band, The Black Eagles, through 1967. After heading out in differing music adventures for a few years, they came back together and formed Thin Lizzy with Bell in 1969. The following year they signed with Decca Records and relocated to London where they recorded their self-titled debut album in early 1971. TShades of a Blue Orphanage followed a year later but neither of these first two albums charted or sold very well. Later in 1972, the band released a single of their original rock arrangement of the Traditional Irish folk song "Whiskey In the Jar". Led by Bell's excitable lead guitar and Lynott's steady, matter-of fact vocal delivery, this song became a a UK Top Ten hit,
The surprise success of the "Whiskey In the Jar" single gave Thin Lizzy a larger recording budget and studio time to record Vagabonds of the Western World. The album was recorded in London during the summer of 1973 and was co-produced by Lynott and Nick Tauber.

Vagabonds of the Western World

by

Thin Lizzy
Released: September 21, 1973 (Decca)
Produced by: Nick Tauber & Phil Lynott
Recorded: AIR Studios and Decca 4, London, July 1973
Side One
Side Two
Mama Nature Said
The Hero and the Madman
Slow Blues
The Rocker
Vagabond of the Western World
Little Girl in Bloom
Gonna Creep Up on You
A Song for While I'm Away
Group Musicians
Philip Lynott – Lead Vocals, Bass
Eric Bell – Guitars
Brian Downey – Drums, Percussion
The album starts with the excited slide guitar over thumping rhythms on "Mama Nature Said". Here Lynott's raspy vocals add a further sonic level to this fun stomp with an obvious environmental lyrical overtone. "The Hero and the Madman" begins with an odd spoken intro provided by guest Kid Jensen over the music built on bass and drums rhythm along with Bell's guitar finely floating in a wah-wah like haze before exploding into an astronomical closing guitar lead. "Slow Blues" is an aptly titled track by Downey and Lynott with several distinct sections, including a funk-based verse and a folksy/psychedelic mid-section.
"The Rocker" is the only track on the original album credited to all three group members and this thematic track may be the record's most indelible. Here, the guitar and bass lock in for a fine series of riffs and pretty much all of the final three minutes of the song are reserved for an extended guitar lead. The title song begin's with the traditional Irish greeting "Tora Lora Lora" over Downey's floor tom beat. Eventually, "Vagabond of the Western World" breaks into moderate but dramatic verse and more straightforward choruses.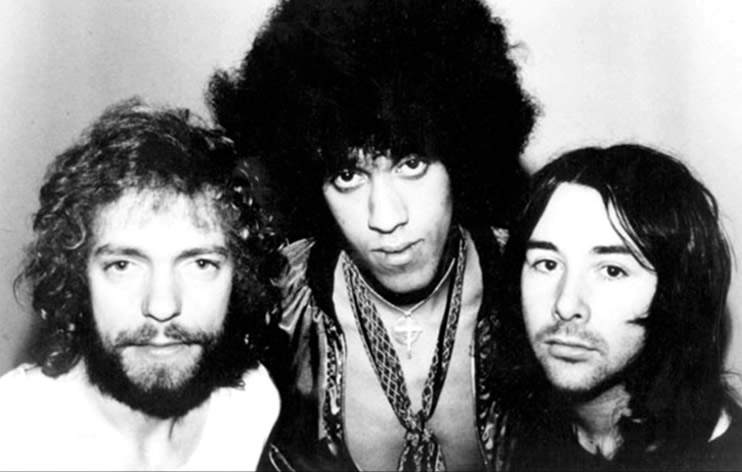 "Little Girl in Bloom" features cool, odd beats and some overlapping vocals and fine harmonies, all provided by Lynott. The song is built mainly on pairs of bass notes that make it simple but very original until about three minutes in when the complete rhythm kicks in with a bit of guitar harmonizing, a preview the sound of Thin Lizzy in future years. "Gonna Creep Up on You" is another basic but interesting rocker, leading to the album's original closer, "A Song for While I'm Away". This unique track is vocally like a sixties pop ballad complete with strings and orchestration but with strong drum rhythms that are much harder rocking and give it a duplicate sound. When the album was later released for CD, four additional tracks were added including, "Whiskey In the Jar", the Zeppelin-esque riff-driven blues rocker "Black Boys on the Corner", the rock/reggae/bosa nova fusion of "Randolph's Tango", and the heavy blues rocker "Broken Dreams".
Just a few months after the release of Vagabonds of the Western World, Bell abruptly left the band citing ill-health and disillusionment with the music industry. Thin Lizzy used several guitarists in the subsequent years before forging their signature dual-lead sound that brought them to even higher fame in the mid 1970s.
~

Part of Classic Rock Review's celebration of 1973 albums.