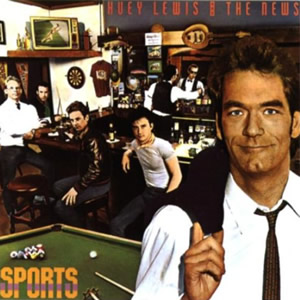 Huey Lewis and the News found their peak of commercial success with their third album, Sports. Released in the Autumn of 1983, the album topped the Billboard album charts the following year and spawned five Top 20 hits which remained on the charts and mainstream pop radio well into 1985. The album is a collection of original songs by Lewis and the band as well as songs written or co-written by composers outside the group, while maintaining an astonishing cohesion throughout.
The roots of the group date back to 1972 when Lewis, a vocalist and harmonica player joined the San Francisco area jazz-funk group Clover along with keyboardist Sean Hopper. Clover had a lengthy career through the 1970s and recorded several albums with minor success in the US And UK. When Lewis departed in 1977, the group became the original backing band for Elvis Costello's debut album, My Aim Is True. Meanwhile, Lewis and Hopper began collaborating with another Bay Area jazz-funk group called Soundhole, with members including saxophonist and guitarist Johnny Colla, bassist Mario Cipollina and drummer Bill Gibson. In 1978, Huey Lewis & The American Express was officially formed with lead guitarist Chris Hayes becoming the sixth and final member in 1979. After a record deal with Chrysalis Records was secured, the group modified their name with the release of the self-titled LP Huey Lewis and the News in 1980. A second studio album, Picture This was self-produced and released in 1982 with gold-level success fueled by the breakout singles "Do You Believe in Love" and "Workin' for a Livin'".
Recording for Sports began immediately after the completion of Picture This with producer Bill Szymczyk assisting in production. Due to reorganization at Chrysalis, the band employed the strategy of holding back the master tapes and biding their time performing at small venues while the label got their affairs in order and were in a position to fully promote the album.

Sports

by

Huey Lewis & the News
Released: September 15, 1983 (Chrysalis)
Produced by: Bill Szymczyk, Huey Lewis and the News
Recorded: Fantasy Studios, Berkeley, CA; Record Plant, Sausalito, CA & The Automatt, San Francisco, 1983
Side One
Side Two
The Heart of Rock n' Roll
Heart and Soul
Bad Is Bad
I Want a New Drug
Walkin' On a Thin Line
Finally Found a Home
If This Is It
You Crack Me Up
Honky Tonk Blues
Group Musicians
Huey Lewis – Lead Vocals, Harmonica
Chris Hayes – Guitars, Vocals
Johnny Colla – Saxophone, Guitars, Vocals
Sean Hopper – Piano, Keyboards, Vocals
Mario Cipollina – Bass
Bill Gibson – Drums, Percussion, Vocals
"The Heart of Rock n' Roll" starts the album with a thumping heartbeat sound to launch the thematic (albeit somewhat tacky) anthem. Musically, it employs the faux eighties funk rock that permeates this album but worked well in the mid eighties pop scene. While equally as popular, "Heart and Soul" is of much higher quality overall. Co-written by Mike Chapman and Nicky Chinn of the band Exile, this classic rocker uses a repeated riff but with strategic arrangements throughout, including the mid section where the deadened guitar and bass make for a simple but effective bridge. Further, the song features probably the best vocals by Lewis overall on the album.
"Bad Is Bad" is a modern doo-wop / soul track with cool organ Hopper, bluesy guitars by Hayes and a potent harmonica solo by Lewis with lyrics that are both jocular and profound. The song was written in the late 1970s while Lewis was working with Phil Lynott and Thin Lizzy and that group did perform it live a few times half a decade before it was recorded for Sports. "I Want a New Drug" is another slightly clever theme which at once normalizes and demonizes drug use. Musically, there are dueling guitars over the simplest, cheezy-est synth rhythm, a method later "borrowed" by Ray Parker Jr. for the Ghostbuster theme song. "Walking On a Thin Line" was co-written by Andre Pessis and Kevin Wells of Clover and it starts with a haunting synth bass before breaking into an upbeat pop rocker with good melody and a semi-serious message about a Vietnam veteran's post-war stress.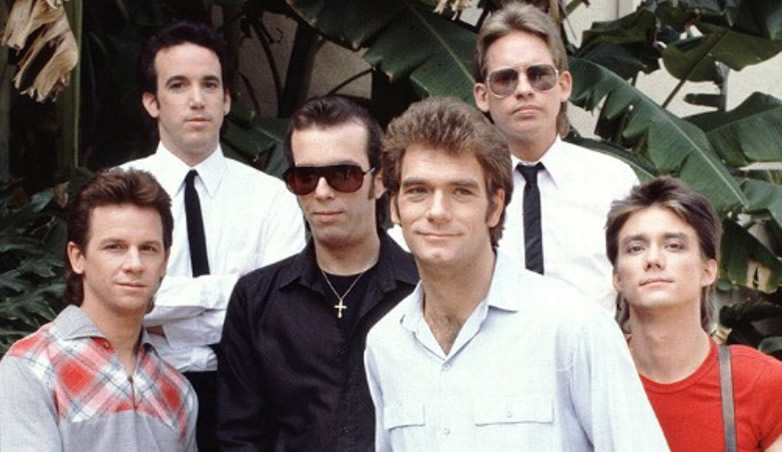 The later part of the album tends to thin out on quality material. The lone exception is the hit song "If This Is It", which features strong guitar-driven rock elements, some doo-wop backing vocals and fantastic lead vocals melody and chorus hook. The song is sandwiched between the pop-rock boilerplate "Finally Found a Home" and the more hyper new-wave synth rocker, "You Crack Me Up". The album ends quite oddly with a cover of Hank Williams' late 1940s Country hit "Honky Tonk Blues", which does little to advance the original but is a nice place to showcase Hopper's piano playing skills.
Sports was a hit worldwide but Huey Lewis and the News continued their rapid work schedule, scoring the Academy Award nominated theme song for the 1985 film Back to the Future and following up Sports with the similar pop-rocker Fore! in 1986, which was nearly as big of a hit as its predecessor.
~

Part of Classic Rock Review's celebration of 1983 albums.